Introduction
The 2JZ engine is one of Toyota's most recognizable trademarks. The Wankel rotary engine may be found in Mazda vehicles. The "boxer" is Subaru's. Despite their flaws, these engines have earned our admiration and respect. Despite being an awful failure, the oval piston engine by Honda was a success in its own right.
Honda attempted to replace the beloved two-stroke motorcycles in Moto GP with a four-stroke bike, the NR500, which included this engine. The NR500 was one of Honda's most infamously failed race bikes.
Problem background
Those who work for Honda get to design a four–stroke, four-cylinder motorcycle. The maximum number of cylinders is four, the maximum displacement is 500cc, and the bike must also be naturally aspirated according to the current regulation book. It's a challenging challenge to solve, but is it impossible? At the time, two-strokes had a peak power output of roughly 120 horsepower.
Honda had to develop a novel way to create a four-stroke, four–cylinder engine to deliver the same power as the two-stroke rival. Engineers had to think about the valves to increase airflow. When it comes to engines, if you can obtain greater airflow and more combustion, you may be able to acquire more power you need. This is how Honda's engineers came up with using eight valves per cylinder in their designs.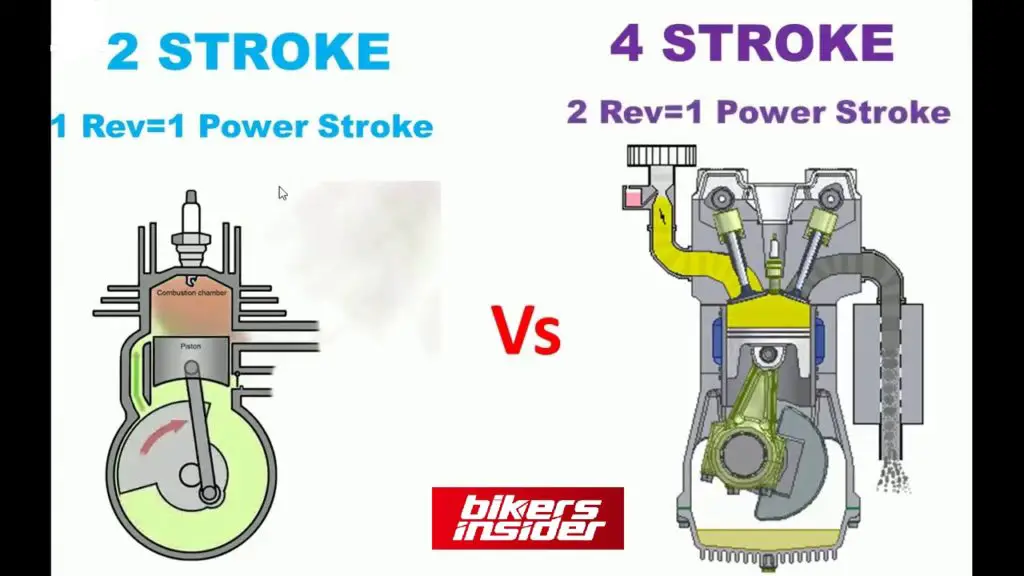 As a result of the piston's oval form resulting from its eight valves, it has plenty of clearance to work. To provide room for two connecting rods per piston and a new piston ring design, the new piston design and the high rpm, it was predicted to produce necessitated. To cut a long and bizarre story short, each problem that Honda attempted to solve led to a slew of new ones that the team had to work through to complete its newest racing engine.
Introduction of NR500
This hard work paid off in 1979 when Honda raced the NR 500 for the first time. Unfortunately, the team could only win two races in the entire season, despite their best efforts. It wasn't until 1992 that Honda decided that the timing was appropriate for an oval-piston motorcycle to be made commercially viable. This is the origin of the NR 750, but at an MSRP of almost $60,000. It's not hard to see why it did not sell very well. Even yet, Honda's singular approach to problem-solving has traditionally resulted in some of its most beloved motorcycles.
Honda's smart solution
All motorcycles at the period had 2-stroke engines as standard equipment. Honda, on the other hand, despised their 120-horsepower output. Honda opted to create a strong 4-stroke engine for its NR500 to outrun its rivals and win the race. This, however, was not a simple procedure.
The NR series started in 1977 when Honda came back to Grand Prix racing. Because 2-stroke engines were more compact and powerful than 4-stroke engines, Honda was in need to come up with a new design to compete.
Because Grand Prix regulations limit engines to four cylinders and 500cc, Honda had to develop an innovative alternative. And it was for this same reason that Honda decided to act wisely again!
Honda opted to create a V8 engine in the form of a V4 to obtain the tremendous power required. All of Honda's competitors were caught off guard by this.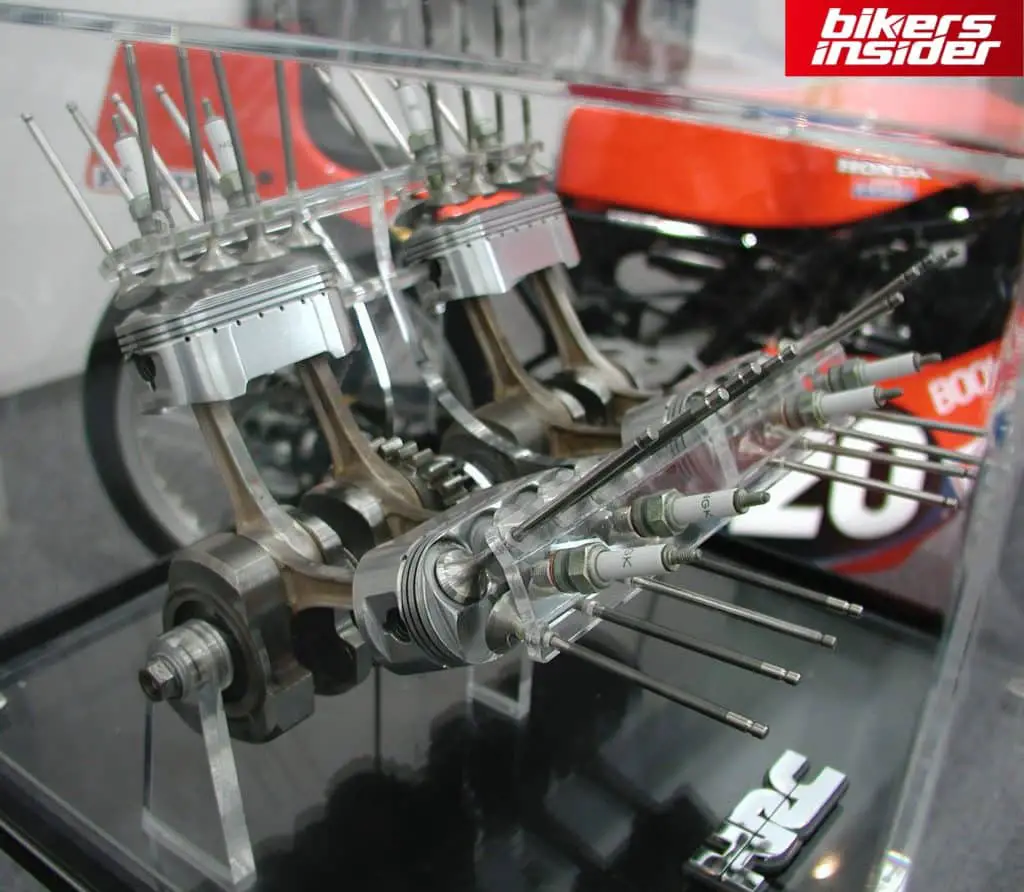 The engine's 32 valves were made possible using two con-rods per oval piston. In other words, a higher compression rate results from more air and fuel being mixed in each cylinder. Even though it had an odd oval shape, the piston was nothing more than two ordinary ones that had been joined together. For the first time, Honda used oval pistons in this bike.
The efficiency of CRAZY oval piston engine
Everything had to be squeezed inside a standard V4, which was difficult. Honda's NR500 didn't enter Grand Prix racing until 1979.
Due to two-stroke supremacy, the engine could not keep up at 20,000 RPM, generating 130 horsepower. Honda's engines failed to deliver on the racetrack despite their enhanced power. Even though Honda utilized an oval piston engine to win the 1981 Suzuka 500-Kilometer Race, this was their lone victory with this engine.
Its biggest drawback was its weight. The 4-stroke engine weighed 20 kg heavier than the two-stroke because of its larger cylinder head. The engine's center of gravity and overall balance was thrown off by the extra mass surrounding the head.
Honda opted to limit the output to maximize rideability and lifespan rather than racing proficiency. It deemed rider comfort and control more crucial than pure racetrack brilliance. The NR came back in 1987 with a 750cc V4 engine. The NR750 was the most powerful and technologically advanced 4-stroke racer available at the time. However, because of its capacity restriction of 500cc, it was not allowed to compete in any GP series.
Normal vs Oval piston
The oval piston was tested on a 2-valve, single–cylinder engine before the entire engine was built to ensure it worked properly. Eight valves and a single cylinder were eventually achieved. The development team had already discovered several problems.
A "sudden disintegration" issue would occur when the engine's RPM surpassed 10,000. The biggest issue was with the connecting rods twisting.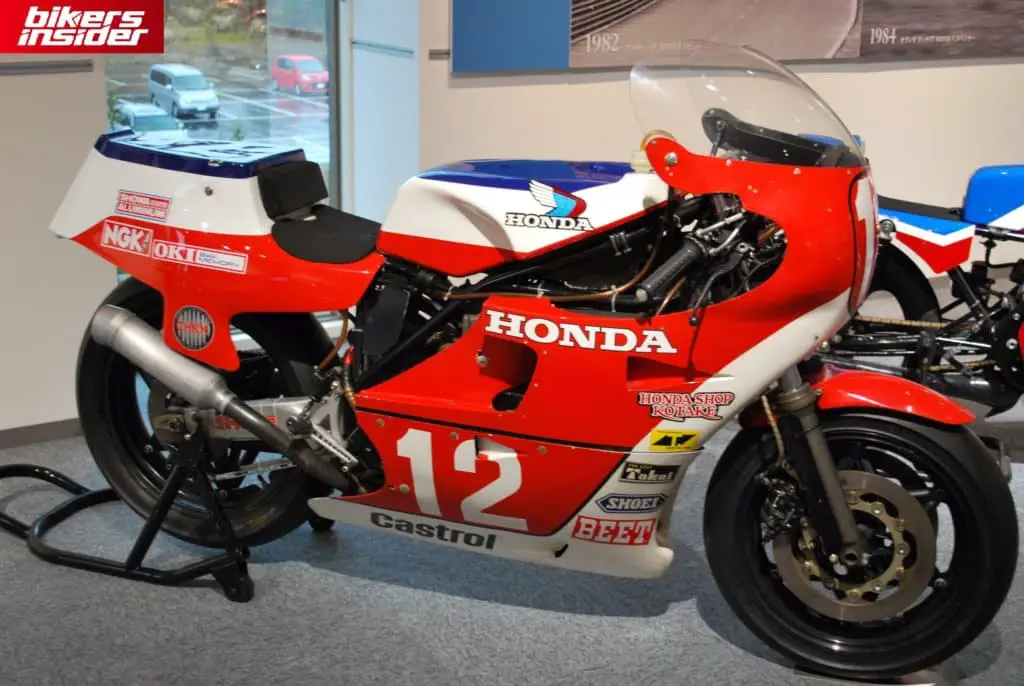 Unlike a typical piston, an oval piston has two rods. Increasing the engine's revs caused the rods to flex, displacing the piston pin and breaking the parts.
Naturally, there was some scepticism about the oval-piston engine concept. Is it possible to reach the predicted intake efficiency in real-world driving? Piston friction and sealing: what's the deal? Could the engine be adequately cooled such that high temperatures don't distort the pistons? The development team was the only one aware of the many issues that needed to be addressed. The words of caution did not connect with them in their quest to introduce something fresh to the racing industry. However, the development team had already encountered significant issues by this point.
Interesting incidents regarding Honda oval piston bikes
The engine of the NR750 wasn't the only revolutionary component. Its upside–down suspension, carbon fibre bodywork, side-mounted radiators, under-the-seat exhausts, and EFI had been mapped for performance. It was the first Japanese sports bike of its kind. A digital speedometer was also a first.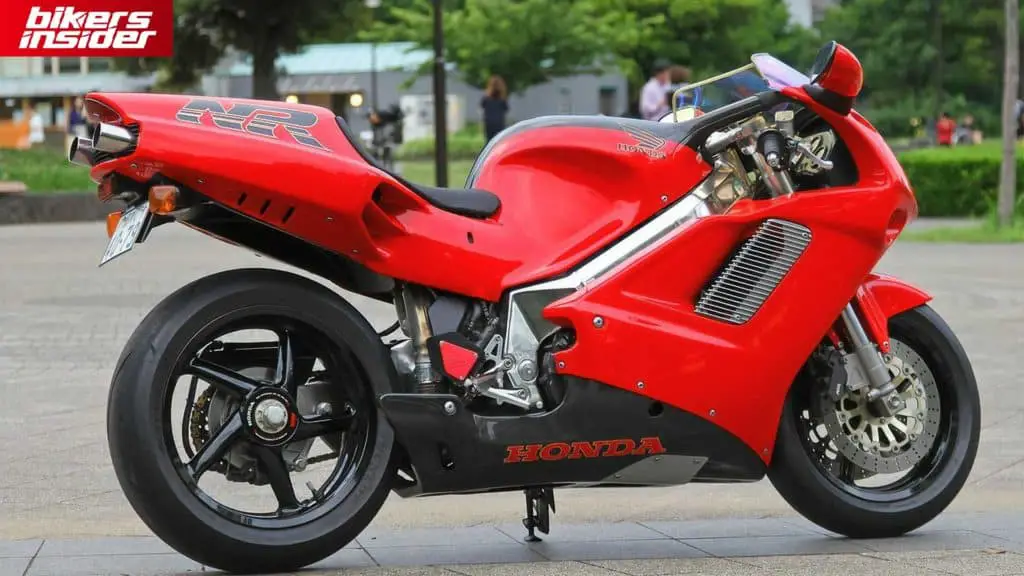 The NR500 was Honda's first oval-piston motorcycle. The two-stroke 500cc GP Yamahas and Suzukis were designed to match and made their debut at Silverstone in August 1979. Still, neither machine made it through the qualifying round.
The enhanced 2X was released in 1982 after the NR500 was developed to its full potential. Kenny Roberts' reign as motorcycle world champion ended. When rising sensation Freddie Spencer won a heat race for the Laguna Seca 200 at 22,000 RPM.
The NR500 failed to stop Honda from going for a 750cc oval-piston racing machine. Malcolm Campbell, a native Australian, qualified second quickest in the 1987 Le Man's 24-hour event. The NR750 was only three hours in the race until a big-end bolt came free and blocked the oil flow. It did cause a piston to seize. Later, the NR750 appeared in the Swann series of 1987. With his new 160-horsepower engine, Campbell won one race and finished third in the series.
Conclusion
Despite their increased power, Honda's engines did not perform particularly well on the track. Honda's 1981 Suzuka 500-Kilometer Race win was their sole success in the oval piston engine category. This year's World Grand Prix series has been a constant battle.
Weight was a significant hindrance for me. The weight of the four-stroke engine was increased by around 20 kg due to the need for a bigger cylinder head. The extra mass surrounding the head shifted the machine's center of gravity and balance. Replacement of iron with titanium and aluminium – already a light material – with magnesium was among the measures to lower the weight. After a short period, Honda's advantage was soon eroded by competition using the same strategy.
Since returning to the World GP Series three years prior, Honda's NR500s had failed to win on the international circuit. Even yet, Honda knew that a losing run could not persist. Honda was under increasing pressure in Japan and worldwide to give up the race.
As a compromise, Honda entered two-stroke NS500 motorcycles into the GP series in 1982 to get closer to the top of the podium. The NS motorcycles took over from the NRs as the worldwide dominant force in motorcycle racing.
If you liked this informative post, please let us know in the comments. For more news and updates, keep visiting BikersInsider.