Find it annoying that you need to carry your helmet around you at all times? Of course, you are concerned that someone doesn't steal your lid! After all, you've spent a couple of hundred bucks for a stylish or functional helmet, and you know that helmets can attract attention. Well, if you don't want to carry your helmet around with you at all times, here are the best motorcycle helmet locks to keep your helmet safe from mischievous thieves!
If you are in a rush, here is a comparison table of the best motorcycle helmet locks for 2021 below!
OnGuard Double-Team PITBULL U-Lock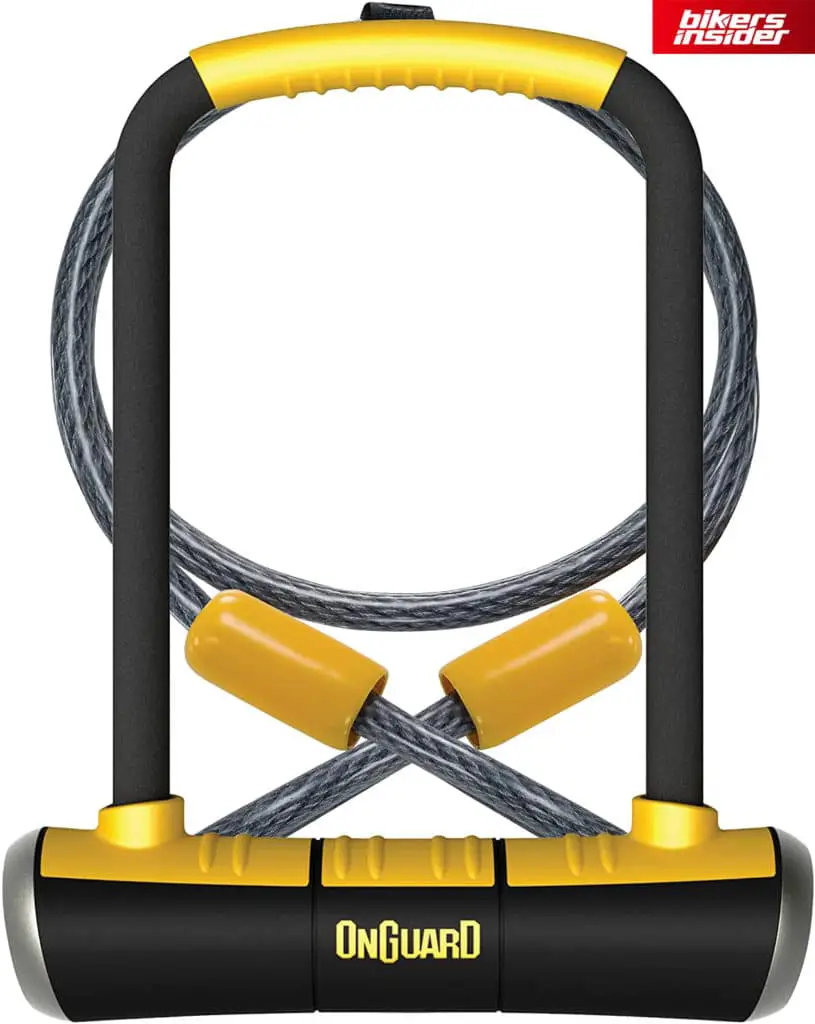 One of the best motorcycle helmet locks is this fierce PITBULL. Like the titular dog breed, this is a large, heavy-duty helmet lock that weighs 4 pounds (1,81 kg) and is 4 feet long (122 cm). It is locked by a key and offers lockpicking resistance due to the double-bolt locking mechanism.
Its main feature is the 14mm hardened stained steel shackle that provides high resistance against any cutting procedure. The rounded design also helps with that resistance. You can also lock a full-face helmet with this one.
If looking for an all-around best motorcycle helmet lock, this one from OnGuard is your best choice!
PROS
High resistance against cutting and lockpicking
You can lock a full-face helmet
Double-bolt locking mechanism
Kuryakyn 4232 Helmet Security Lock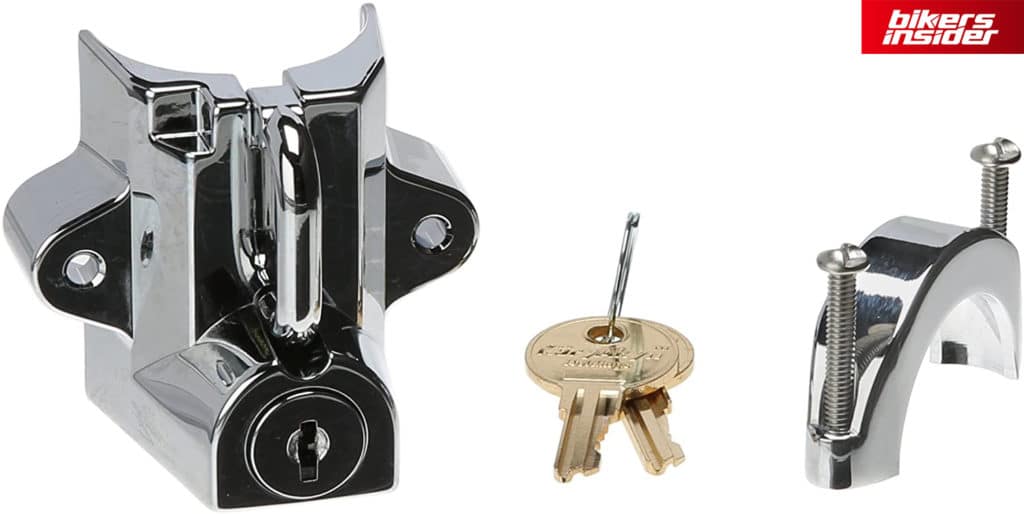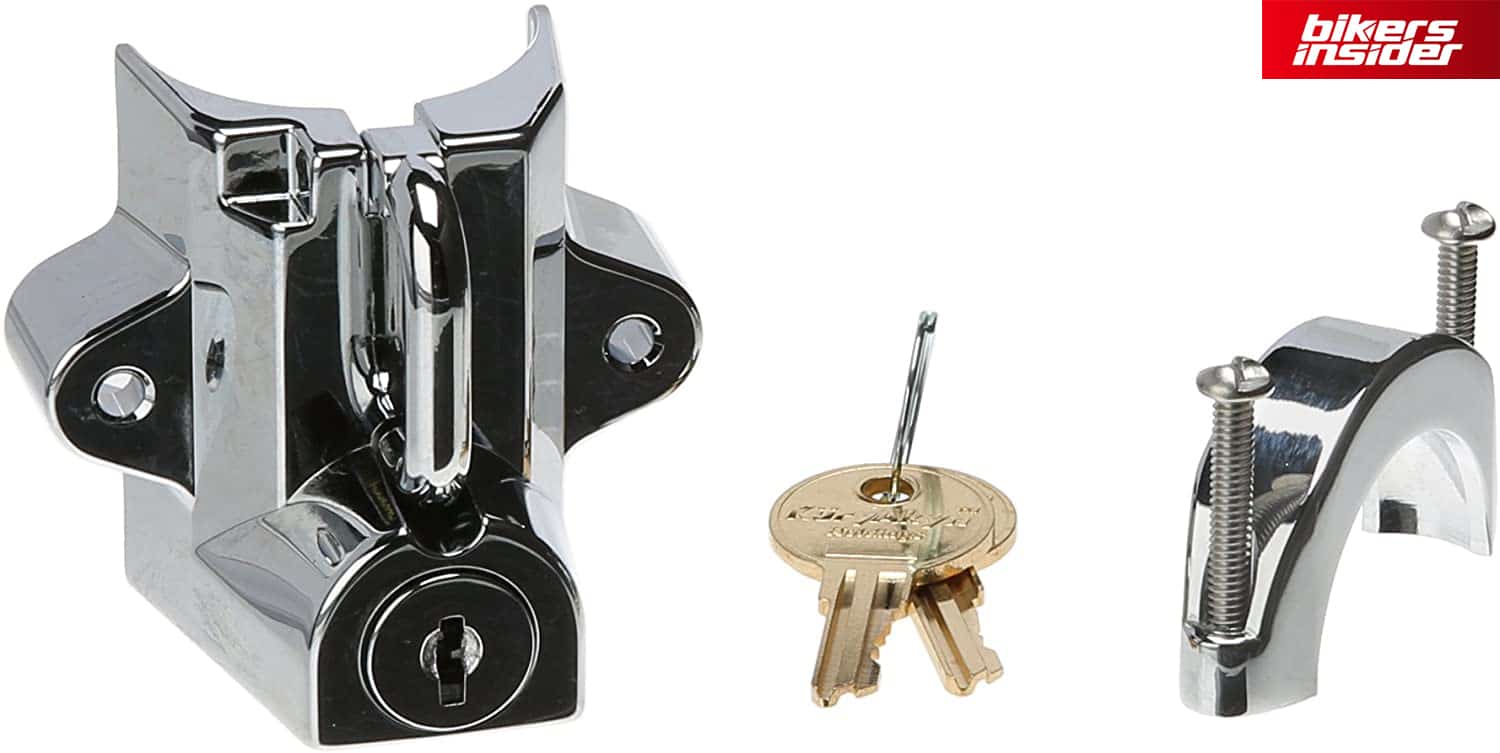 This is an extremely lightweight helmet lock, with a weight of just 0,91 pounds (0,41 kg). It directly clamps on a motorcycle, adding to the security and aesthetics of your bike. The best places to clamp it on are the engine guard or the frame tube.
You can mount this on any tube on your motorcycle, but only on specific tubes. By specific, we mean the sizing from 1-1/4″ to 1-1/2″.
It's locked by a key mechanism that comes with two tamper-proof one-way screws. This greatly increases the overall security when you lock your helmet.
The Kuryakyn 4232 helmet lock is made from metal material with chrome coating for corrosion prevention. 
PROS
Directly mounts on your motorcycle
Lightweight
Hard to lockpick
Chrome coating increases corrosion resistance
CONS
Only fits certain tubes on your bike
BigPantha Helmet Lock & Cable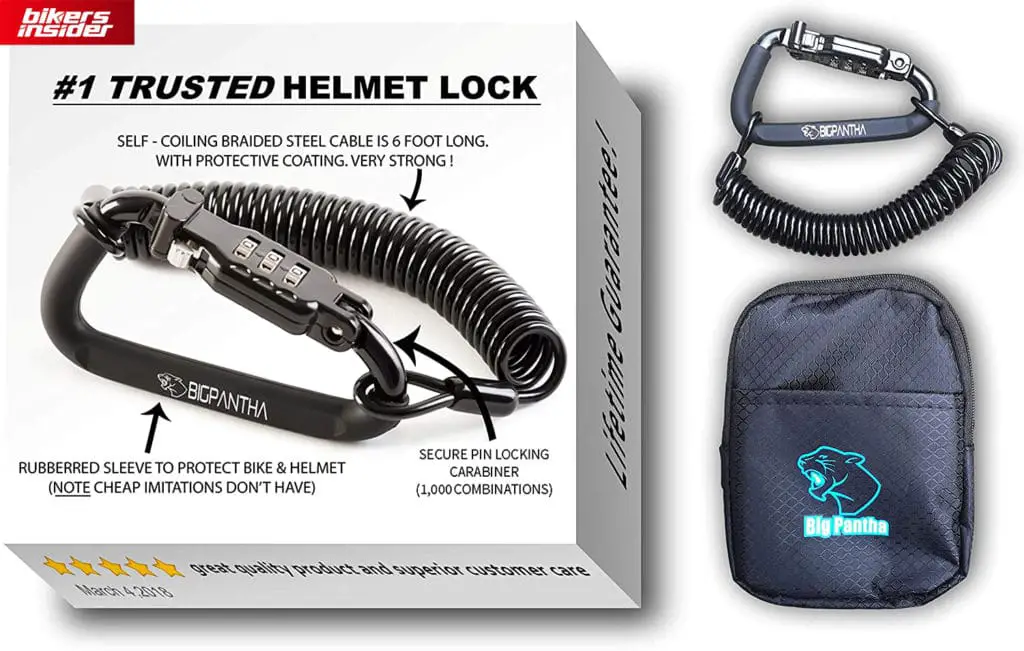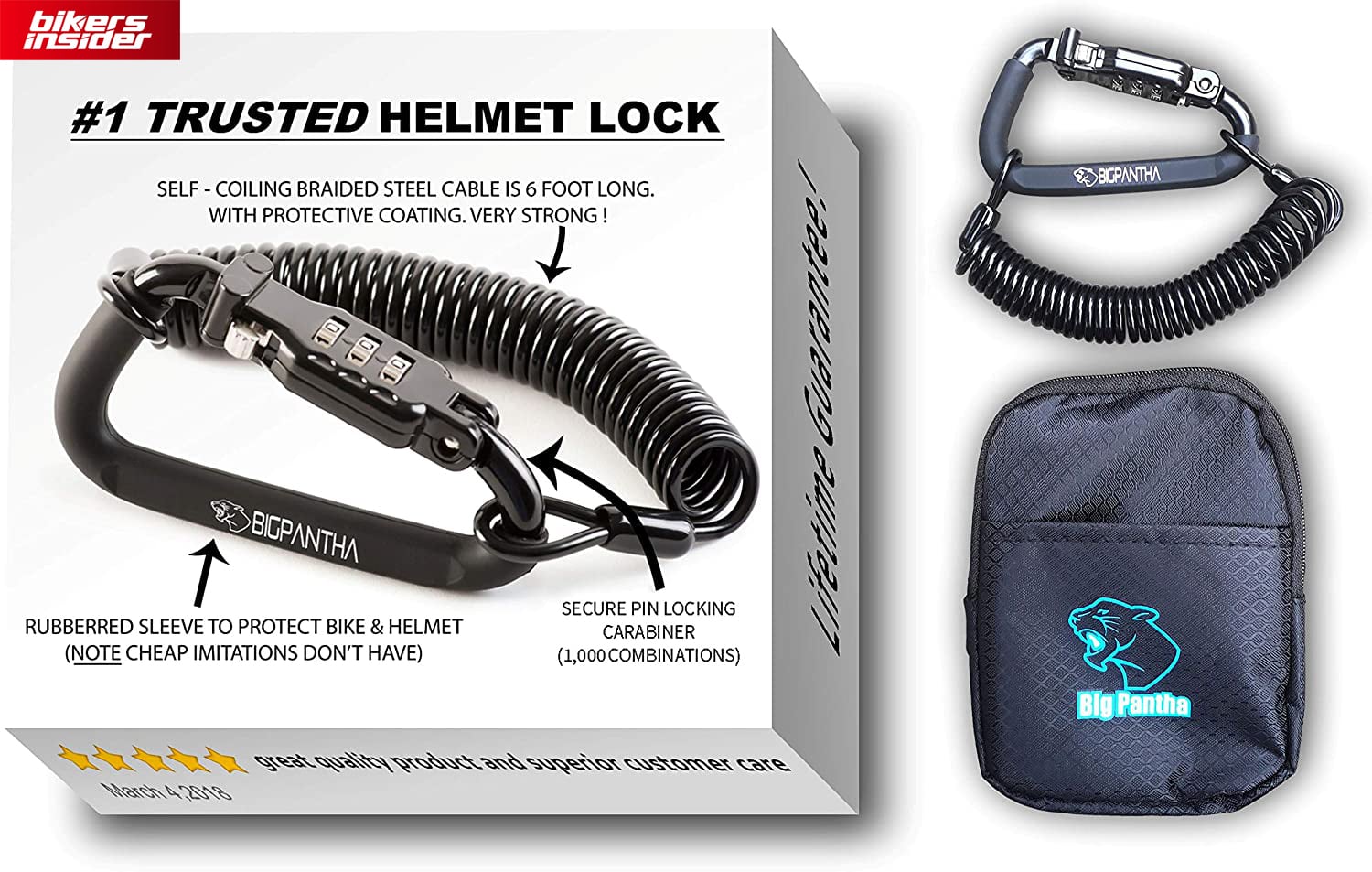 This steel cable motorcycle helmet lock is the most light of all the helmet locks on our list at 0,38 lbs (172 grams). Its steel cable is highly flexible with its 6 feet (183 cm) length and a protective coating that prevents corrosion. The BigPantha is the meaning of a universal fit, as you can even lock two helmets with this one.
This is essentially a D-lock with a combination locking mechanism. It's quite easy to use as it has a combination of 3 digits. Keep in mind that someone could possibly break through one of 1,000 possible digit combinations if you leave your helmet unattended for too long. 
Also, the D-lock features rubber coating to protect your bike and helmet from scratches.
PROS
Easy to use
High flexibility
Universal fit
Steel cable is quite durable
Anti-corrosion coating
CONS
Only 1,000 digit combinations
Kuryakyn 4248 License Plate Helmet Security Lock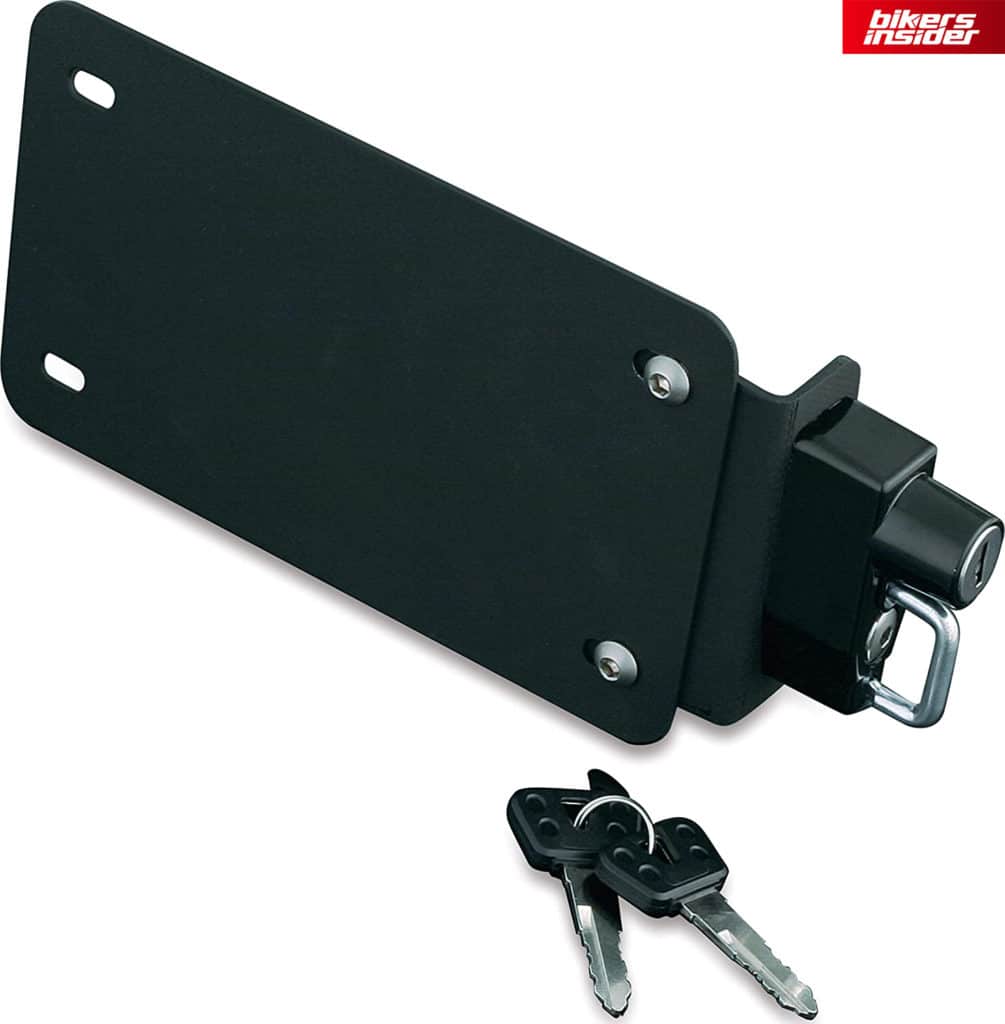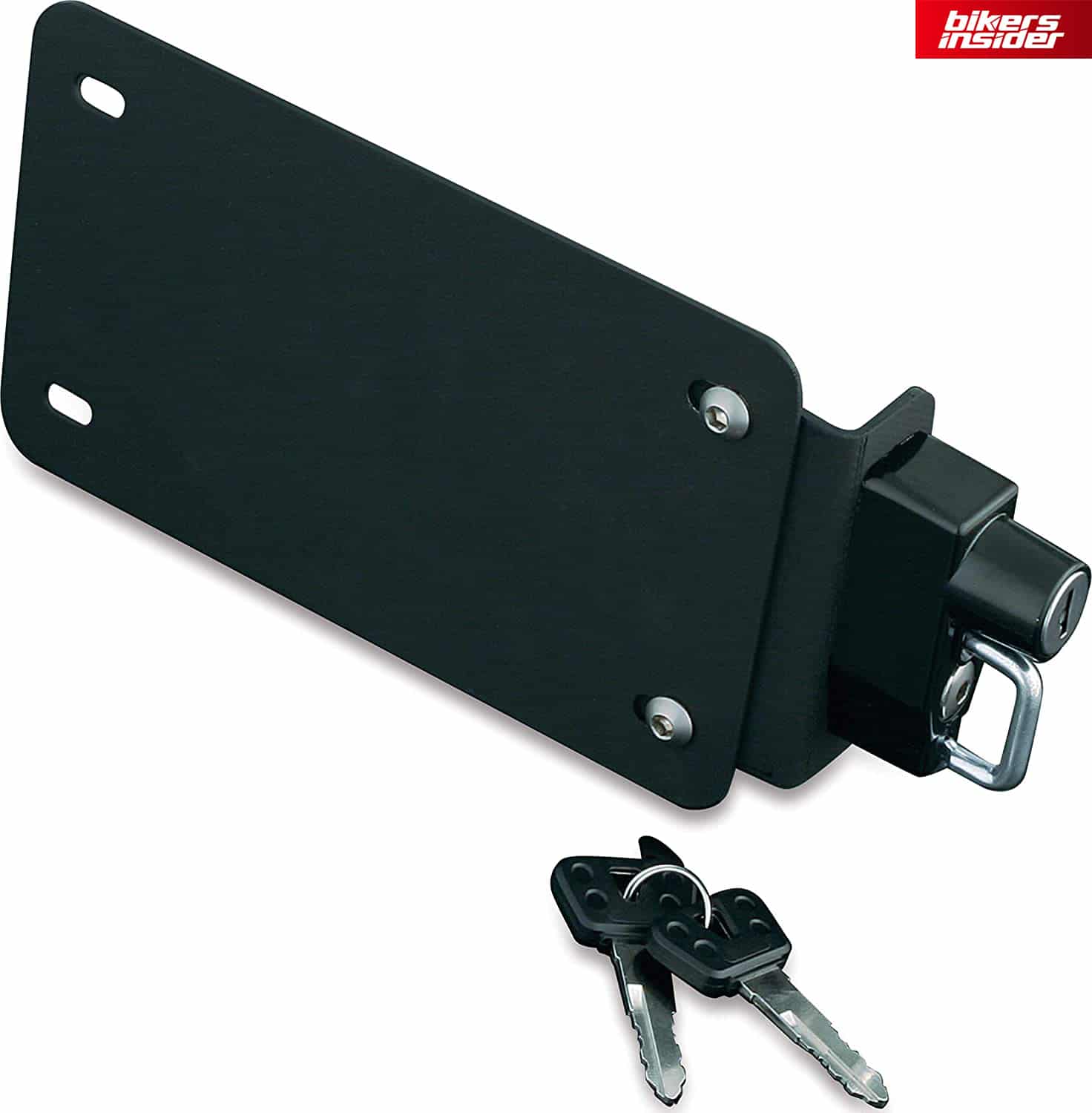 Here is the best license plate motorcycle helmet lock you can find right now. It is a steel helmet lock that only weighs 1 pound (450 grams). The carabiner keeps the bolt lock secure on your license plate. Also, it has hollow torque head screws that protect the bolt from thieves, a great addition to the key locking mechanism.
The main benefit of this helmet lock is that you don't need to mess around with cables, and you can easily install it on a narrow license plate. That's right; it's sadly quite difficult to install this helmet lock on a curved license plate.
Even though it's quite pricey, this is one of the best motorcycle helmet locks due to its low profile and high safety for your helmet.
PROS
Hard to break
Made of steel
Lightweight
Low-profile
Oxford Black Lidlock Motorcycle Helmet Lock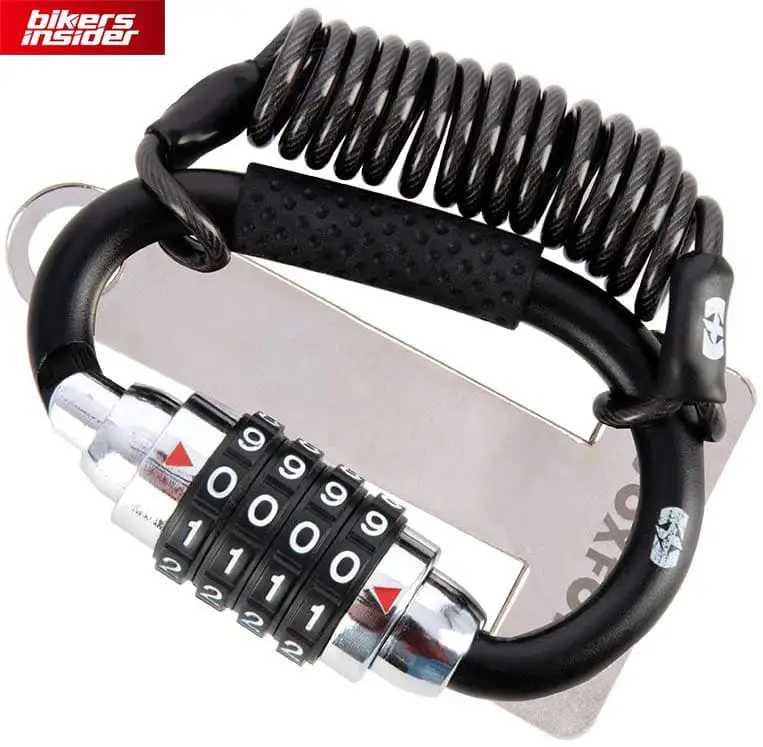 Last on our list of best motorcycle helmet locks is this extra-light helmet lock that weighs only 200 grams. Its T-bar is designed for motorcycle helmets specifically but may not fit all helmets. You can easily attach it to your helmet's D-ring thanks to the aluminum carabiner with a 4-digit combination lock.
Sadly, the lock has no full rubber cover, so it can scratch your bike if not too careful. Still, this is a very affordable helmet lock worth your money if on a steep budget.
PROS
Lightweight
Affordable
4-digit combination lock
CONS
No full rubber cover
May not fit all helmets
Aluminum material
Best Motorcycle Helmet Locks – Buyer's Guide
Now that we've shared our picks for the top motorcycle helmet locks around, let's look into the different motorcycle helmet lock types as well as main considerations before buying one!
What Types Of Motorcycle Helmet Locks Are Available?
You will run into different motorcycle helmet lock types when searching for the best one. All of them have their advantages and disadvantages. In the following sections, we are going to break down all of the motorcycle helmet lock types.
Handlebar Lock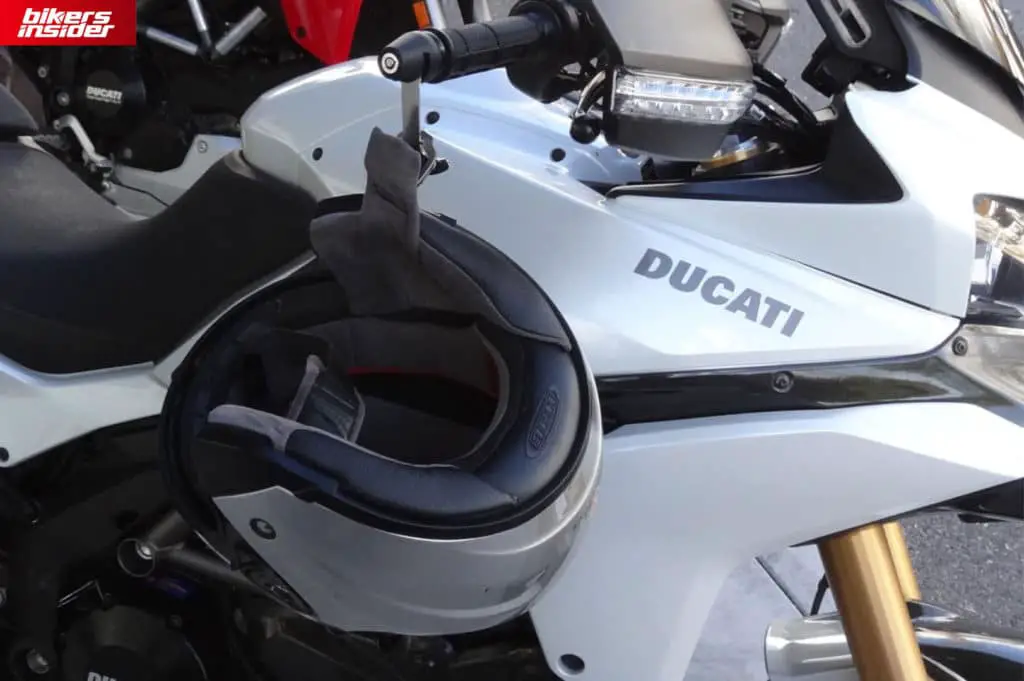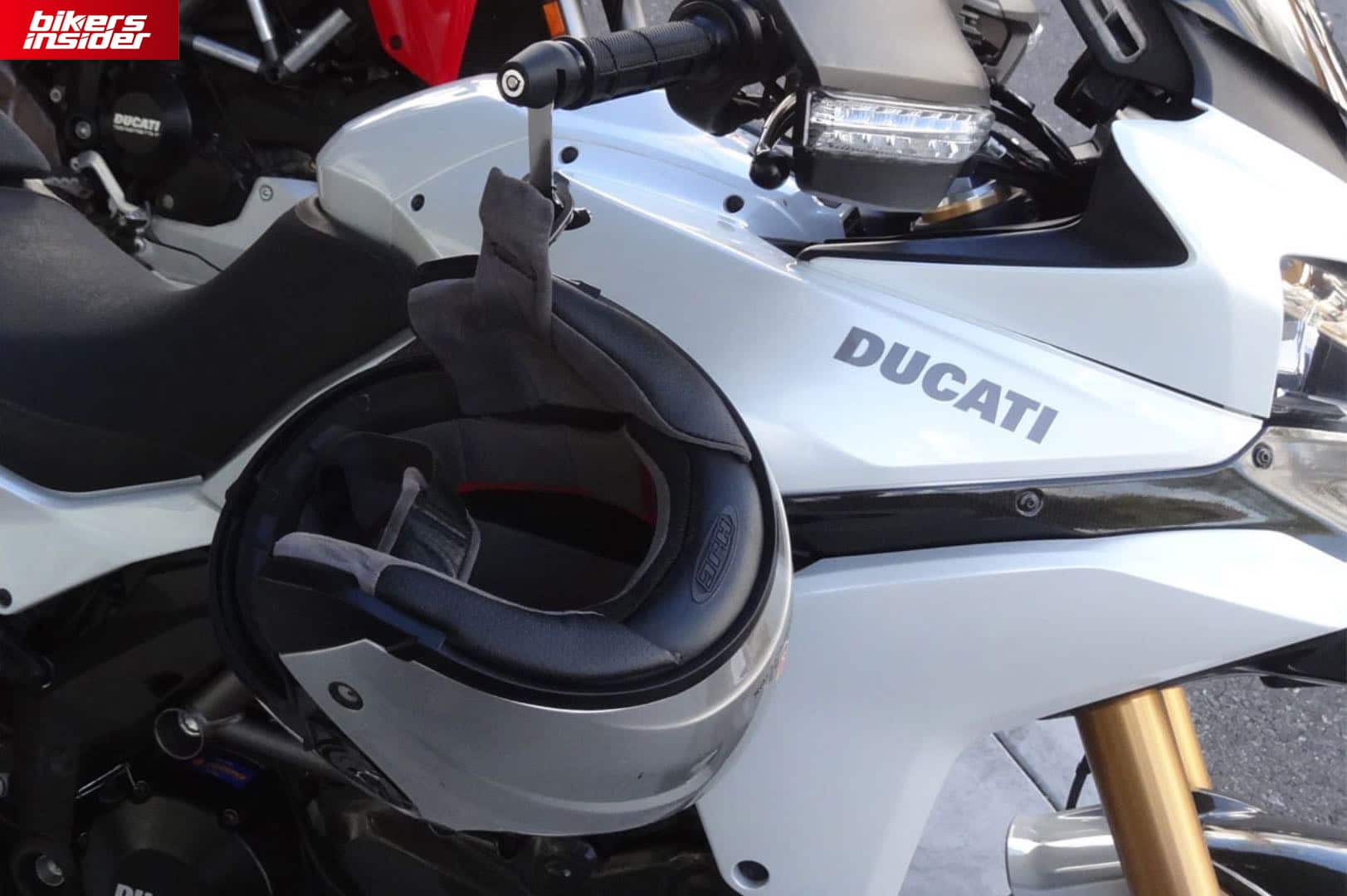 This is the most visible type of helmet lock, as its emphasis is on styling. You can basically lock any helmet on any handlebar, thanks to the universal quality of the handlebar lock.
Most handlebar locks utilize keys as a locking mechanism. In most cases, the materials of this lock will be polished for scratch prevention on your motorcycle and helmet.
The main gripe with handlebar locks is that they will put your bike out of balance.
Cord Lock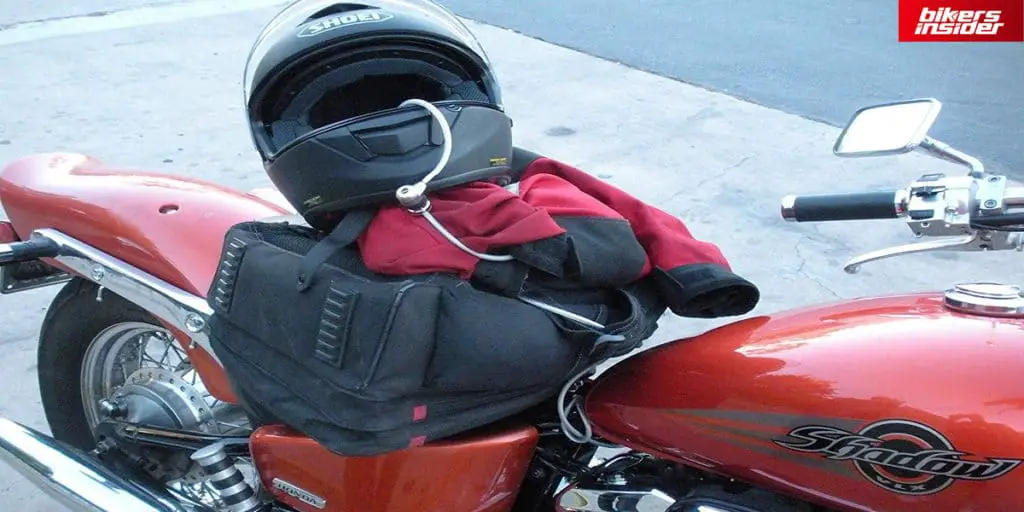 This type of lock wraps around the motorcycle helmet and another motorcycle part to securely lock the helmet. There are both key and combination lock variants, which adds to the overall high versatility of this motorcycle helmet lock type.
This type of lock can be easily cut through if someone has enough persistence, but some variants have rubberized cords to increase the overall durability. 
Also, keep in mind that you will need to remove the cord lock whenever you go riding, as it hangs loose, and you don't want to scratch your bike or crash it because of the cord lock.
Bolt Lock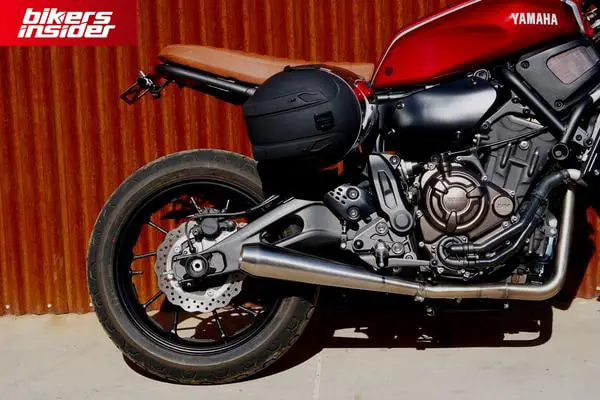 This type of lock is permanently installed on your motorcycle. They are cylindrical and are operated with a key. Bolt locks are highly versatile – you can install them on several areas on your bike. Most people install them on license plates due to the low-profile placement.
Check out our list of must-have motorcycle accessories to get geared up for this season!
Bolt locks are small and easy to install, but their main gripe is that they won't look attractive on your bike in most cases. Also, it is hard to lock full-face helmets with a bolt lock due to their small size.
License Plate Lock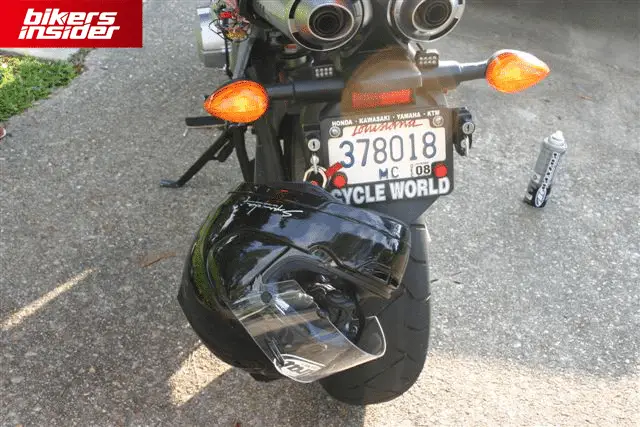 As its name suggests, this helmet lock type is installed on the back of the license plate holder. They are designed to be hidden from view, which is a great design choice when you want a permanent lock that doesn't destroy the look of your bike.
License plate locks are made from strong metals and are hard to crack by thieves. They are very easy to install – take a wrench and reserve half an hour, and you're done! Also, this lock won't affect bike balance as it is located in the center.
What Features To Consider When Buying The Best Motorcycle Helmet Locks?
We mainly look at three categories: the locking mechanism of the lock, its portability, and build material. Let's work through each one of these, shall we?
Locking Mechanism
The two most common locking mechanisms are key locks and combination locks.
Key locks, as their name suggests, will require a key at all times. That means you will need to stress about having them stored properly because if you lose the key, you won't be able to unlock it. Our tip is to put the key in your main keyring where you will know where it is at all times.
Combination locks use a carabiner mechanism that locks with a few teeth controlled with a digit code. You will need to remember a few digits, but it's easy to just write the code down for more convenience.
Both locks can be cracked with scissors or with a saw. Key locks can also be lockpicked, which isn't the case with combination locks. Still, most modern helmet key locks feature additional screws to prevent lockpicking, which is a nice innovation.
Portability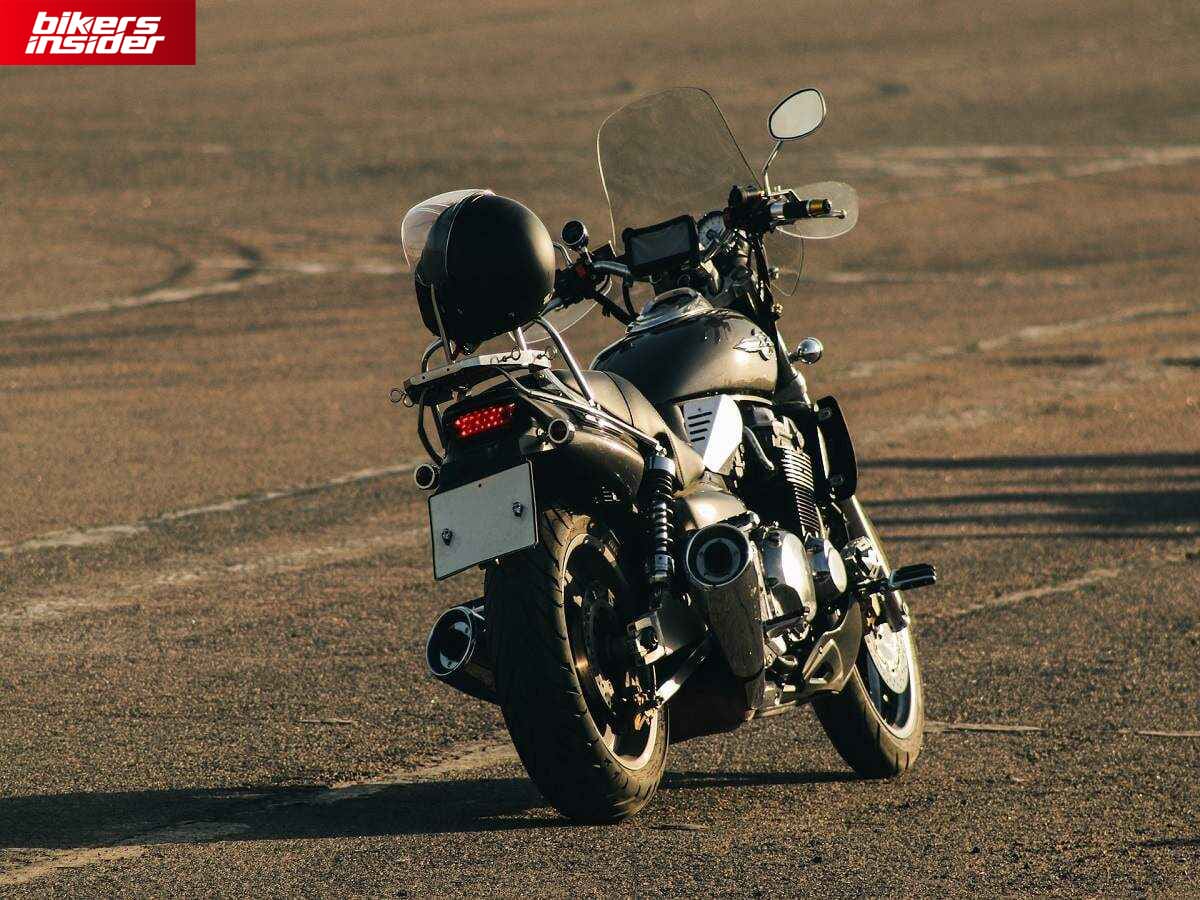 Some helmet locks are heavy, while others are light. Heavier helmet locks provide superior safety, and you can use them to lock more than one helmet due to their size. This, in turn, sacrifices their overall portability.
Lighter helmet locks are smaller and offer more portability and ease of use. Some will be small enough to even put in your pocket or under your motorcycle seat.
If you don't want to carry your helmet lock around, you can also choose the one you can directly install on the bike.
Now, which type of locks in this category is better? The heavier locks will be better if you think you'll be away from your bike for a while (going to the work shift, etc.). 
On the other hand, the small locks are better if you do short rides and are away from your bike for a shorter time (shopping, etc.)
Materials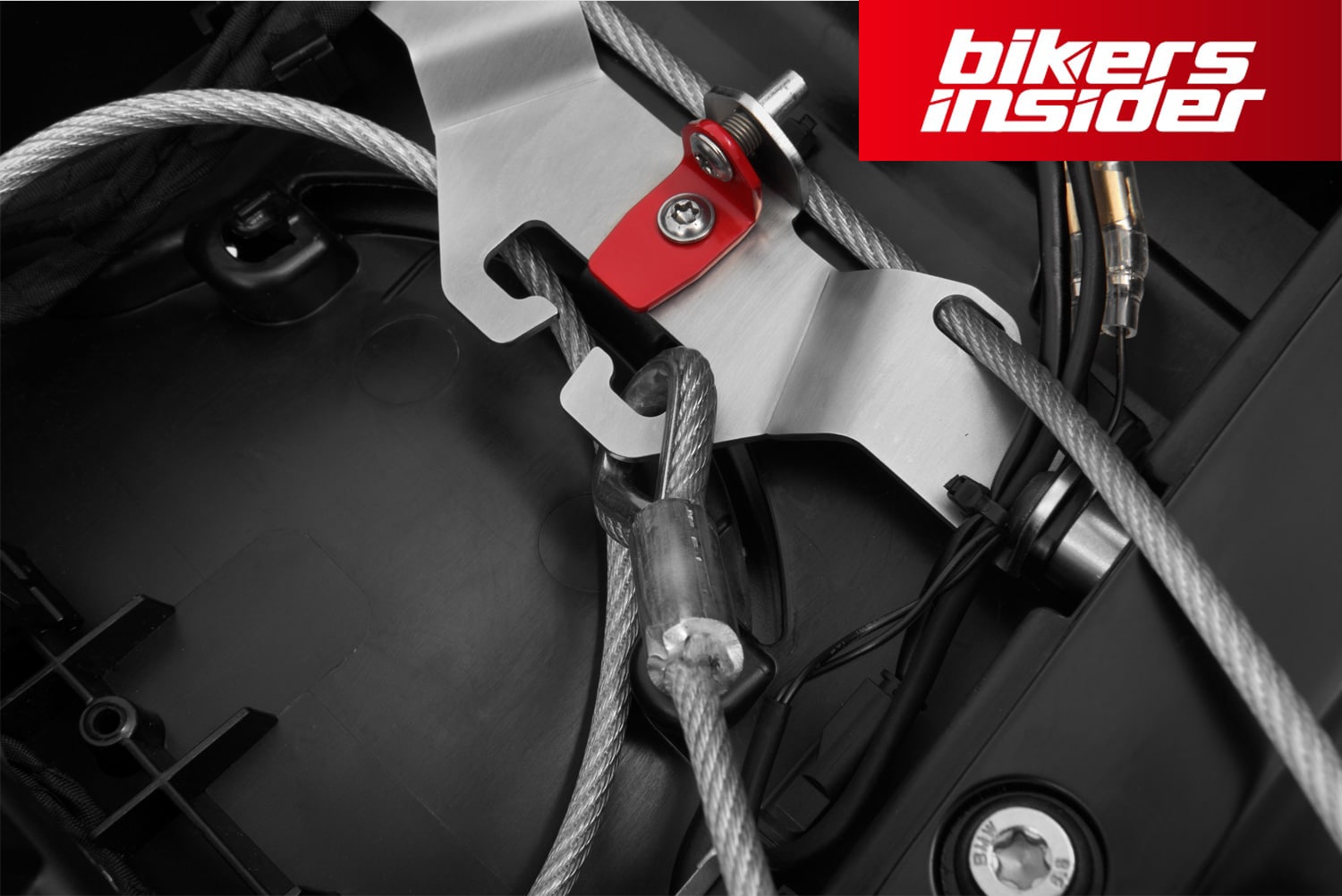 Motorcycle helmet locks are made of various materials, such as aluminum, steel, and zinc alloy. Keep in mind that more durable materials will increase the overall price of the helmet lock.
The best motorcycle helmet locks are made of steel and other heavy metal due to their highest security and durability. You can go a level further and find strengthened and heat-treated steel that will make stealing your helmet a nightmare. These have anti-rust coatings and are an ideal choice if you truly value helmet safety.
Zinc alloy locks are in the middle ground. They are weaker than steel locks but stronger than aluminum locks. These locks can resist rust and corrosion but offer less protection than steel.
Aluminum locks are the cheapest due to their low weight and durability. They can corrode quickly and are only worth your time and attention if you are on a highly constrained budget.
Summing Up
Motorcycle helmet locks are a handy motorcycle gadget that removes the need for you to carry your helmet around with you at all times. While some of them might be sketchy, our picks for the best motorcycle helmet locks will provide you with much-needed helmet safety and even add to the aesthetics of your motorcycle!
Looking for more accessories for your motorcycle? Check out our motorcycle accessories section for more reviews!