Akaso is proving time and time again that they are perfectly capable of producing a worthwhile entry-level action camera. While certainly not going above and beyond with image and audio quality like GoPro cameras, the Akaso action cameras are truly worthy picks for those on a steep budget.
In our Akaso V50 Pro review, we will break down all the essential features that make this action camera one of the best in the sub-$150 price range. Is this action camera worth your money in the end? Let's find out!
Akaso V50 Pro Review – Features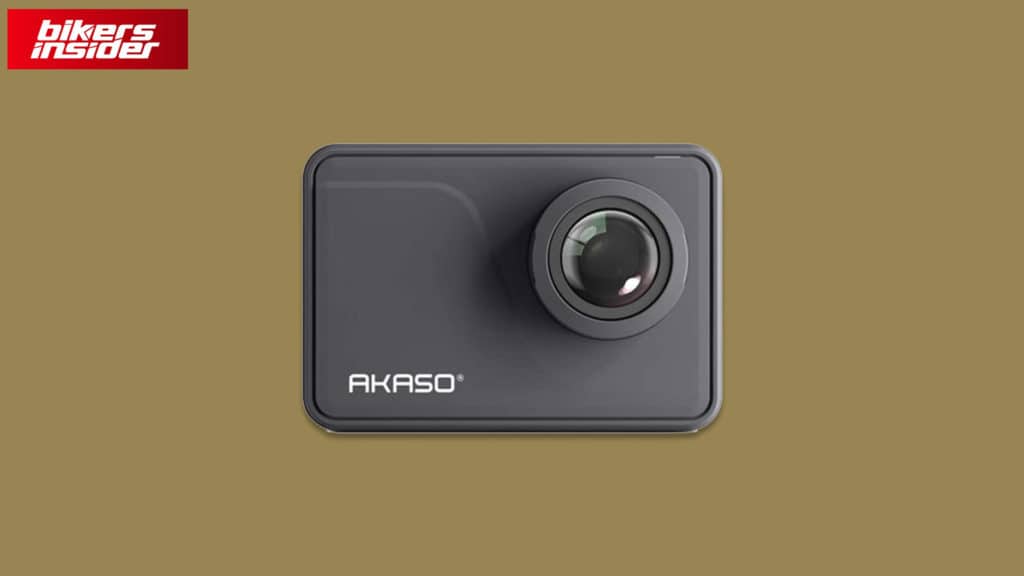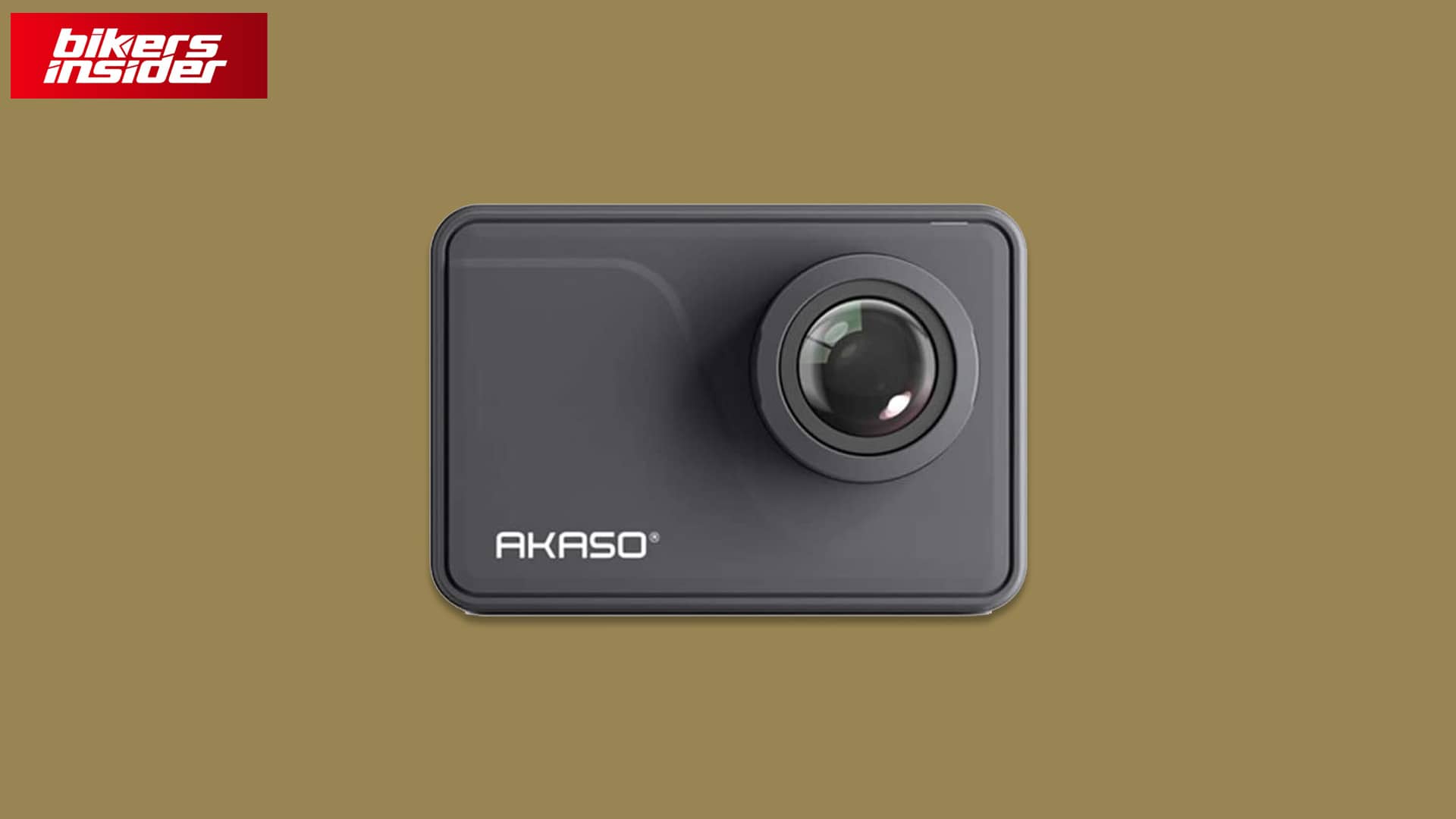 Check out all the most important features of the Akaso V50 Pro action camera down below:
Dimensions of 60 x 24 x 40 mm
Weighs 0,18 lbs (82 grams)
Supports select video resolutions: 4K at 30fps, 2,7K at 30fps, 1080p at 60fps, 720P at 120fps
20MP sensor
Regular Video, Slow Motion Video, Fast Motion Video, Time-Lapse, and Diving video modes
Time-Lapse, Long Exposure, Burst, and Regular photo modes
Electronic image stabilization (EIS) and six-axis gyroscope
2-inch LCD IPS touch screen with 240p resolution
Two 1100 mAh batteries with 90 minutes of shooting time
Comes with a wrist remote control, bicycle stand, ten different mounts, two helmet mounts, bandages, and tethers
Bonus dual battery charger
Waterproof case that provides water protection up to 30 meters of depth (100 feet)
WiFi mode
Without further ado, let's begin our objective Akaso V50 Pro review!
Design & Build Quality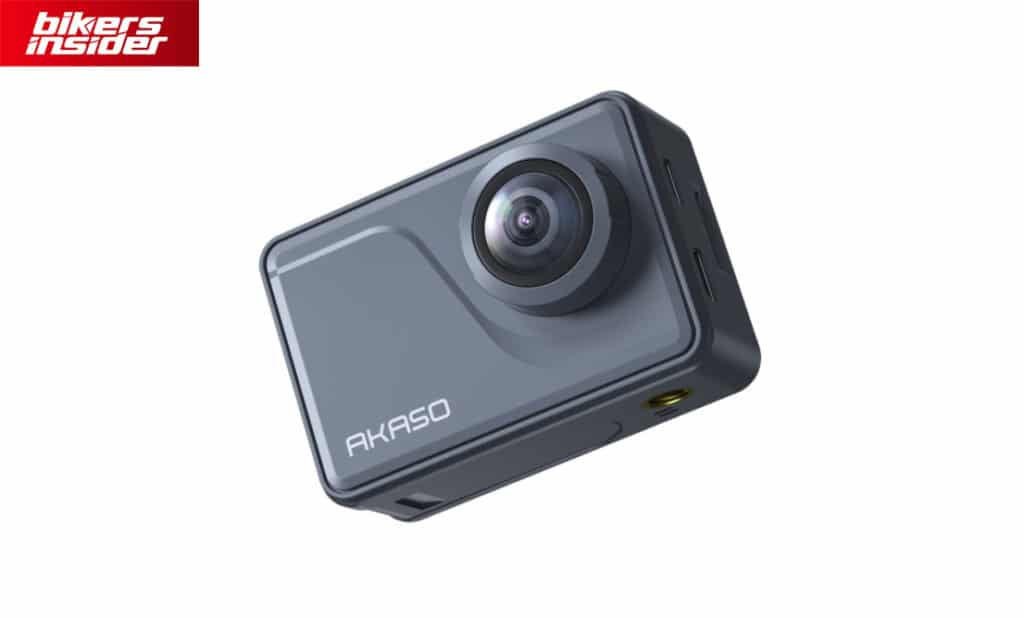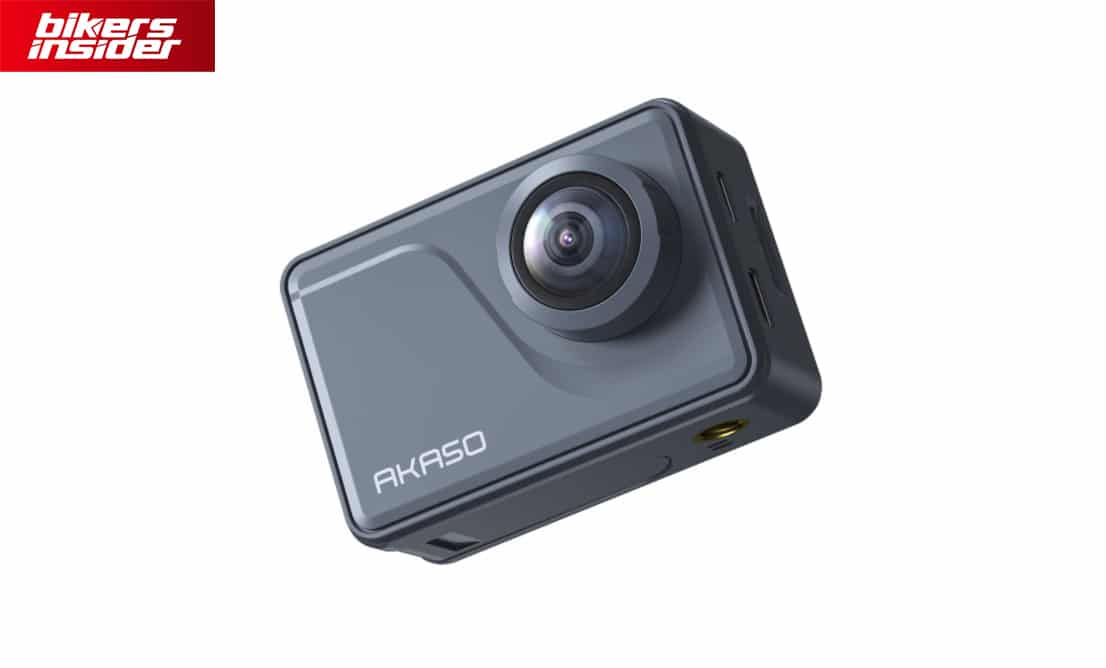 Don't look for any surprises when it comes to the Akaso V50 Pro design, as it is a pretty standard deal over here. We have a small and rectangular action camera with a hard plastic casing with gray color tones. 
We can see the 2″ LCD IPS touchscreen with 240p resolution on the back of the camera itself. The lens is situated on the front of the action camera. On the top of the cam are the Power and Mode buttons, and there are Micro HDMI and Micro USB ports on the sides.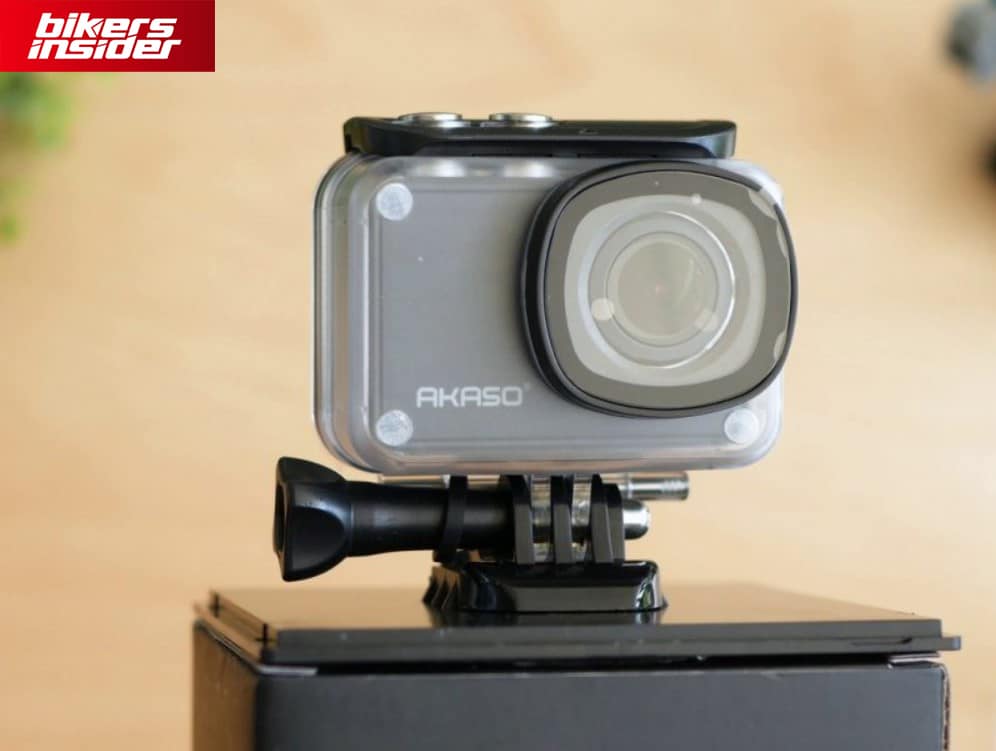 The Akaso V50 Pro itself isn't waterproof, but you do get a waterproof case in the packaging. It provides water protection for up to 30 meters of submersion (100 feet). Keep in mind that the V50 Pro won't record sound when in the waterproof case.
Stabilization
We are delighted to see that the Akaso V50 Pro action camera features Electronic Image Stabilization (EIS), along with a six-axis gyroscope that detects position and motion changes. 
The image stabilization is one of the best aspects of this action camera because it works so damn good. It will provide smooth video quality even on rugged terrain, which is lovely to see on a sub-$150 action camera!
Video Quality & Performance
When looking at the overall video quality of the V50 Pro, it's quite solid, albeit don't go expecting a GoPro level of quality. Still, there are some noticeable downsides that we have to mention.
First of all, the Akaso V50 Pro action camera is at its absolute best when recording at 4K at 30 fps. It provides excellent image quality that is even crisper than on GoPro Hero 8. We can see decent colors and contrast altogether, which provides some realistic shots. Low-light performance falters, with grainy image quality dominating the end results.
When switching over to 1080p, we can see the image quality crumble a lot, with more pixelization. Still, it's miles ahead of the almost-useless 720p recording mode, which is extra-pixelated. Don't even bother with that. Also, keep in mind that you cannot record 720p videos at 120fps with image stabilization, which is a bummer.
One point to note about the lens is that they are adjustable, from 170°, 140°, 110°, and 70°. That gives some versatility when filming, which is nice to see. 
When it comes to shooting modes, there are quite a few shooting modes:
Slow Motion
Fast Motion
Time-Lapse
Regular 
Diving Mode
Photo Quality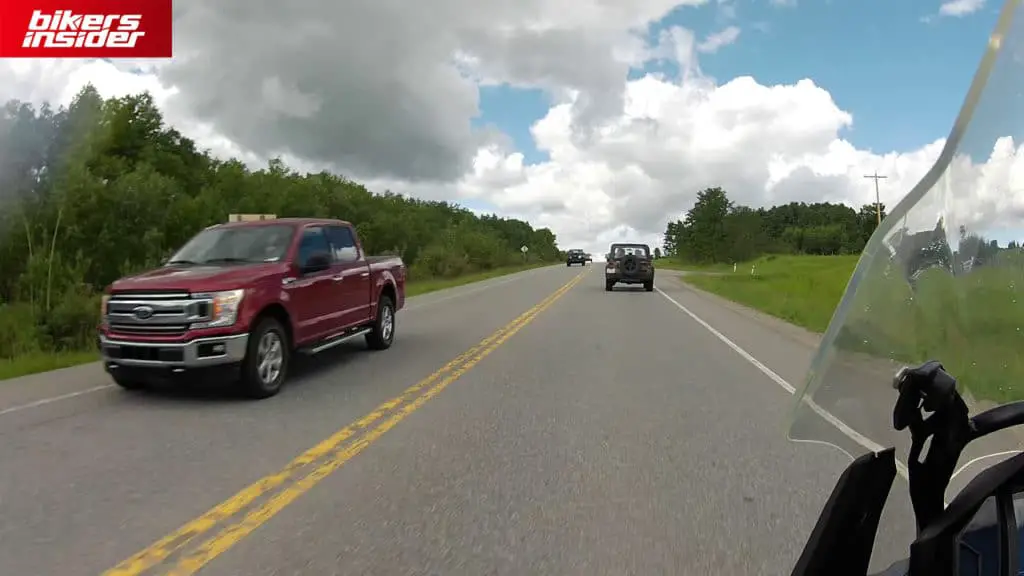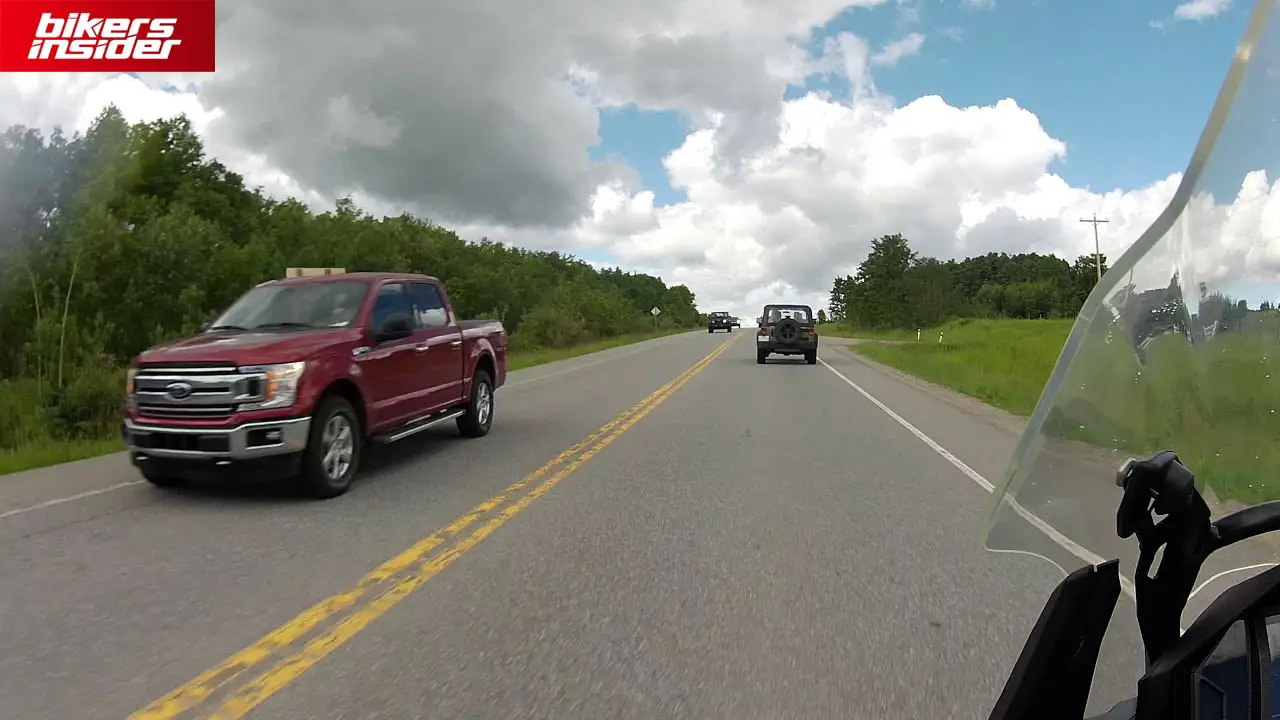 Akaso V50 Pro features a 20MP sensor that takes some decent still shots, with nice color depth and light balance. It doesn't provide so much vibrancy as the GoPro sensor, but it gets the job done.
The lens angle is adjustable, the same as with video recording modes.
If you want to have more vibrant photos, you can utilize some of the built-in filters. Other than that, it's good to know that the photo mode has quite a few modes, including:
Time-Lapse
Long Exposure
Burst
Regular
Audio Quality
Now, when you are motovlogging, the audio quality will be quite an important aspect. The audio quality of the Akaso V50 Pro is simply acceptable. Its stereo microphone doesn't record so much depth and range as your premium-level action camera will do. When you put on the waterproof casing, the sound quality will take a noticeable dip.
If you want to improve the microphone audio quality, you will need to invest in a quality-made external mic. Sadly, this camera only supports the Akaso brand of external microphones, which is unnecessary exclusivity.
Get the Akaso V50 Pro external microphone for $10!
User Interface & Control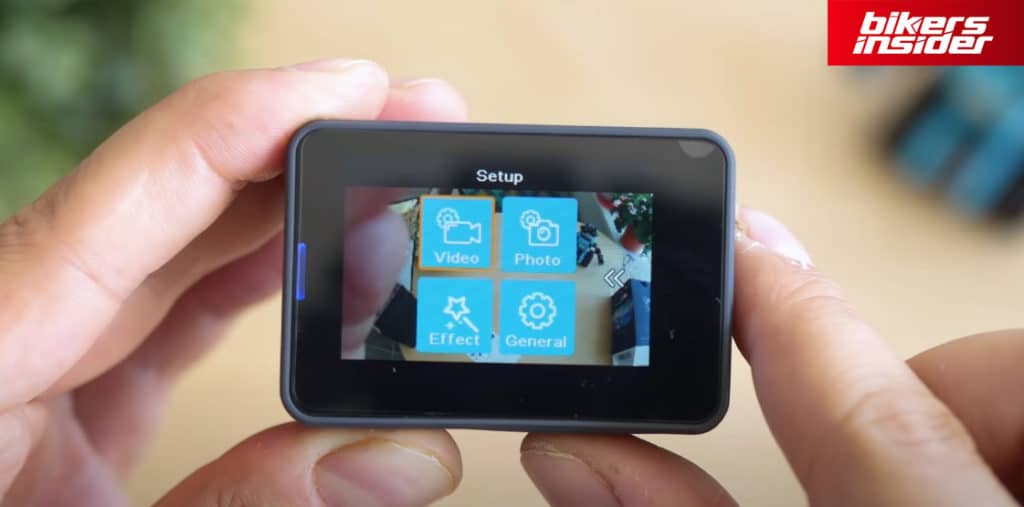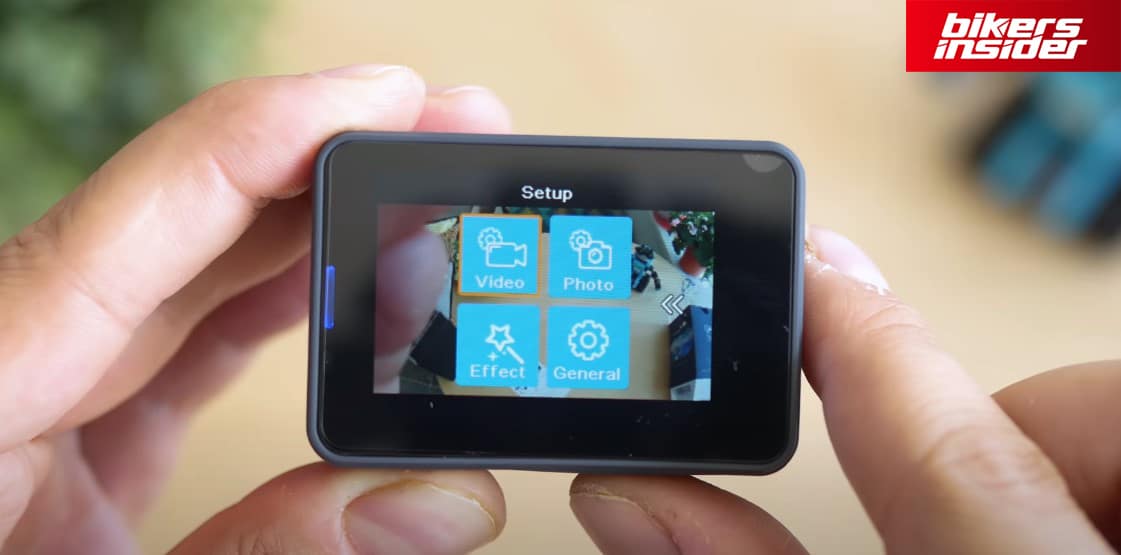 Most action cameras in the sub-$150 price range don't have touch screen control, so it is a pleasant surprise to see that V50 Pro does feature a touchscreen. You can also use the buttons for situations when touch screen isn't working properly (when in waterproof case, for example).
Its user interface is quite intuitive and well-designed, if not too groundbreaking. The touchscreen isn't better than modern smartphones, but it gets the job done.
Note: Keep in mind that the touchscreen is useless when you put on the waterproof case.
You can control the UI of the Akaso V50 Pro with an included wrist remote controller. It features a power button, a record button, and a photo button. To use it, you will need to connect it to the V50 Pro via Bluetooth. The pairing process is simple.
Read our Akaso Brave 4 review to see how it holds up to this action camera!
We first turn on the Bluetooth on the V50 Pro, and then press and hold the power button on the wrist remote for 3 seconds. One downside is that you will need to turn on Bluetooth each time after turning off the camera.
Another way to control the UI is via the iSmart DV App (get the app for Android or iOS). You can pair the action camera to your phone via WiFi and get access to control options such as:
Changing menu options
Accessing the gallery
Streaming the recording to your phone
The main downside to this is that the WiFi connection stability is quite poor and will break often.
Accessories
As with other Akaso action cameras, the V50 Pro comes with tons of accessories at the get-go, such as:
Wrist remote control
Bicycle stand
10 different mounts
2 helmet mounts
Bandages
Tethers
Dual battery charger
Waterproof case
Sadly, the Akaso V50 Pro doesn't come with an SD card. Also, the memory limit is 64GB, so keep that in mind.
Battery Life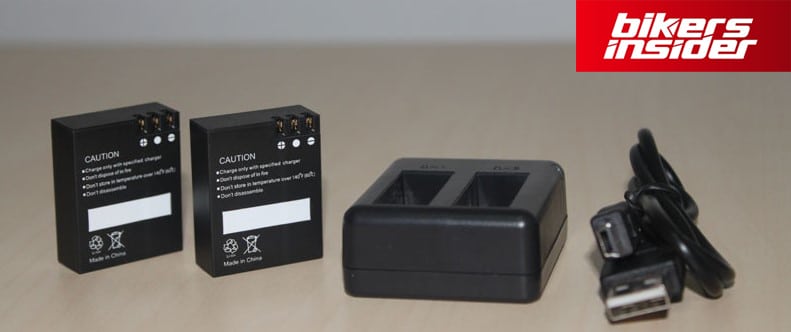 This action camera comes with two 1100 mAh Li-On batteries. The battery life is quite decent, as it offers 90 minutes of filming time in all resolution modes.
You can expect to charge one battery fully in 2 hours, for which you can use a USB cable or dual battery charger. All in all, the battery life is quite average, something to expect from this price range.
Price
Right now, the Akaso V50 Pro costs $110/€90/£81, which is quite a bargain when you consider all the accessories you get and the overall well-rounded feature package.
Final Verdict
As we sum up our Akaso V50 Pro review, what are our final thoughts behind it, and would we recommend it to someone who wants to record his motorcycle rides?
First of all, this is a budget action camera, so we expected to see some compromises. Still, we were quite surprised at the 4K video quality, which looks even better than the GoPro Hero 8. Still, it isn't silky-smooth like the Hero 8, as the 4K mode can record only at 30fps. The 1080p and 720p quality are significantly lower in quality than the 4K mode, which is quite a bummer, considering these two resolutions can record at 60fps.
Another big downside is the audio quality, which is kinda bad at default. You can get an external microphone, but only the one with the Akaso brand.
On the light side, the image stabilization is excellent, and we didn't expect this surprise. The UI is easy to learn, and intuitive, battery life is decent, and Akaso even went out of their corner with a huge number of mounts that are fit for motorcycle helmets.
When summing up, this is one of the better budget 4K action cameras on the market right now. It certainly isn't the best, but it isn't the most terrible, either.
Check out our action camera review section for more!