Akaso is one of the most popular entry-level action camera brands these days. Their Brave 4 camera certainly revolutionized the entry-level action camera market when it was released a few years ago. 
Who would think that great performance and design were possible for such an accessible price point? Actually, this action camera is solid for different niches, especially for vlogging and action sports.
Well, is this action camera the right choice for your motovlogging setup? Let's find out in our Akaso Brave 4 action camera review!
Akaso Brave 4 Review – Features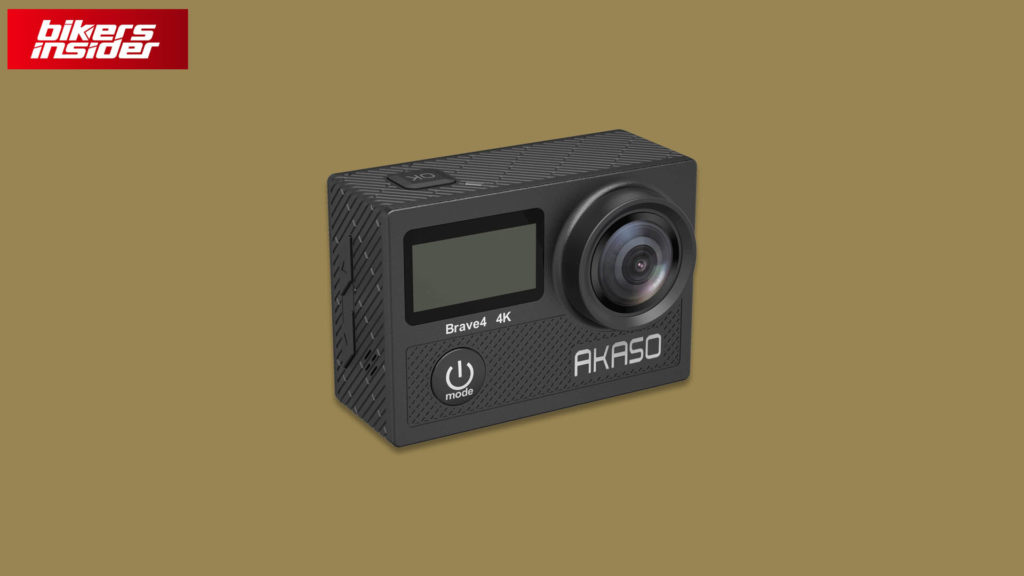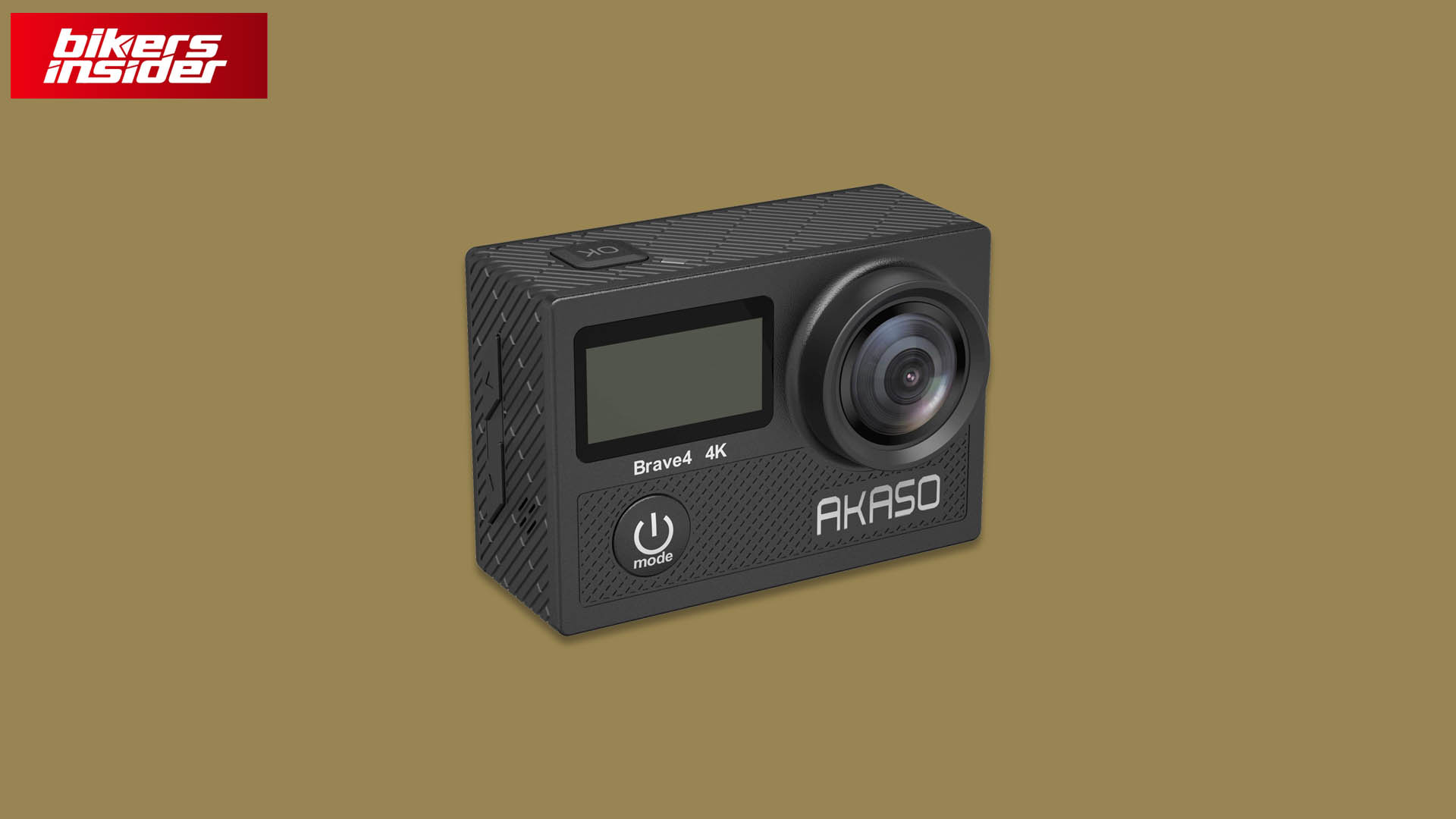 Check out the main features of the Akaso Brave 4 action camera down below:
Dimensions of 59,5 x 41,8 x 30,3 mm
Weighs 0,35 lbs (160 grams)
Supports select video resolutions: 4K at 24fps, 2K at 30fps, 1080p at 60/30fps, 720p at 120/60/30fps
20MP sensor
Video, Photo, Burst, Time-lapse, Loop, and Underwater shooting modes
Electronic image stabilization (EIS) and gyroscope
2-inch IPS main screen and a small front LCD screen
Two 1050 mAh Li-On batteries with 60 to 90 minutes of recording time
Comes with a bicycle stand, 7 mounts, 2 clips, and a helmet mount
Waterproof case included with a 30-meter (100 feet) submersion rating
WiFi mode
Remote control
Without further ado, let's dive in our Akaso Brave 4 review!
Design & Build Quality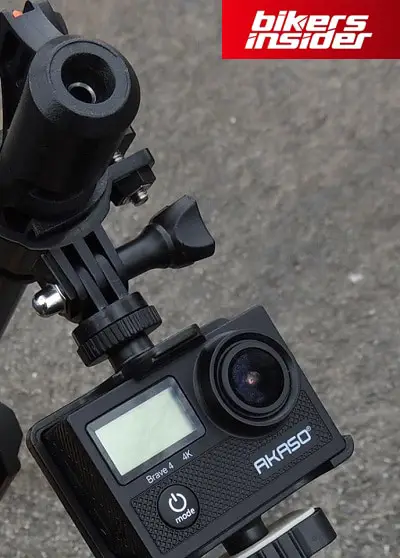 From the first look, there is nothing too revolutionary about the design of the Akaso Brave 4. It features a black plastic rectangular shape with ribbed side texture we all know and love with our action cameras. Like most other action cameras on the market, the Brave 4 is very light at 0,35 lbs (160 grams). 
The action camera is strikingly similar in form to GoPro cameras, which is a good thing, as most GoPro accessories will be compatible with the Akaso Brave 4 and vice versa.
When it comes to durability, the Brave 4 will withstand many bumps, which is somewhat surprising. You can put on an included waterproof case to increase the durability even more. This case will provide water protection up to 30 meters of depth (100 feet).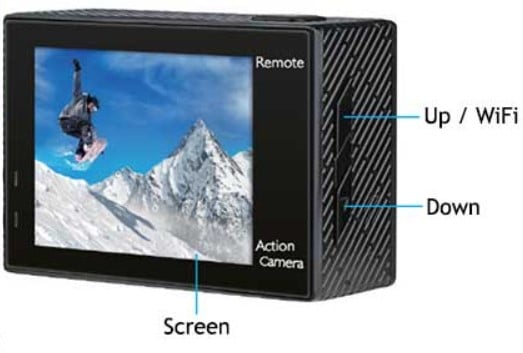 On the back side, we see the 2-inch IPS main screen, which sadly has no touchscreen capability. The front side has a small LCD screen on the top left corner that shows battery life and recording info, which comes in handy, especially when you don't know if you are actually recording your ride.
As this is a button-based action camera, you can expect a few more buttons than on touchscreen-based action cameras. Here are all the buttons you can find on the Akaso Brave 4 action camera:
Power/Mode button under the front LCD screen
Shutter button on the top
Two navigation buttons on the side
You can also find the Micro USB, Micro HDMI, and Micro SD ports on the right-hand side of the action camera.
Stabilization
Of course, the Akaso Brave 4 has built-in EIS that works very well most of the time. Sometimes, it seems too fast, but at least it doesn't distort the image quality whatsoever. 
Other than that, the Brave 4 action camera has a built-in gyroscope assist that provides smooth video and improves the overall image quality.
Thanks to the decent stabilization, this action camera will provide consistent, shake-free video performance even when you mount the camera on the helmet or chest mount. 
Talking about video performance…
Video Quality & Performance
Akaso Brave 4 garnered its high reputation in the action sports community due to it being one of the first entry-level action cameras to compete against GoPro. It certainly managed to set a future standard for entry-level cameras, as most had pixelated video quality and honestly weren't worth the trouble.
When it comes to Brave 4, it honestly shows its age when it comes to image quality, along with an inability to change sharpness and contrast. Still, it's a well-balanced configuration with a decent color range. Just don't expect the unprecedented image quality of newer GoPro cameras, as that expectation for the sub-$100 price point is simply unrealistic.
Keep in mind that the 4K and 2K recording resolutions this action camera offers aren't native but digitally upscaled, decreasing overall image quality. On the other hand, the 1080p recording resolution is relatively smooth and features nice image quality. With the 720p at 120fps, you can make some nice slow-motion captures, even though they may be low in resolution by today's standards.
You can also adjust the field view between 170°, 140°, 110°, and 70°. Basically, you get an ultra-wide angle, wide-angle, and narrow angles with the lens.
Some modes that you may like are the diving mode, motion detection mode, and the timelapse mode. Most importantly, the regular video capture will be good for motovlogging, even during rainy days, as the sensor does a great job maintaining image quality during such circumstances.
Photo Quality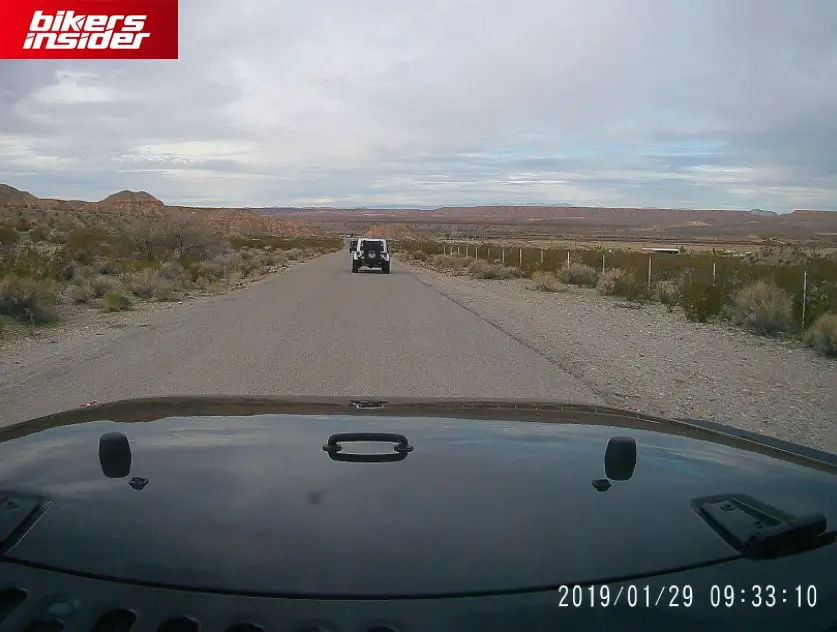 Like with most other action cameras, you can take photos with the Brave 4. The 20MP camera sensor with an adjustable lens will provide solid quality images best fit for social media.
There is also a 5x digital zoom that enables you to zoom in on desired subjects and capture them in high detail. 
You also get a burst photo mode and the timelapse mode. Honestly, if you are motovlogging, you probably won't use this feature other than making some photos for social media. Still, it's good to have this feature for some versatility. 
Audio Quality
The audio quality is the biggest drawback of this action camera, and we see that Akaso has saved the most money on this aspect. Still, it is suitable for the sub-$100 price tag.
The sound will get a bit muted when using the waterproof case, and the microphone is highly susceptible to wind noise. This may be a huge problem if you are planning on having great sound quality on your motovlog.
User Interface & Control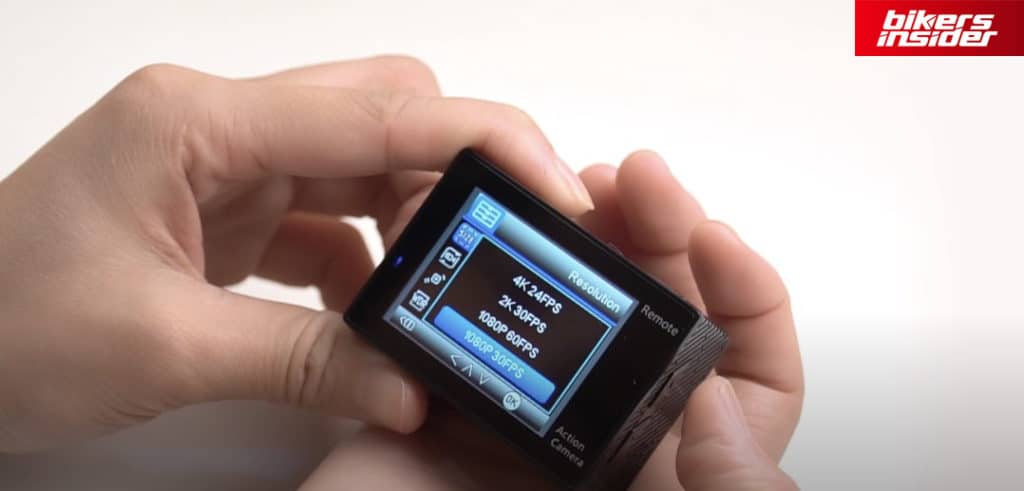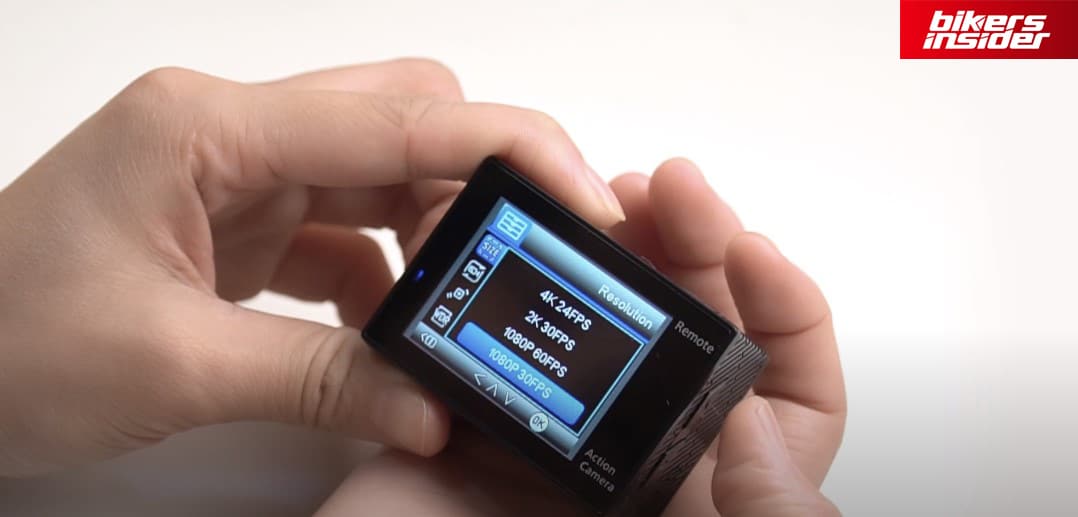 As this is an older action camera, it uses a dated, button-based user interface on a 2-inch IPS screen. Nevertheless, the user interface is simple to use and won't require hours to learn. Additionally, the screen is surprisingly good and will keep the info visible even during low-light conditions.
You can also control the Brave 4 action camera with an included wireless remote control wrist strap accessory. With it, you can easily start and stop recording when the camera is mounted. It is a great safety factor, especially when you are riding a motorcycle and don't have time to stop. With its 10-meter range, it is quite a handy accessory.
Another control method is the smartphone app (on Android and iOS), enabling you to change settings, view live feed, access past recordings, and record remotely. The app is buggy, so it may not be the best way to control the Akaso Brave 4 action camera.
Accessories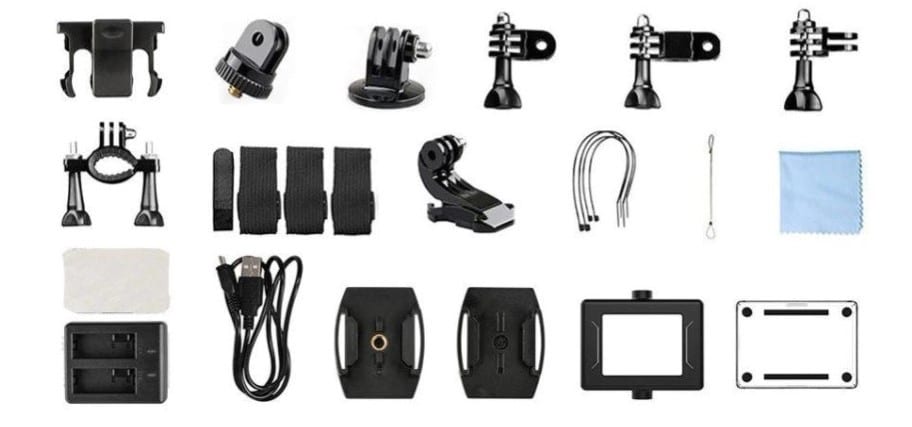 Akaso Brave 4 comes with a generous amount of accessories. To be more specific, it comes with a total of 19 accessory pieces, from mounts to handlebar stands. You can easily mount it on your motorcycle helmet too!
Battery Life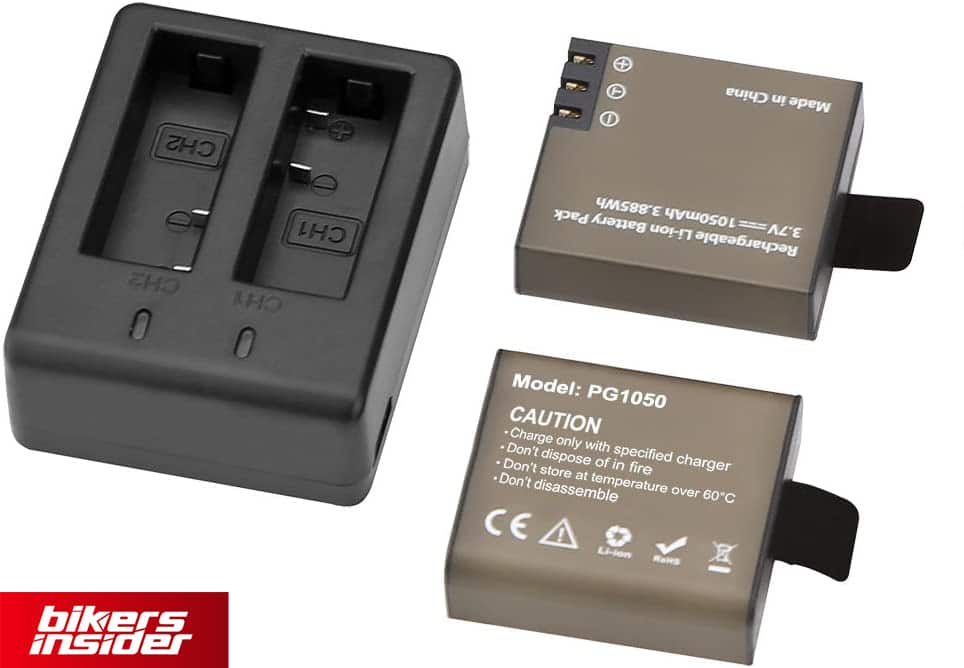 This action camera comes with two 1050 mAh batteries that provide decent battery life. One such battery will give you an hour and a half of 1080p video recording and one hour of 4K or 2K video recording. 
Sadly, this action camera doesn't come with a dedicated charger for the batteries, so you will need to charge the batteries with a USB cable.
Price
You can currently find the Akaso Brave 4 action camera on sale for just $79,99/€65,43/£58,97. It is a true bargain, considering how many accessories you get and the overall solid video quality for such a price point.
Final Verdict
Now that we are at the end of our Akaso Brave 4 review, what is our final judgment?
When it comes to its build, it's nothing revolutionary, but it's quite sturdy and will withstand the elements, which is vital for motovlogging. One downside is that it isn't waterproof without the waterproof casing, which will tremendously decrease the audio quality. Without an external microphone, this action camera is not the best for motovlogging.
The menu isn't touch-based, which is a bummer, but the existing UI is intuitive enough not to be a disturbance. When it comes to overall recording capabilities, the Akaso Brave 4 performs well at this front, even though its 4K and 2K resolutions are not native. You will be best off with the 1080p mode, as it is crisp and smooth.
Overall, the Akaso Brave 4 is a decent buy for those looking for worthwhile entry-level, budget action cameras. It's certainly not GoPro, but with some post-processing, you can make some decent moto vlogs on this one!
If you are interested in more action camera reviews, check out our action cameras for motovlogging section!