Since its launch in the late 1980s, Kawasaki KLR650 has garnered praise as a versatile adventure motorbike capable of virtually any task. Although the venerable vet hasn't altered much over the years, it has earned a devoted fan base due to its many redeeming qualities. After a two-year sabbatical, the invincible KLR dual-sport motorcycle was reintroduced in 2022 with the Adventure and Traveler models. It has a modified fuel-injected engine, and the rider's comfort, cockpit ergonomics, body design, and electronics were all upgraded.
We'll have another year to consider that makeover carefully, as all variants will be back for 2023 with only minor cosmetic changes and updated pricing.
2023 Kawasaki KLR650/ABS
The previous semi-double-cradle steel structure remains in place for the upgraded fuel-injected 652cc thumper. Roads less frequented will be no match for the protective skid plate, spoked wheels, and long-travel suspension. At the same time, long-distance interstate travel will experience comfortable egos, a long wheelbase, and an enormous 6.1-gallon fuel tank. A two-position adjustable windshield and hand guards are features in the entry-level models, making them appropriate for any riding situation. The KLR is still a steal for $6,899 (non-ABS) or $7,199 (ABS) for 2023. (with ABS). The brand-new hues are Pearl Storm Gray, Pearl Solar Yellow, and Candy Lime Green.
2023 KLR650 Adventure/ABS
With the Kawasaki KLR650 Adventure, riders no longer need to scour the aftermarket for ways to increase the KLR's storage space, durability, or electrical features. The Adventure comes standard with dependable accessories: Included in the base price of $7,899 (non-ABS)/$8,199 (ABS) are the SHAD 21-liter hard bags, engine guards, and tank pad, LED auxiliary lights, DC and USB connections (ABS). Both Kawasaki KLR650 Adventures will have a Cypher Gray camouflage for 2023.
2023 KLR650 Traveler ABS
The basic equipment on the Traveler includes:
A DC power outlet and a USB connection.
A 43-liter top case.
Lower weight than the Adventure.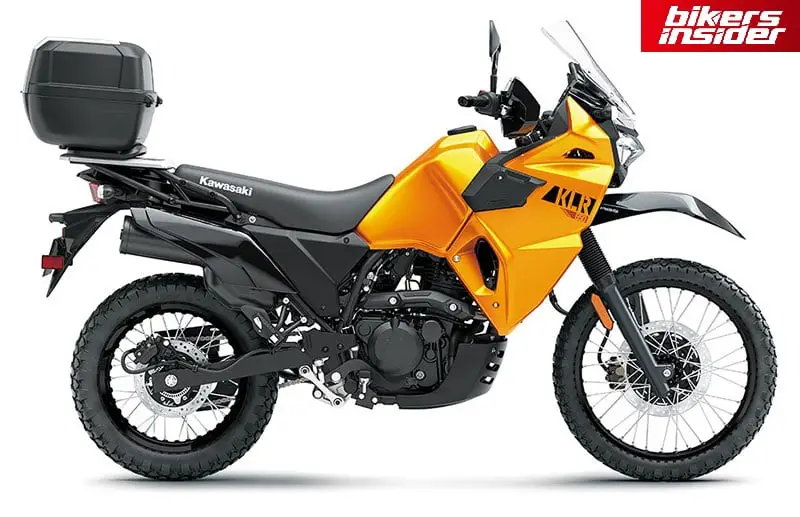 Pearl Solar Yellow is the usual color, and features ABS. The manufacturer suggested retail price of this model, at $7,599, places it around the middle of the Kawasaki KLR650 lineup.