Introduction
More than a million motorcycles are bought and sold each year in the United States. To achieve economy and performance, each bike is outfitted with cutting-edge components. Oil is necessary for a motorcycle to run at the most efficiency. Keep your pipes clean with oil, and your engine will run without seizing or overheating.

You can't take a chance on your bike's health if you're using poor oil. It might be tough to tell which motorcycle oil is best for your vehicle. There are many options available on the market. With our aid, you'll be able to pick out the best motorcycle oil on the market. You can have a look at our chosen ones if you are in a rush.
Which one is the best motorclycle oil?
We can't say without a complete and rigorous study of all motorcycle-specific lubricants. It also includes a detailed definition of what "the best" implies. This article is not intended to achieve that. There are now so many wonderful oils on the market that it's difficult to choose.

Yet, there are extra factors to consider. The weather where you ride, the type of motorcycle you ride, whether you ride street or dirt, etc.

Most riders prefer Shell Rotella because it's cheap and fits JASO MA2 specifications. Price, availability, and personal choice all play a role in buying decisions. Other variables include oil grades (weights), PAOs, Ester-based, and petroleum-based oils. The information below should help you choose the proper oil for your motorcycle.
Types of motorcycle oil
Synthetic oil
One of the most important ingredients in a synthetic oil is pure crude oil. Synthetic oils have improved throughout time as technology has progressed. As a result of their lower viscosity, synthetic oils are popular among motorcycle enthusiasts. It is because of the smoother movement and less internal friction they provide. Yet, synthetic oils can be a bit pricey. This can be worth it if you want long-lasting protection and a lengthy lifespan.
Semi Synthetic oil
As the name suggests, semi-synthetic oil is a blend of mineral and synthetic oils. Motorcycles with high power output need synthetic oil. Bikes with lower power consumption can use mineral or conventional lubricants. This type of oil is best suited for engines between 125 and 180 cubic centimetres.
Key features to consider when buying motorcycle oil for your bike
Viscosity
The oil's viscosity determines how quickly or slowly it moves through your engine. Oil with a low viscosity can flow quickly and easily. So, high-viscosity oil flows significantly more slowly. You'll see something like this when looking at oil ratings: 10W-30. When the engine is cold, the SAE viscosity is 10W, and when the engine is hot, it is 30W. Metal-on-metal grinding can be fatal to your engine if you use the wrong viscosity.
Additives
Acidity is neutralized, and debris is removed by the additives in motorbike engine oil. Lubrication and cooling are also provided. If you use the improper oil in your motorcycle, you risk reducing the engine's life expectancy and increasing friction.
Complying with regulations
High-quality motorcycle oils have a mark supplied by the manufacturer, so look for that on the product's body. The marking will be an SAE, JASO, or API code. Options with these symbols are of the highest quality.
Riding styles
Because motorcycle oil behaves depending on your riding style, you must have a grasp of it. Synthetic motorcycle oil is good for performance enthusiasts. Aggressive riding generates higher temperatures than typical driving. At high temperatures, synthetic oils are to withstand breakdown.

So, Mineral oil is an excellent alternative for calm drivers.

Sorting by the quality of crude oil. The quality of the motorcycle oil you use is critical. It informs the user of the oil's viscosity and temperature range, allowing them to decide how much oil to use. For example, in 5W-40, these values state the oil's viscosity. Low-temperature winter ratings are first in the viscosity grade. The "W" indicates winter. To get an idea of the viscosity grade, look at the second number on the scale. Because of this, buying motorcycle oil with a low "W" rating for a particularly chilly climate.
Pricing
Motorcycle oils in this price range tend to be natural or synthetic mixes, which are less expensive. If you're on a budget but still want the benefits of synthetic oils, synthetic blends are a good option.

$20-$30: Full synthetic motorcycle oils with low viscosity. They provide great efficiency and performance in this price range.

There aren't many motorcycle lubricants that cost $50 or more. Racing bikes must use special high-performance oils, such as those found in these motorbike lubricants.

The low viscosity, high peak performance, and efficiency-improving properties of these fluids are unbeatable. Small-capacity motorcycles should not use these oils.
Best motorcycle oils in 2022
Here we are going to recommend some of the best motorcycle oils in 2022.
Lucas SAE 10W-40 Semi Synthetic motorcycle oil
The American manufacturer Lucas has developed a semi-synthetic motorcycle oil in wet-clutch situations. Four-stroke cycles must meet or surpass strict performance standards in today's market. Oil ensures the most performance and excellent film strength across a temperature range. Unlike other motorcycle oils, it contains a unique additive package.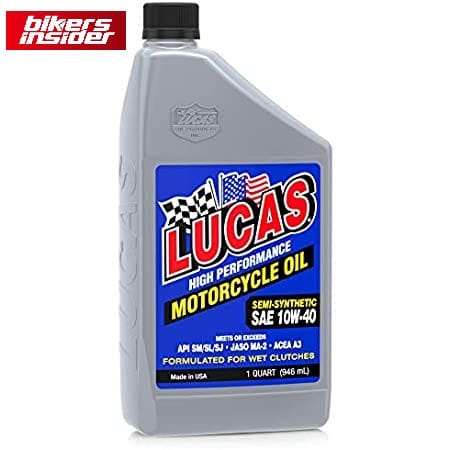 The manufacturer claims improved compression and superior sealing of piston rings to result in a higher power. Fuel dilution should be less of an issue, and oil draining should be less frequent. Even after a few thousand miles, the engine still looks clean, and shifting gears is more pleasant. This oil is an excellent choice for a wide range of bikes for the price.

It's worth noting that this is a 10W-40 semi-synthetic oil designed for wet clutches only. Non-wet clutch applications need a different recipe.
Motul 7100 synthetic mtorcycle oil 4T
To get the most performance out of your motorcycle's engine, use Motul's 7100 motorcycle oil. This motor oil is designed to reduce the force required to shift gears. The American Petroleum Institute has certified Motul 7100 as a high-quality full synthetic motorcycle oil. It provides exceptional protection and a silky ride. A motorbike lubricant like Motul 7100 synthetic is a must-have if you're a performance junkie. It has been developed with improved oil film resistance for increased performance at high temperatures and rpm.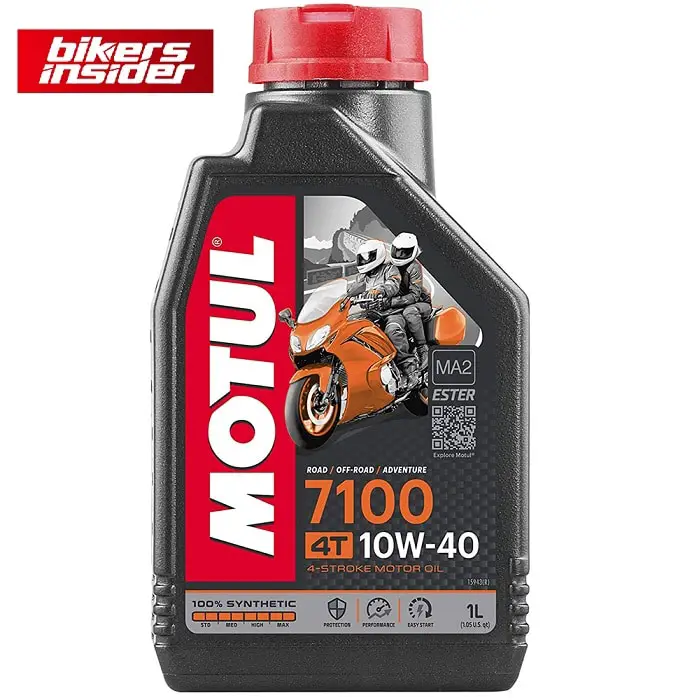 Reduced internal engine friction from the ester technology helps enhance performance and efficiency. Designed to last longer, Motul claims that motorcycles using this oil can go 1,000 miles before needing to change it. Its exceptional shear resistance protects your engine and gearbox. It results in smooth shifting and trouble-free operation.

For low-capacity motorcycles, the Motul 7100 Motorcycle oil has some drawbacks. A high operating temperature makes it unsuitable for city or short-distance driving. Additionally, this oil is more expensive than other items in the same category. On the plus side, you get a lot of quality for a cheap investment.
Maxima 34901 Premium 4
The Turbo organization has tested and approved this 10W-40 motorcycle engine oil. It ensures optimal performance in wet clutch situations. As an innovative trimetallic additive, Premium4 uses a mixture of fine petroleum base stocks. For water and air-cooled 4-stroke motorcycle engines with integrated transmissions. The result is a long-lasting, multigrade oil that assures constant viscosity. Heavy temperatures and high loads are no problem for the additive package. It includes anti-wear and anti-shear qualities and extra anti-scuff compounds.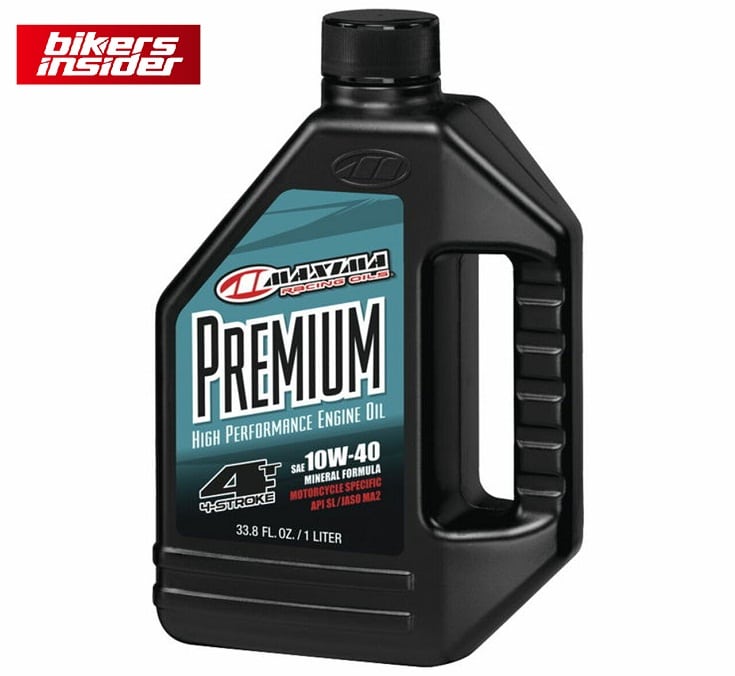 The all-season formula will provide an easy start by reducing friction in cold weather. Since 1979, Maxima Racing Oils has produced motorcycle lubricants in the United States. This is a must-have for serious racers who are conscientious about their bikes' upkeep. Extra heat shielding isn't noticeable to most street riders who don't ride in subzero weather.

Changing to this oil has caused some clutch slippage in some users, but it operates. As if that wasn't bad enough, the gallon container doesn't have an indicator on the side to tell you how much oil you've used or how much remains.
Redline 42504 20W-50 full synthetic motorcycle oil
This formula has been designed for modern high-revving four-stroke motors, such as ATVs, motocross bikes, and V-twins. This is a 20W-50 oil for Big-Twin motorcycle engines. The oil contains high concentrations of zinc and phosphorus to safeguard your engine, both of which are found in synthetics. The use of Red Line's unique friction modifiers will improve wet-clutch operation. The base combination used by Red Line is of the highest quality. It is entirely synthetic, which has a significant impact on viscosity. It can withstand high temperatures because it's thicker and stickier than most other 50W motor oils.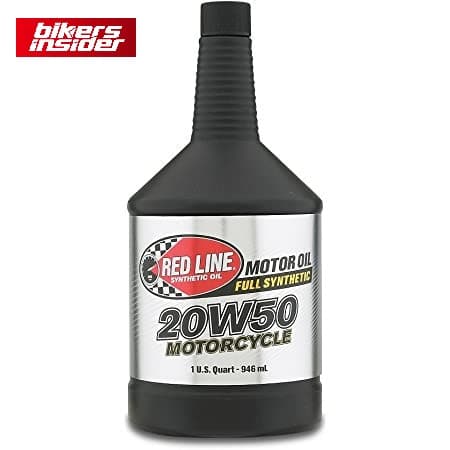 High-quality oil has a hefty price tag. As expensive as it is, you may not notice any difference unless you are intimately familiar with your bicycle. If you're riding a regular street bike, the increase in performance will be minimal.
Honda pro GN4 motorcycle oil
For decades, Honda's light-duty motorcycles have relied on Pro GN4 Motor Oil as their go-to lubricant. Reliable motor oil for current four-cycle engines results from the testing and the inclusion of additives. This mineral oil meets the needs of today's high-performance engines. Even after continuous usage, its improved viscosity and stability help it resist premature decay. Longer drain times are possible by using mineral oil. It can also improve engine performance by cleaning it.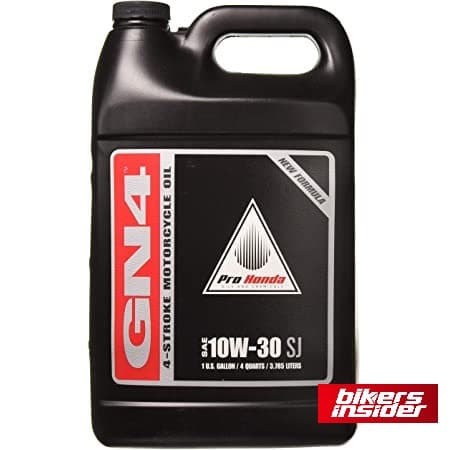 Casual riders should use a lubricant with mineral-based stability. Those that race their Hondas should look for a more powerful synthetic mix. There's a chance it'll come with a leaky bottle.
Castrol 06112 power1 synthetic oil
Castrol Power 1 is a completely synthetic motorcycle oil. It uses TRI ZONE Technology which aims to provide uncompromised performance protection. It protects the three essential zones of your motorcycle's engine, clutch, and gears. Triumph motorcycles' relationship with Castrol should help ease the minds of Castrol motorcycle oil customers.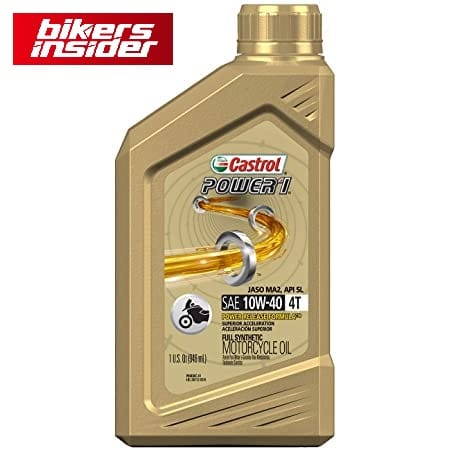 This oil changes viscosity and becomes more fluid when put under mechanical stress. It allows it to withstand higher temperatures. Using this oil needs a more frequent oil change than other oil types. Using oil has also increased engine noise for some motorcycle owners.
Yamalube all purpose 10w-40
Yamalube All-Purpose SAE 10W-40 mineral oil is ideal for four-stroke motorcycles, ATVs, and scooters. Anti-friction chemicals in the ultra-pure form are used to clean and lubricate the engine's gearbox, pistons, valves, and clutches with this fluid. Due to the reduced heat transmission and prevention of residue buildup in clutch plates, oil is preferred in wet clutch applications. From the beginning, newer Yamaha motorbikes should be serviced properly. For a complete oil change, you'll need a gallon of this. The product is also reasonably priced.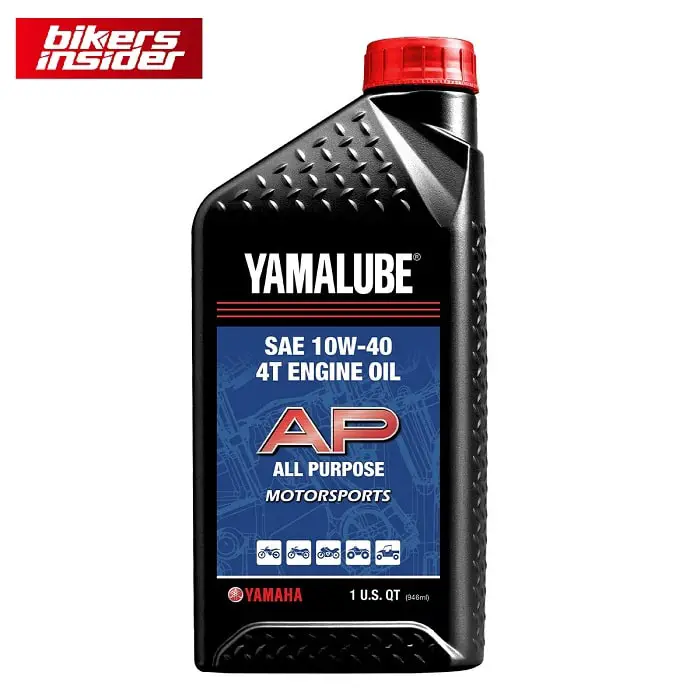 In contrast to synthetic mixes, mineral oil requires an oil change every 2,000 miles. Because of this, it isn't recommended to lubricate high horsepower motorcycles since they may not be able to withstand extreme circumstances.
Verdict
There are some qualities of different oils that make them better for motorcycles, but any oil is better than none. Engine, oil industry standards, developed and licensed by the American Petroleum Institute (API). It impacts the consumer market. An important part of the API's job is to ensure that automobiles run as effectively as possible by working with automotive manufacturers. On the back of some oils, you may notice the API logo, while on others, it may say that they fulfil API standards. Thus they are claiming that they meet the API criteria without the emblem.

It is easy to see the differences between motorcycles and automobiles in many ways. Another one is how their engines use oil. Although the engine oil and transmission oil are separate in a two-stroke motorbike. They blend for a four-stroke motorcycle engine. Motorcycle engine wear and clutch performance are widely affected by friction modifiers and additives that may improve oil performance. Japanese Automotive Standards Organization certificates for motorcycles certify due to this.
We hope you enjoyed reading this guide. Please keep visiting BikersInsider for more guides and updates.