We discovered leaked photos of what we assumed to be the revived Husqvarna Vitpilen 1301 in January 2022. We thought the KTM 1290 Super Duke-based prototype would fit into Husky's portfolio.
It is based on its round headlamp and futuristic styling. Yet, we reported that a joint effort between automobile tuning specialists Brabus and KTM will use the Super Duke as a foundation.
After months of public conjecture and testing by the partners, a KTM website leak confirms that the two are identical. With the Brabus 1300 R about to join the market on February 11, 2022, KTM released the model's dedicated webpage before removing it.
While the homepage is no longer active. A fast search engine inquiry will reveal the model's gallery photo(s) on the KTM website.
Tagline for Brabus 1300 R
"Heart of a Beast, Soul of a Gentleman", encapsulates the rebellious attitude. The 1290 Super Duke also alludes to Brabus' more refined style.
While we'll have to wait until the 1300 R is introduced to learn the model's exact features and cost. The photos suggest that Brabus' first motorcycle will be based on the announced 1290 Super Duke Evo.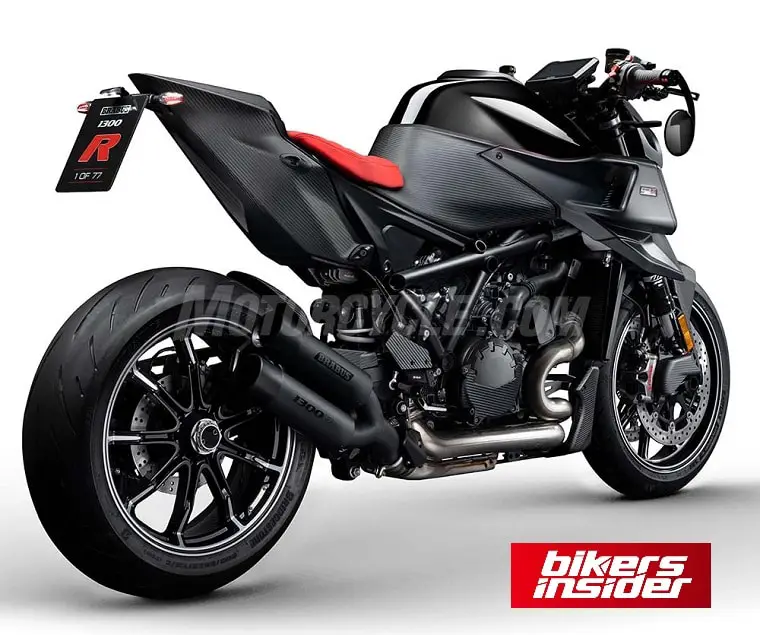 As a result, many expect the Brabus 1300 R to include an electronically-damped WP Apex front end. An electronically-adjustable WP mono-shock and the Super Duke's 180-horsepower 1,301cc V-twin engine.
While we expect the Brabus to share many characteristics with its KTM sibling. The special-edition model will have two carbon fiber air intakes on both fuel tank sides.
Lightweight build
Carbon fiber is also a significant element in the new design. The light material made headlamp nacelle, brake caliper cooling ducts, tank trim, and tail unit. Premium features like CNC-milled footpegs and adjustable levers round out the new package.
More information about the 1300 R's specifications will be revealed when released. But, it appears that Brabus is using the released EVO version of the 1290 Super Duke R as its base model.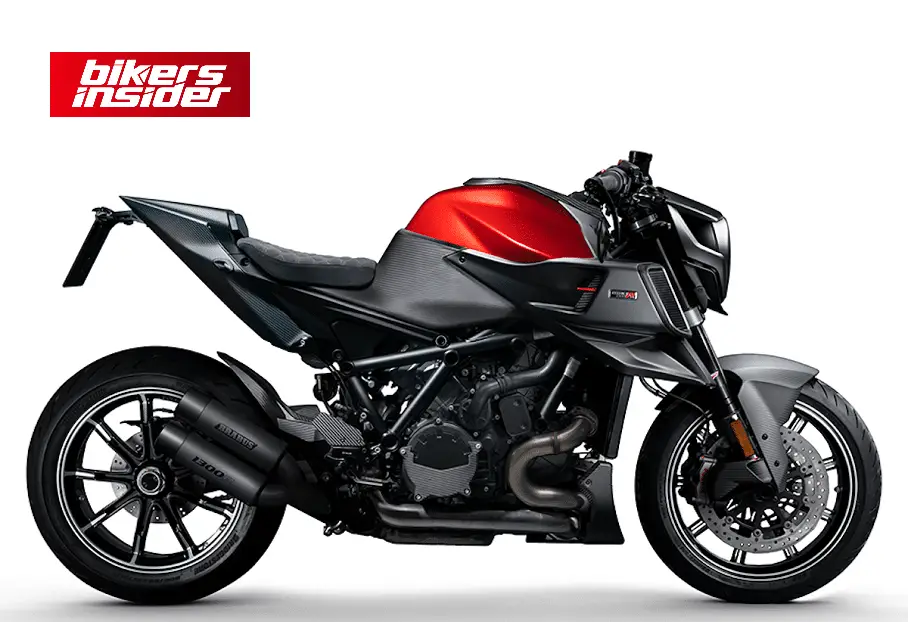 As a result, expect roughly 180hp held in check by a slew of electrical gadgets. It meant to keep the 1300 R in check on and off the racing track. As well as access to the updated WP APEX suspension set-up with electronic damping.
According to early estimates, 77 Brabus 1300 R units will mark the company's founding in 1977. The bike will be available in Magma Red or Signature Black liveries colors. The more we will know when the bike will hit the market. For more news and updates on this beauty keep visiting BikersInsider.