FreedConn listened to the feedback on their TCOM-SC model and decided to ramp up their game with the T-Max motorcycle Bluetooth intercom. Just a reminder, FreedConn is a company that excels in crafting low-budget yet quality motorcycle Bluetooth headsets. A low price might be a red flag for some, especially in the motorcycle Bluetooth communicator niche. Let us prove you otherwise in our FreedConn T-Max review!
FreedConn T-Max Review – Main Features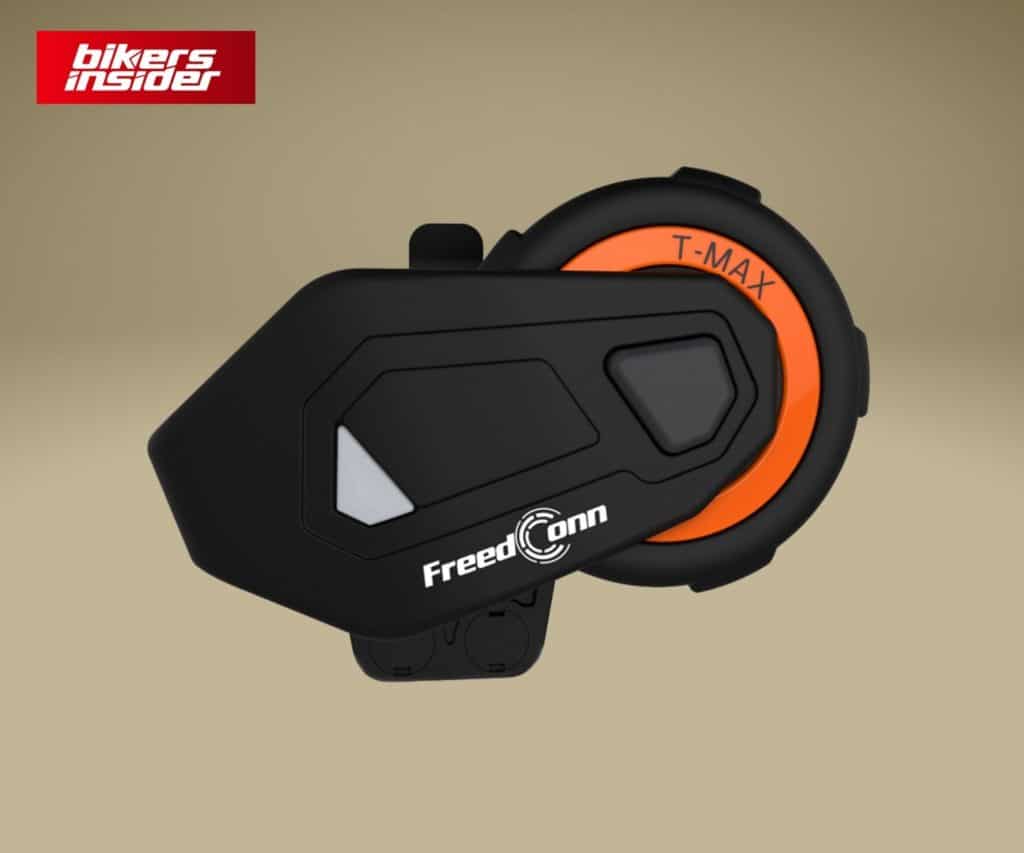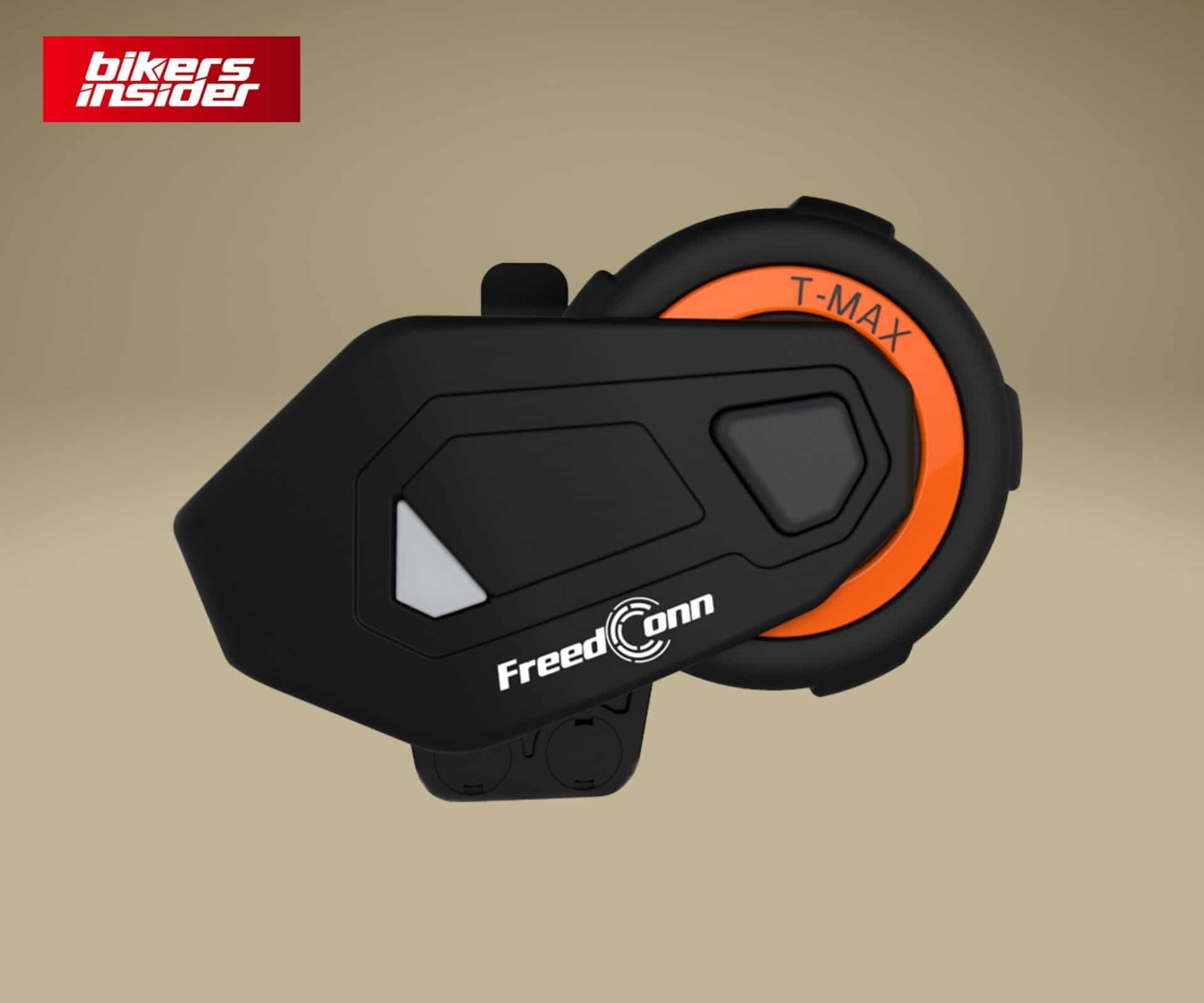 In a rush? Here is a summary of all the main features of the FreedConn T-Max Bluetooth headset:
Weighs 55 grams
Bluetooth 4.1 technology
Group intercom support for six people
Intercom range of 1,5 kilometers (0,93 miles)
IP65 waterproof rating
Noise cancellation microphone
Built-in FM radio
7 hours of music time
6 hours of intercom/phone talk time
Without further ado, let's begin our FreedConn T-Max review!
Design & Installation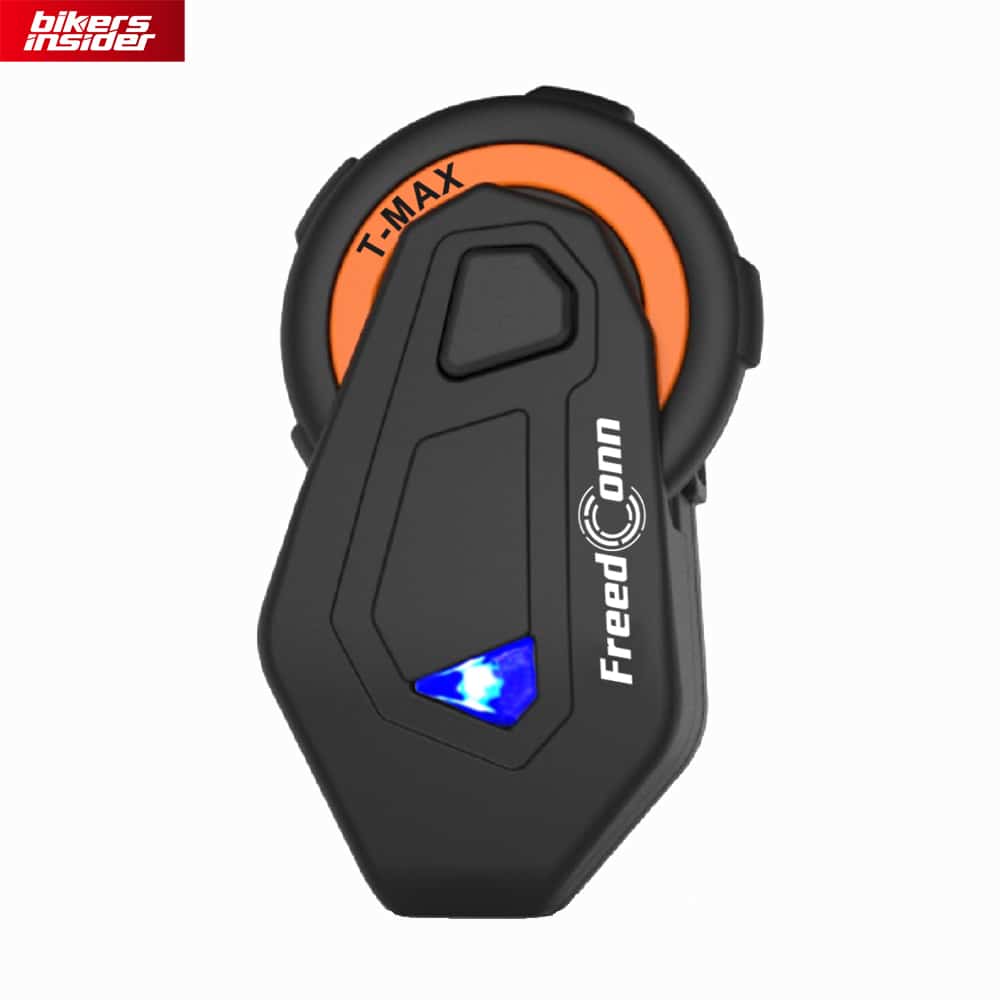 First of all, we have to praise the minimalistic, glove-friendly design of the FreedConn T-Max motorcycle communication system. It has only two buttons and an indicator light. Here are the functions of each button:
Multifunction button – answer/decline calls, play/pause music, switch between phone audio and FM radio, power/pairing functions
Multifunction jog dial – skip songs and adjust their volume
Note: Keep in mind that the central multifunction button can break if you don't press it gently in the long run.
The headset itself is well-built, with a bulky plastic body that honestly doesn't provide a catchy design as we expected. It's also quite thick and weighs 55 grams.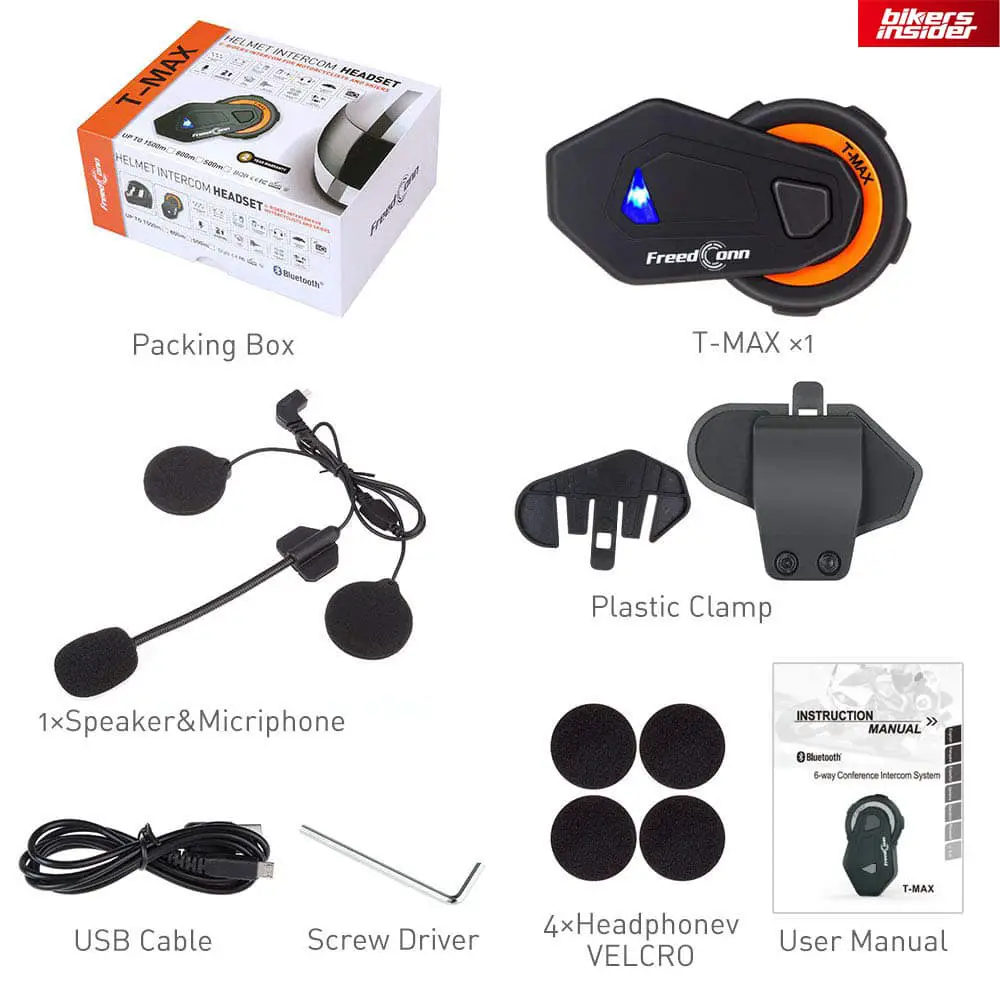 The packaging contains the standard assortment for most motorcycle Bluetooth headsets out there:
T-Max headset
Two wired mics
Speakers
USB cable
Metal mounting clip
Plastic mounting clip with double-adhesive tape
Adhesive earphone pads
Screwdriver
We've noticed the lack of a boom mic in the packaging, making this Bluetooth motorcycle headset not so optimized for open-face and modular motorcycle helmets.
The installation procedure is straightforward. You can either mount the T-Max Bluetooth headset on your helmet with an adhesive clamp or with the metal clip. Keep in mind that the adhesive clamp isn't so durable as the metal clip.
Bluetooth Pairing
FreedConn T-Max is powered by Bluetooth 4.1 technology, allowing you to connect to a wide range of Bluetooth devices with a clear connection. But, of course, the best way to get a media suite is to connect the T-Max with your smartphone, which enables you to listen to music, proceed and receive calls, hear GPS directions, and more.
Intercom pairing with T-Max sometimes can include a lot of trial-and-error, especially with non-FreedConn brands.
We'll dive into the Bluetooth pairing procedures you can do with the FreedConn T-Max motorcycle Bluetooth headset in the following sections.
Smartphone Pairing
To pair the T-Max Bluetooth headset with your smartphone, you need to follow this specific procedure:
When the T-Max is off, press and hold the Multifunction button for 8 seconds until you hear the "Pairing" prompt and when the blue and red lights flash alternately.
Find the T-Max on your smartphone's Bluetooth menu and pair it with it.
When you pair with your smartphone, you should hear the "Bluetooth is connected" prompt and see the blue light flash.
FreedConn & Universal Headset Pairing
Here is the pairing procedure with other FreedConn T-Max Bluetooth headsets:
When the two headsets are off, press and hold the Multifunction button for 8 seconds until you hear the "Matching Status" voice prompt, as well as the blue and red lights flashing alternately.
Press the Multifunction button on any of the two devices, which triggers the search for another T-Max headset.
You will hear a voice prompt, and the blue light will flash regularly, indicating successful pairing.
The pairing procedure for non-FreedConn headsets is the same, other than the fact that entering the pairing mode on other brands will require a different button combination.
Connection Range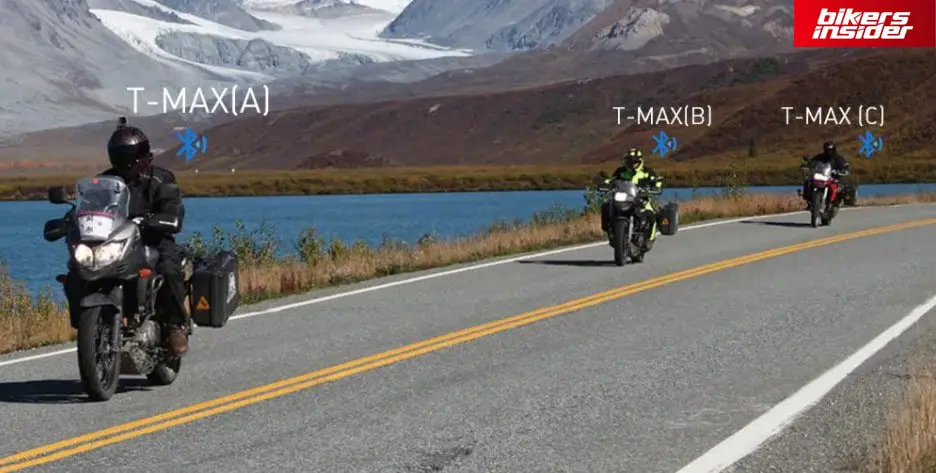 First of all, the FreedConn T-Max Bluetooth headset was made with a group intercom in mind, as you can connect with up to six riders in one session. Of course, all of the group intercom participants can talk simultaneously.
If group intercom isn't your cup of tea, check out our FreedConn T-COM SC review!
The maximum range of the group intercom is 1,5 kilometers (0,93 miles), which is fairly decent. Also, the device-to-device range is between 500 meters and 1 kilometer (0,31 miles to 0,62 miles), which is impressive.
You have to keep in mind that the range won't always be as the listed numbers. Numerous factors impact the maximum intercom connection range, such as large vehicles between intercom participants, hills, lush forests, and similar.
Sound Quality
As we continue our FreedConn T-Max review, let's talk a bit about its speakers, microphones, and overall sound quality.
First of all, the speakers feature a slim design that promotes comfort, as they won't push against your ears. Second, their sound quality is decent, but nothing to write home about. The sound isn't too bassy, but it is pretty loud, even on the cheaper, noisier motorcycle helmets. You will hear the music up to 160 km/h (100 mph) in most cases.
Check out all the FreedConn headsets we reviewed on our FreedConn headsets section!
On the other hand, the microphone sound quality is substantially better than the speaker's sound quality. First of all, the microphone sound will be clear until you reach 80 km/h speed (50 mph). Also, the advanced noise control works very well with the microphone. It reduces background noise so the people you talk to don't hear any background noise.
Voice Control
You can only use the voice assistants found on your smartphone (Siri on Apple devices, Google Assistant on Android devices). There is no dedicated voice command system that controls the functions of the headset itself.
Additional Features
Here are some of the additional features of the FreedConn T-Max Bluetooth headset:
FM Radio
The only feature that sets apart the FM radio functionality of the T-Max headset from other low-budget Bluetooth headsets is the ability to get HD FM radio reception. Other than that, it's a pretty standard package.
Water Resistant or Waterproof?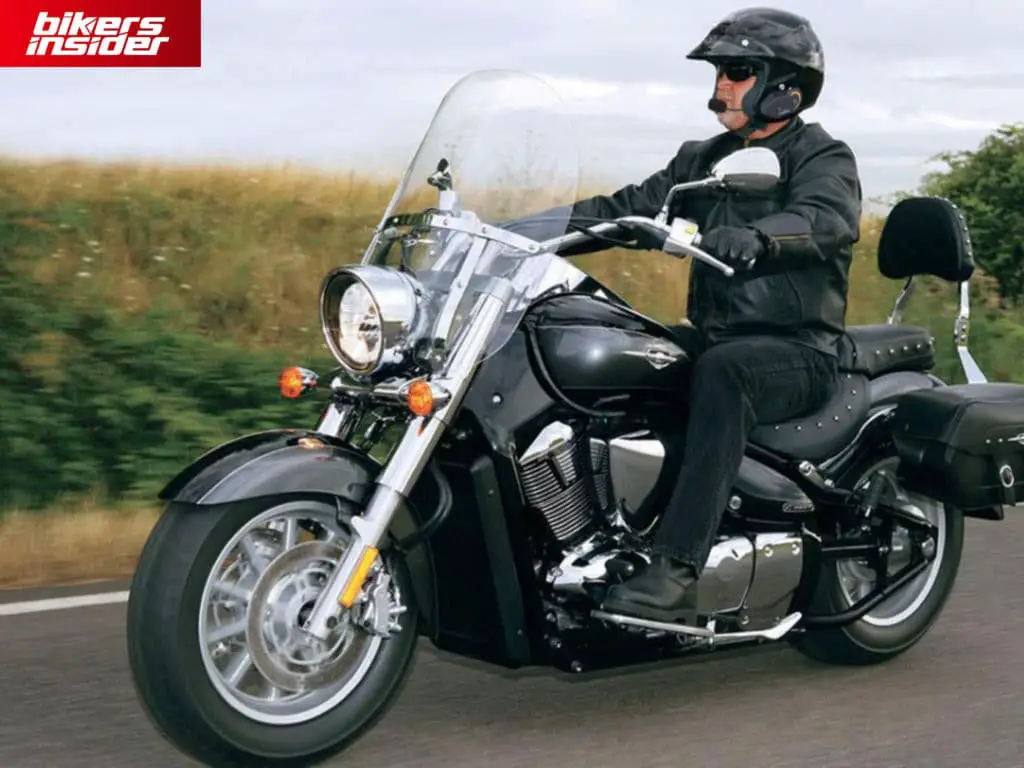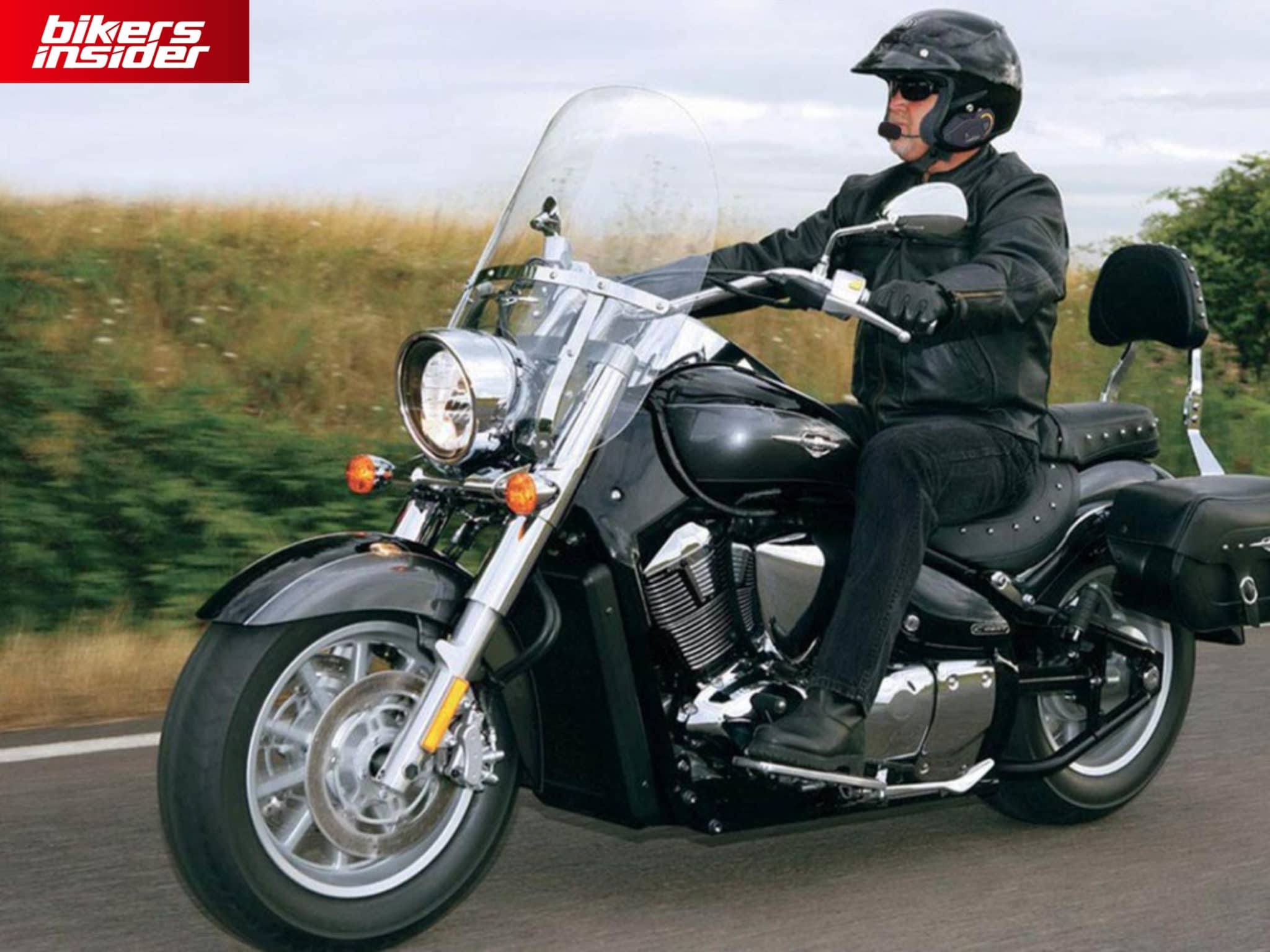 With the IP65 waterproof rating, the FreedConn T-Max can easily withstand rainstorms with no risk of electrical failures. We are pleasantly surprised by this, as it seems that low-budget motorcycle Bluetooth headset brands aim to fix the failings of premium headsets, which often don't have a waterproof design.
Battery Life
As we come closer to the end of our FreedConn T-Max review, let's discuss its battery life. First of all, it has a 570 mAh battery that provides underwhelming performance compared to similar budget models.
This battery can withstand:
6 hours of continuous communication via phone or intercom
7 hours of music time
Standby time up to 300 hours
One charge will be enough for one extended ride. Thankfully, you can charge this headset while riding, and the charge time is 2,5 hours. Also, when the battery is running low, you will get a "Battery Low" prompt and red flashing light every 15 seconds.
Price
The FreedConn T-Max is quite a bargain at the $77/€64/£55 price tag for all the features it provides. While some aspects of this Bluetooth headset could be executed better, it's hard to ignore such a low price tag for a mid-range motorcycle Bluetooth headset.
Summing Up
As we reach the end of our FreedConn T-Max review, what is our final verdict?
Let's start with the positives. The minimalistic, bulky design isn't pretty, but it's pretty functional. Navigating through the different functions of this headset is simple and fun. Also, the group intercom supports six riders who can all talk simultaneously. Finally, its range is pretty good for such a cheap headset. The speaker sound is decent enough, but the microphone sound is even better.
Now, we can't ignore the fact that there is no boom mic in the package, which makes it tough to recommend this Bluetooth headset to modular and open-face helmet owners. Also, the battery life doesn't do this headset justice, but at least you can charge it on the go.
Overall, this is a reasonable budget pick if this is your first motorcycle Bluetooth headset, and you want an overall balanced package without the need to spend a few hundred bucks.
Check out our Bluetooth headset review section for more in-depth looks at popular Bluetooth headsets!