Introduction
You've planned a trip, but you'll also need to pack some gear on your bike. At this stage, you'll need a motorbike travel bag (or bags), and there are several options to select from. Aside from deciding on the bags you need, you'll also want to figure out how you're going to attach them to your bike and how much space they'll take up.
You'll have to keep your bike's capabilities in mind to do this successfully. When it comes to packing for a sportbike, you'll need a different strategy than when it comes to a sport-touring bike, for example. As a starting point, we'll discuss the best travel bags for motorcycles in 2022 and discuss their advantages and disadvantages.
You can just see the summary for your required bag in this compilation of the best travel bags for motorcycles in 2022 if you are in a rush.
| Image |  Travel Bags | Picked for | Product Link |
| --- | --- | --- | --- |
| | Biltwell Exfil-80 | Built-in tool space  | Check Price |
| | Givi XS307 XStream Tanklock 15L | Best for motorcycles and Scooters  | Check Price |
| | Kriega US30 Drypack | Best modular bag  | Check Price |
| | Tour Master Select Saddlebags |  Softshell saddlebag | Check Price |
| | Saddlemen Teardrop | Hardshell saddlebag | Check Price |
| | Alpinestars City Hunter | Best All-around backpack  | Check Price |
| | OGIO no drag Mach 5 |  Innovative backpack | Check Price |
| | Fly Racing tail bag |  Best softshell tail bag | Check Price |
| | Givi V56N Maxia |  For aesthetic design | Check Price |
| | Givi Trekker Outback | For maximum space  | Check Price |
| | Kuryakyn Momentum Freeloader | Best duffle bag  | Check Price |
Types of Motorcycle bags
Bags can have a hard shell or a softshell, be waterproof or not, be locked or not, or be permanently mounted and then removed at will. How much gear you'll need is mostly determined by where you're going to ride, the bike you're riding, and whether or not you're comfortable leaving your bags on the motorcycle while it's parked.
Hard shell bags
Hard bags are available in all the primary types of designs discussed above. The build is of hard plastic or, in cases of required, metal such as aluminum. Besides, hard bags are more likely to be weatherproof and lockable. Many will, yet, be bolted to the bike and will be tough to remove for transit.
In certain circumstances, the extra mounting gear may be necessary. Unless motorcycle comes equipped with racks for luggage already fitted. Hard motorcycle travel bags are also more bike-specific. They need to ensure adequate clearances and fitment, but universal options are available.
Soft shell bags
A wide variety of styles and materials are available for soft bags. Ballistic nylon, waterproof vinyl, leather, and various composite materials are available. All kinds of luggage (including sissy bar bags) can be found in these materials.
Softshell bags have the advantage of not needing any extra hardware to keep them attached to your bike. In some cases, magnets feature to hold the bag in place, and tie-downs or straps come with the bag. Rigid inserts are common on many of the bags in this category. Which keeps the bag's shape and allows you to see what's inside more.
Backpacks
Of course, these aren't your only alternatives. When you consider the wide variety of motorcycle-specific backpacks on the market. Motorcycle backpacks, like the bags above, do come in materials meant to endure the impact. They provide waterproofing in and sit on your body when in the ride position.
Best travel bags for motorcycles in 2022
We have compiled a list of the best travel bags for motorcycles in 2022 for you to choose the best for your next trip. Though this list of the best travel bags for motorcycles in 2022 can be very subjective for all. You might be able to find a better one for yourself, so without further ado, let's start.
1. Biltwell EXFIL-80
Having a lot of things with you is another matter entirely. Another is to have everything arranged and packed neatly. The Biltwell EXFIL 80 can contain all of your motorbike gear and keep it tidy at the same time, making it an ideal travel companion.
You can also rest your back on the spacious external tool compartment, padded on the outside. Simply unzip the bag without removing it from your bike to access your tools and other small stuff.
The tool compartment has nine deep sockets, seven combination wrenches, a mesh pocket, and a flat document holder. The bag itself is UV-protected and water-resistant, with a capacity of 55 liters.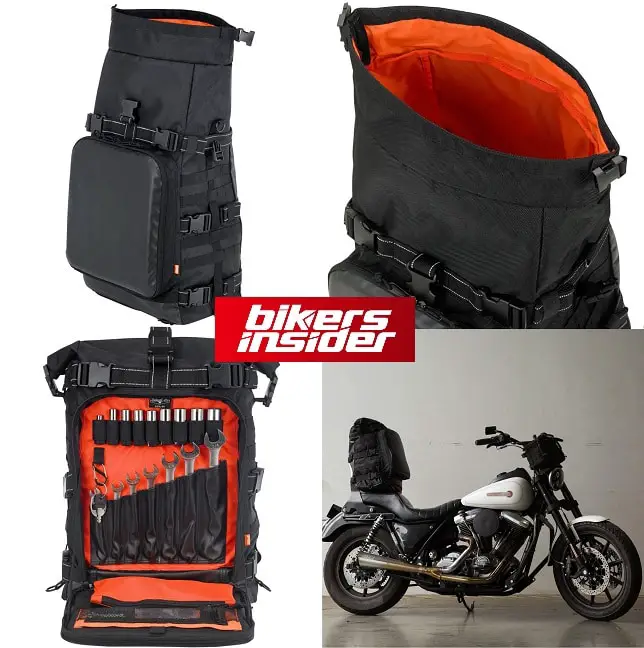 A waterproof sleeve is stashed away in one of the pockets if you need further protection from the weather.
This sturdy moto-ruck is designed to accommodate all of your belongings so that you may travel and camp from your motorcycle for days at a time. Add-on features include a cushioned exterior on the huge external tool compartment.
Simply unzipping this part lets you get to your tools without having to remove the backpack from your bike. Just open the zipper behind the tool compartment, pull out the associated waterproof sleeve and slide it over the entire system when you require complete waterproofing.
In a rather Biltwellian way, the bag's capacity is calculated. The Exfil-80 can contain up to 80 12-ounce cans of compressed air. There are a lot of variables at play when it comes to preparing for a typical road trip.
2. Givi XS307 XStream Tanklock 15L
The Givi XS307 XStream Tanklock has a 15-liter capacity, a perfect medium ground between larger and smaller tank bags. It's designed to work with Givi's TankLock system, which consists of an aluminum ring that fits around the gas cap, and has a plate on the top that clicks in to keep everything in place.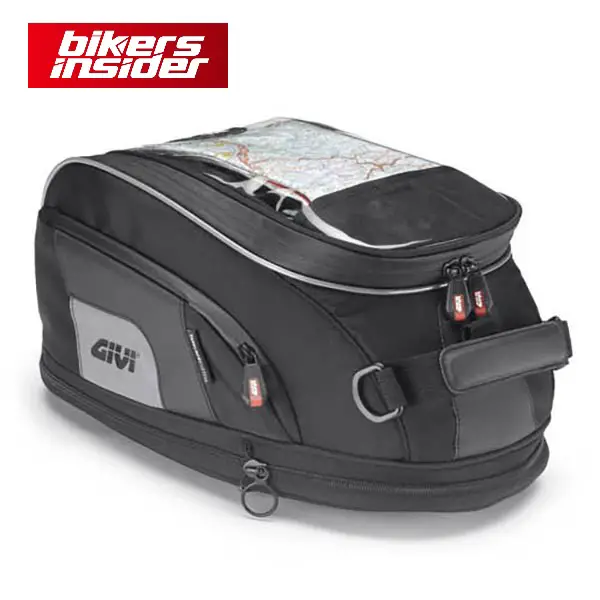 When it's time to remove the bag, simply pull on the pull tab on the side. Allows for a simple and secure platform for the tank bag without the need for magnets or straps. When it comes to the tank bag, you may either keep it compact like you see in the image above, or it can stretch to its full 15-liter capacity to accommodate even greater loads.
Rugged 1200D nylon with waterproof zippers (a hi-viz cover can protect the entire thing from the elements). The backpack comes with a shoulder strap and media ports so you can attach your devices to the bag when you're not riding your bike.
Map holders are available for those who prefer to go old school and still utilize paper maps. With the touchscreen display, you can still operate your GPS when it's in the holder.
3. Kriega US-30 Drypack
Weekend rides on a sportbike or sportbike are still popular among motorcyclists. The Kriega US-30 Drypack exists because of this. Besides the 30-liter model shown above, it's also available in larger and smaller sizes.
Although it works on any motorcycle, sporty bikes benefit the most from its use. Bike subframes or seats are attachable to the 100% waterproof bag, and you can also mount it.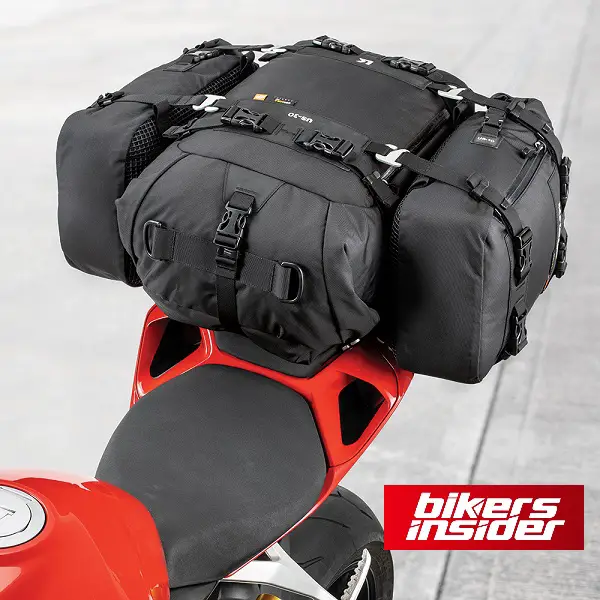 It is possible to carry the US-30 on or off the bike with detachable shoulder and waist straps. Four quick-release buckles on the pack make it simple to put on and take off the backpack.
Tailback combinations of up to 90 liters may carry without straps thanks to US Alloy Hook Straps. Alloy hooks CNC milled from plane quality 6061-T6 alloy attach to four discrete web loops. It attaches the bike's sub-frame, suitable for traditional one-piece motorcycle seats. Both inline and across-the-seat mounting options are available.
4. Tour Master Select Saddlebags
Classic soft saddlebags in the style of the TourMaster Select series are a nice example. Each bag has a 12-liter capacity, so you can pack a lot in there from the best travel bags for motorcycles in 2022.
The adjustable mounting yoke is built of 600D Carbolex and 1680D ballistic nylon. It can be permanently installed under select motorbike seats.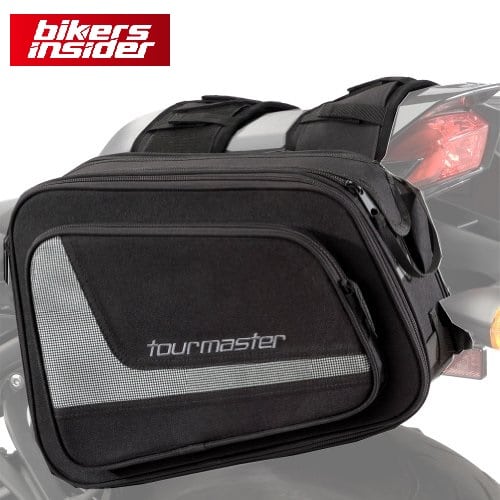 Neoprene layers that are built are removable, protect the motorcycle from scratches. It is an easy-to-open hinged cover that offers access to the main compartment. When getting off the bike, the provided carrying handles make it easy to carry the contents of the external pockets with you.
Besides, a rain cover comes in the pack. Even when the bag is empty, interior panels provide support and maintain the bag's shape. Internal panels are an excellent design feature. The TourMaster Select tail bag was developed to complement the panniers. If you need more storage than the 24 liters the saddlebags supply.
5. Saddlemen Teardrop saddlebags
As a teardrop-shaped saddlebag, it's a fantastic match for today's cruisers, and the sleek design lets you use the standard turn signal placements. Solid mounting brackets and hardware come in these bags for most popular cruisers, including difficult-to-fit forward-mounted turn signals. These bags are on our list of best travel bags for motorcycles in 2022, best suitable for Harley fans.
Allows you quick access to the bag's interior area and frees up your hands for loading goods thanks to the forward-opening lid.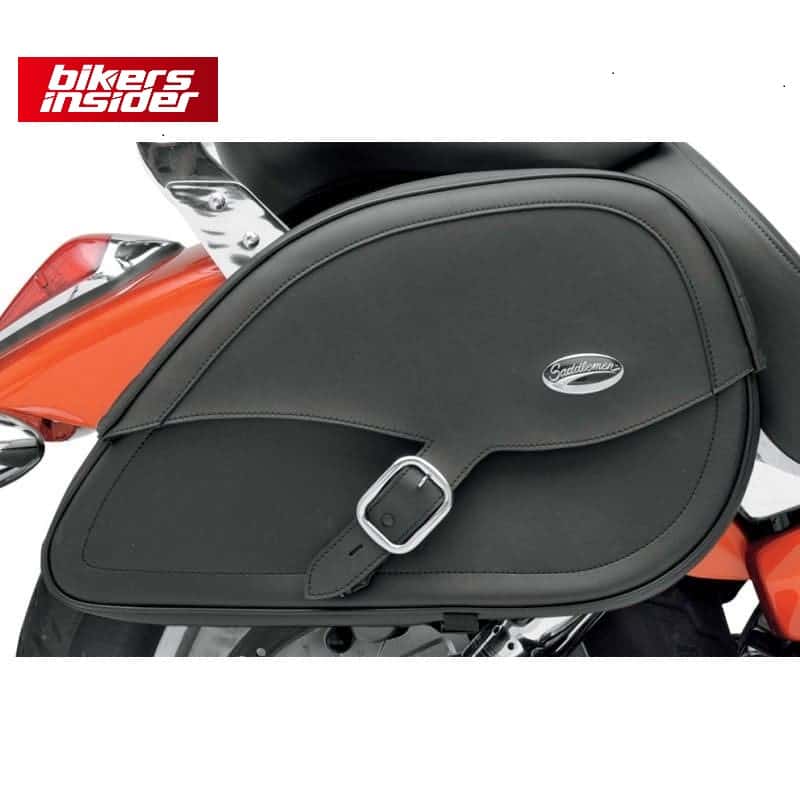 Zippered yoke attachments allow the bag to be swiftly removable, and mesh pockets inside the bags are great for storing maps. It even comes with an easy-to-carry handle! Lockable twist-lock closures and padlocks come standard on each bag to ensure the safety of the contents.
The jumbo bags have dimensions of 20′′ L x 12′′ D x 6.5′′ W, while the ordinary bags are 18′′ L x 10.5′′ D x 5.5′′ W.
6. Alpinestars city hunter backpack
YKK semi-automatic zippers separate the bag's two large chambers. Each with a size of about 25 liters. The zippers work and are quite useful. With a soft inside lining, the computer compartment holds laptops up to 15 inches in length.
As a bonus, the compartments are organized so that we may keep our possessions safe and orderly at all times.
An elastic waterproof case with its own pocket protects the bag from getting wet, also in the main compartment's fleece-lined pocket for the smartphone. There are two front pockets, one of which is waterproof and the other is not.
The helmet holder fits into a compartment on the City Hunter. There are hooks on both sides of the bag, where it says "helmet carrier," in the red tapes. Helmets of various sizes can be carted using this holder.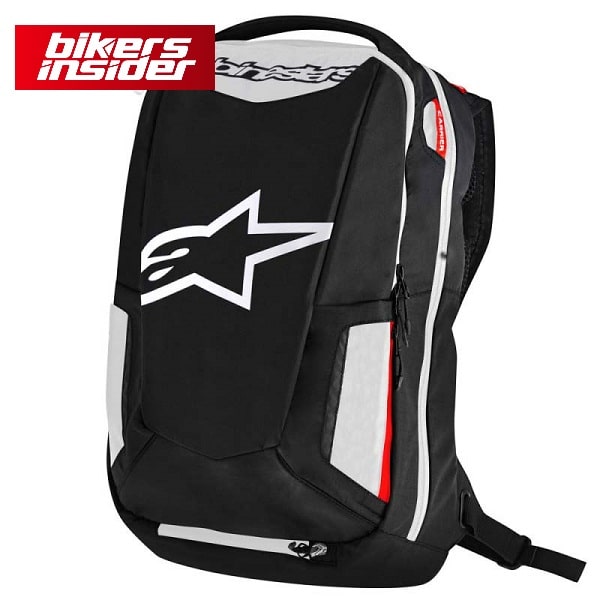 The shoulder straps have perforated foam inserts and mesh panels for most airflow. It reduces sweating when carrying the bag, especially if it is full. Fast and safe adjustments are there with Quick Release.
Because of its anatomical design and eight 15 mm foam cushioning pieces, the aircraft's back panel relieves pressure on the spine while providing good pilot comfort and distributing weight. Its design allows the greatest airflow and keeps the back cool, like the shoulders.
Reflective elements on the backpack's front and shoulder straps make the rider visible in low light.
Also, the handle's neoprene-like texture makes moving it a breeze, allowing us to carry it with ease.
The Alpinestars City Hunter bag features a well-organized storage system. Its aerodynamic contour and ergonomic straps design distribute the bag's weight. It's possible to get this bag in as many as four different color schemes.
7. OGIO no drag Mach 5
Ogio is a well-known and innovative brand for motorcycle bags in this list of best travel bags for motorcycles in 2022. They supply a variety of useful baggage assortments for everything. It ranges from helmet bags and gear cases to travel cases, hydration packs, and backpacks. The No Drag Mach 5 is their most expensive backpack. For riders. It is recognizable because of its hard plastic outer shell and aerodynamic design.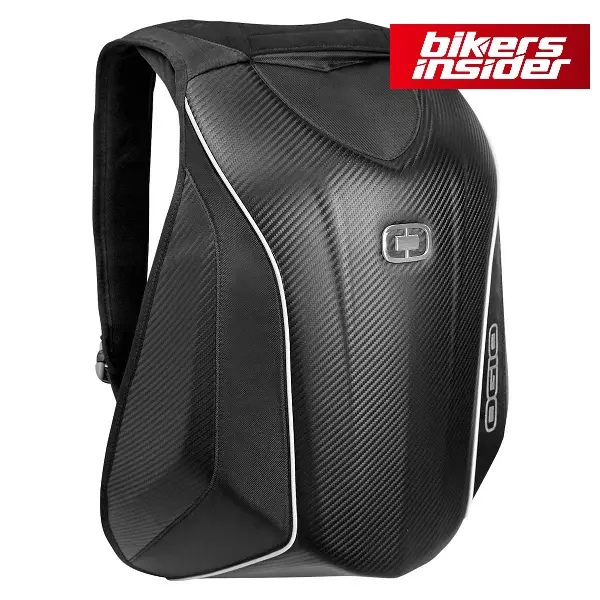 The big main pocket contains adjustable load dividers. A premium organizer panel with stretch mesh dividers. It features a fleece-lined hip accessory pouch that is removable for more space. More features include padding for the helmet and an expandable. U-shaped gusset for more storage space. The ergonomic design of this fully-loaded Mach has a laptop sleeve and a separate shoe case.
8. Fly racing tail bag
The fact that if you wear size 13 shoes, which may fill a tiny saddlebag, means that you've never been excellent at packing, no matter how many motorbike trips you've had.
Remove soft luggage to free up space. Use the seat or tail bag alone or with extra luggage if you want to keep things simple. The best baggage includes an easy-to-use mounting system, expandability for additional luggage, and a stylish design to match your bike.
It is safe and reliable. When the bag is enlarged from 20.5 to 27 liters, internal stiffeners with fold-up flaps hold it in place.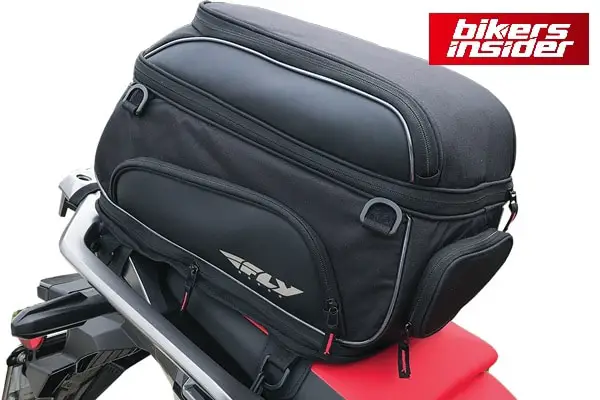 The Fly Racing Tail Bag is best for a passenger seat/luggage rack. You may alter the length of the straps using a simple strap retainer instead of bungees or quick-release fasteners.
Then it's just a matter of loading everyone onto the bike and fastening the bag. It zips open from the bottom.
To keep the paint safe, they attach plastic rings to the bottom corners of the foundation. The bag has four more top loops and a key holder. Reflective piping and branding adorn the black bag's side zippered pockets and organizing compartments within the lid, with a rain cover and a shoulder strap.
If anything, Fly Racing offers a two-year craftsmanship and material warranty on its base and top zippers. It's cost-effective, adaptable, large, and safe. Tail bag is available for $109.95.
9. Givi V56N Maxia Top box
The 56-liter capacity of the Givi Maxia makes it one of the largest top boxes available. Two helmets, some clothing, and a few other bits and bobs will all fit just fine. If you need a lot of space, this case is a good investment. It's not much more expensive than the smaller Givi top boxes.
The design of the top box is as expected from Givi, and it's a great touch. It contains a document holder and elastic straps for keeping things in place. The handle is foldable into the case itself.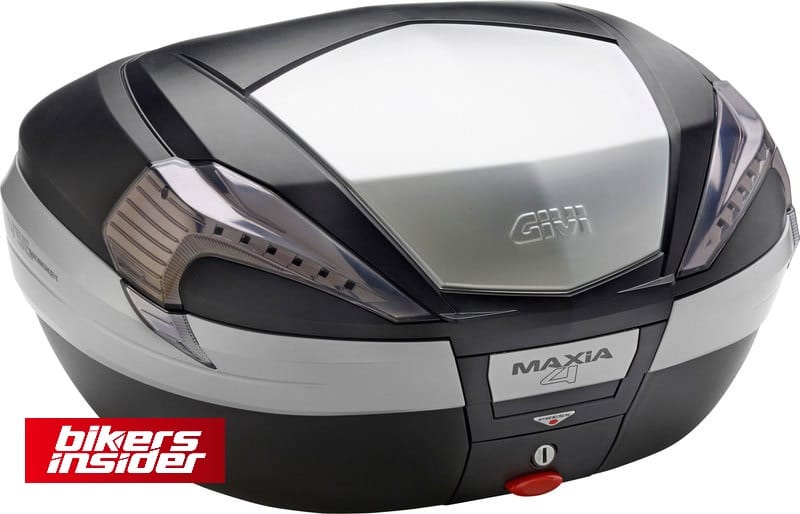 Thanks to a hinge mechanism built into the top, the lid can remain open while you are loading it. The case's top box is rapidly detachable as large luggage.
If you don't have a key, you could accidentally lock your keys in your Givi Maxia, which is my sole gripe.
10. Givi Trekker Outback
Like other Givi models, the Outback series is semi-customized. While the bags themselves are modular and adjustable, the luggage mounts are bike-specific. From the back, the 2007 BMW R 1200 GS would appear unbalanced if it had the same-sized panniers on both sides.
The 48-liter box on the right, and the 37-liter box on the exhaust side, are preferred by some riders. The distance between each box and the bike's centerline is equal.
Givi's heavy-gauge tubular mounting rack for the oil-head GS may fit in a matter of minutes. The racks are on their standard design, but they're a little more robust. The Givi rectangular box point is included.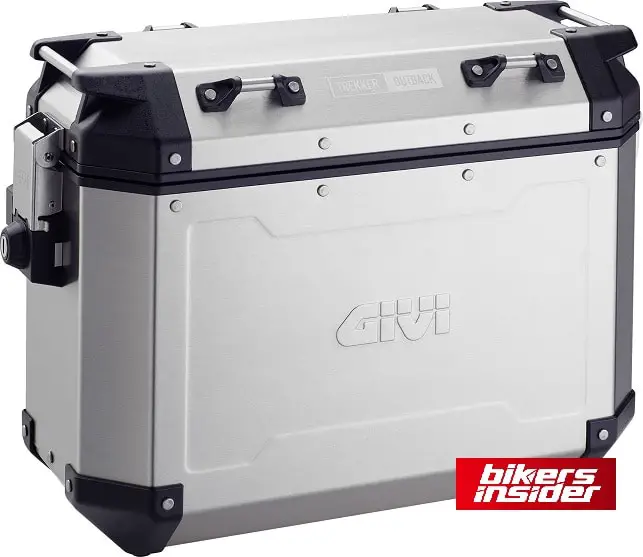 They attach to the existing mounting tabs and frame tubes. Since the mounting surface must be outside the GS exhaust. Some riders may find the left bias unbalanced. Of course, this isn't an issue with twin or under-seat exhaust bikes.
Most adventure motorcycles can enjoy the Trekker Outback line's side panniers and top boxes. Givi's new aluminum-alloy dual-sport luggage is excellent. High-quality materials and thoughtful design go into these items.
It's priced at other high-end aftermarket storage options of similar quality. Several Internet sellers offer the luggage (two side boxes and amount) for a reduced price.
11. Kuryakyn Momentum Freeloader Duffle Bag
Kuryakyn's Momentum Freeloader sissy bar duffel bag has a unique quick-mount strap design that quickly connects to practically any sissy bar or backrest and can contain a lot of stuff — 2,375 cubic inches of goods (when completely expanded).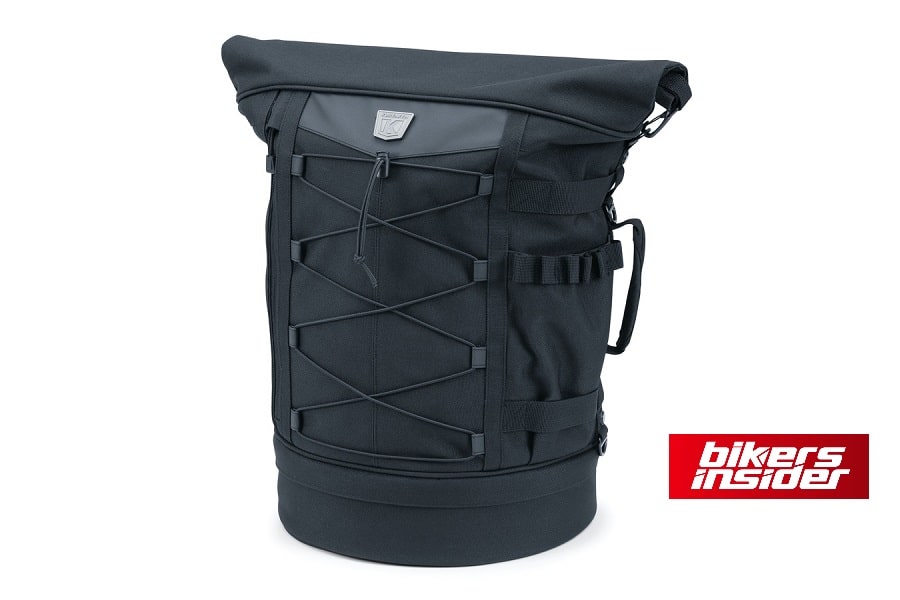 The top-roll design of the primary storage compartment provides maximum carrying capacity while also providing security for all of your cargo.
In bad weather, the 1200 denier fabric has been coated with UV protection and comes with a rain cover. It's easy to fit clothes or other loose items like a sleeping pad or blanket into the front of the bag using the bungee cords. There's also a shoulder strap and a carrying handle, so you can take your gear with you when you leave the bike.
Conclusion
Many bikes do not come equipped with dedicated storage areas for luggage. To transport additional clothing, water bottles, lunch bags, and other things on an overnight or even day vacation, you'll need a storage solution.
Suppose you ride a BMW, Honda, Harley-Davidson, Kawasaki, or any other motorbike brand. In that case, a tail bag is an excellent option. If you're looking for a way to keep your gear safe while you're out and about, a bike rack is an excellent option.
Here we conclude our list of best travel bags for motorcycles in 2022. See our purchasing guide for some of the top motorcycle accessories at BikerInsider.
Frequently Asked Questions (FAQs)
Why do I need a motorcycle bag?
It might be unsafe and inconvenient if the bag is not meant for motorcycle riders. The bag could potentially injure the rider's spine if he or she falls. If a rider falls, the pack may trap on the rider's spine and twist it, or the objects in the bag may inflict injury. Furthermore, many backpacks aren't ergonomic, causing imbalances or discomfort when worn for lengthy periods.
How to carry a laptop on a motorcycle?
Get a good, waterproof pannier and rack for your bike. Rectangular pannier bags for files, laptops, and other items are easy to come by. In a properly closed bag, with a decent cover, pockets, and so on. You can also get a decent backpack from Biltwell, Alpinestars, or OIGA.
What does a motorcycle box call?
One of the most common types of motorcycle luggage is panniers, which are also known as saddlebags or motorcycle bags. These are made comprised of two containers with a strap connecting them. Typically, this type of luggage is draped across the frame, with one container next to each rear wheel.