Introduction
Riding pants are the most underrated item of motorcycle safety gear. Wearing full leather or knee-puck track trousers on the road may seem like overkill. Protecting your legs from hits and abrasions is essential if you end yourself in an accident. Sports denim pants are the most excellent solution to this problem.
They provide enough protection while maintaining the look and feel. This standard look-alike pair of denim pants while you are off the bike.
Even though they've been around for a while, moto–specific riding jeans now come in well over 100 various styles. It includes cuts, colors, and materials. This provides consumers many options and complicates the search for the few great pairs that are clearly the best Kevlar jeans for motorcycle riding out there. In this roundup of the best kevlar jeans for motorcycle, we'll focus on the selected best kevlar jeans for motorcycle riding available in the market.
If you are short on time take a look at the summary table of the 9 best kevlar jeans for motorcycle riding in 2022.
| Image | Jeans | Picked for | Product Link |
| --- | --- | --- | --- |
| | Scorpion EXO Covert Jeans | Relaxed fit  | Check Price |
| | Dainese Tex Pants | Best Chino  | Check Price |
| | KLIM K Fifty 1 Jeans | Best Straight fit  | Check Price |
| | Spidi J&Dyneema Motorcycle Jeans | Best for long rides  | Check Price |
| | Alpinestars Andes V3 Drystar | Best from Alpinestars  | Check Price |
| | REAX 215 Jeans | Best tapered fit  | Check Price |
| | Street and Steel Oakland Jeans | Best Slim fit  | Check Price |
| | Rokker Rokkertech Single Layer Jeans | Best single layer  | Check Price |
| | Fly Racing Resistance Jeans | Best emerging product  | Check Price |
1. Scorpion EXO Covert Jeans
The material of the denim is Cordura 373 GSM (85% cotton, 15% nylon) fabric, which looks and feels like washed denim. There is DuPont Kevlar from the waist to the knee, while the denim consists of mesh from the knee to the ankle for added comfort. A reflective silver strip hangs just above your heel if you roll your jeans, which provides additional nighttime protection.
The hip and knee armor is available separately for the Covert Pro jeans. Fractures are the last thing anyone wants to see due to a spill.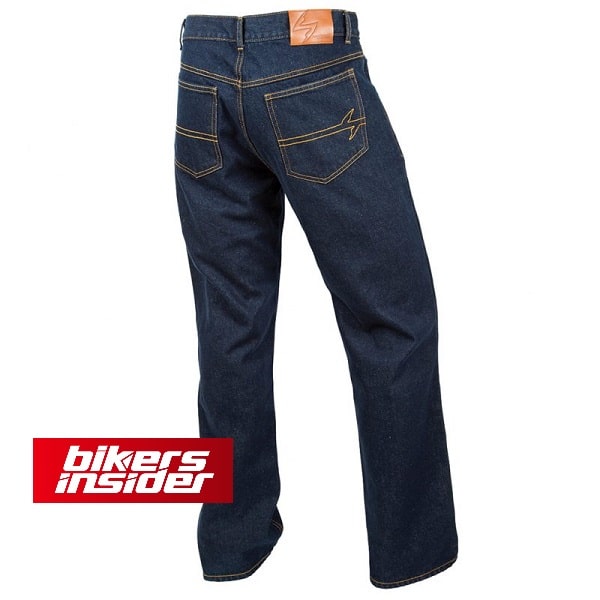 The Scorpion Covert Pro jeans are just like proper jeans. Besides the luminous cuff, they resemble a pair of casual blue jeans, making them ideal for riding. The cut of the jeans on the Covert Pros annoys many riders. For those who prefer to put on their shoes first, these are the jeans to choose from. Although the waist and thigh area fit well, the cut below the knee is too wide and baggy.
Everything about these Scorpion Covert Pro jeans is top-notch. In addition to being comfortable and well-made, this denim can also be heavily armored. Also, as it is winter, You can use the extra layers of Kevlar and mesh lining to keep you warm. When it's 40 degrees celsius outside, this could be a disadvantage.
On the other hand, the tried-and-true Kevlar option should get appreciation. Aeronautical technology may use novel textiles, but new does not always imply superior. Scorpion's Covert Pro Kevlar-lined denim pants are an excellent option if you're looking for inexpensive jeans.
Many manufacturers are now offering single-layer denim solutions, which would lead you to believe that Kevlar-lined denim was a thing of the past. However, this is not the case.
The Scorpion Covert Pro jeans have made riders rethink their decision to fork out $130USD for the latest tech fabric riding trousers. Because these single-layer riding jeans feel like sandpaper compared to these Scorpions.
2. Dainese Tex Pants
Dainese's high-performance racing leathers, boots, and gloves are what most people think of "Dainese." Vincenza-based firm, of course, combines excellent construction with exquisite Italian flair. The Tex Pants still live up to the brand's great stature despite their useful appearance.
The Chinos use a single-layer Armalith fabric made of cotton. It uses Lycra and Ultra High Molecular Weight Polyethylene (UHMWPE) fiber.
The Chinos' weave is robust but pleasant to the touch. The pants do not need a belt to sit on the hips. Ankle protection is still provided by an ankle-to-knee extension hem on the flexible knee armor. Aside from the CE AA certification, the full coverage offers extra peace of mind by ensuring the rider's protection no matter what.
Although they had a slim fit, the Chinos did not bunch up or pinch when on a bike. Having worn the pants many times, the rider can concentrate on the task because they feel like a second skin.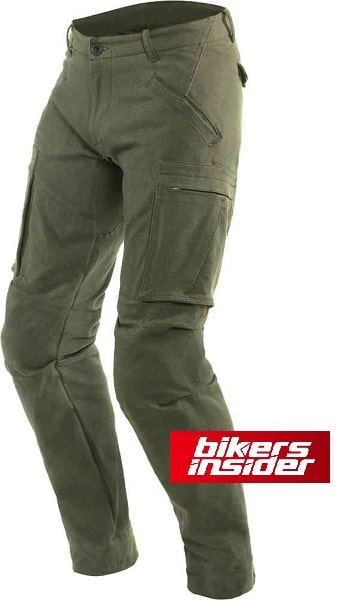 The internal armor compartments also prevent the protectors from shifting. Even when they're on or off the bike, whether hanging, riding hanging around. While offering protection, the knee and hip armor designs will be as cozy as possible for the rider.
Despite the knee protectors' flexibility, the armor takes on a flat shape when the rider is not on a bike. The flat discs at the knees of the Chinos immediately hint at the riding use. Most commuters and casual riders favor riding jeans for their adaptability and discretion.
When wearing the armor while seated, the lack of rigidity causes certain curves to appear at the knees. The Tex Pants' blend of casual and technical attire will work well in most riding conditions. These chinos will also meet the bars of social events and workplace dress standards. Of course, these are minor niggles that some shoppers will overlook.
Dainese's Chinos Tex Pants aren't your casual Friday khakis. Even though its thin fit, five-pocket design, and unparalleled fit and quality. Armalith–resistant fabric and Pro-Shape 2.0 knee and hip protection feature into a tempting and comfy package. While Dainese's Chinos cost a hefty $309.95, they're worth every penny.
It is because of their build quality, robust protective features, and classic Italian design.
3. KLIM K Fifty 1 Jeans
When it comes to safety and style, it's not always easy to find the right balance. Not only are you concerned about protecting yourself from the sun, but you'd also like to appear presentable.
People who think fashion and safety are mutually exclusive choose full-gear or jeans and boots as their uniform of choice. Wait! With Klim's K Fifty 1 Jeans, you can keep yourself safe without anyone noticing.
One of the best Kevlar jeans for motorcycle riding on this list and available in the market, the Klim K Fifty 1 has a peculiar name. These pants include a Cordura outer shell with Kevlar reinforcement panels in the areas where they are most likely to slide.
The hip and knee portions of the K Fifty 1 Jeans come with D3O armor. Klim has improved the knees by adding armor and adjusting the knees. You will get well protection in the knees and hips, and the butt–pad is decent.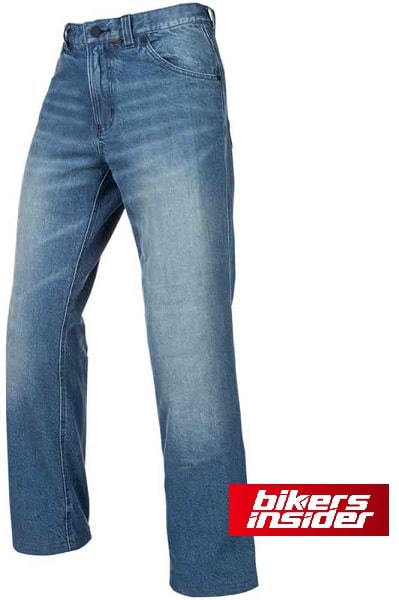 If you want protection without looking like a "dookie" in your underwear, this isn't it (or at least not a big one). The K Fifty 1 Jeans make a pair of jeans that resemble high-quality denim, rather than the weird black sweat pants that some Cordura jeans end up looking like.
James Dean's K Fifty 1 Jeans don't have complicated stitching or branding to give them a James Dean vibe. On long rides, the crotch bunching is no longer an issue.
You may rest easy knowing that as long as you keep the armor on, you'll be protected until you attain your goal. Of course, you're still wearing armor, and as you walk, you'll be able to see it on your legs.
Ventilation is a problem with Kevlar-lined Cordura pants. However, if you're not stuck in traffic for a long time, they're fine up to 85 degrees.
The K Fifty 1s, with their mesh lining, is the most comfortable pair of Kevlar jeans You'll ever wear. However, they are cumbersome, and when the temperature rises, you will notice this.
After utilizing Bohn Armor, there is a need for further padding. This pad should be used beneath any pants and includes more padding than you can shake a stick at. So, the K Fifty 1s have become my new favorite shoe. I can wear them to work without fear of strange looks or a 15-minute changing period and still get the maximum amount of protection.
When it comes to design, Klim has taken a step forward by eliminating the usual logo blasts, strange stitching, and stretch panels. This is a simple, well-made pair of pants on and off the bike. It's a little expensive at $289-$299, but Klim has done an excellent job.
4. Spidi J&Dyneema motorcycle jeans
The Spidi J & Dyneema Tracker jeans are lightweight, easy-to-wear pants with excellent abrasion resistance that won't break the bank for city riding.
J & Dyneema's regular 5-pocket J & Dynema jeans weigh in at 13 ounces and have the same level of abrasion resistance as leather. We've never seen a black single-layer pair of jeans before, so this is unusual.
Dyneema is the name of material they use in jeans. We now have a UHMWPE brand called Dyneema, a type of polyethylene (ultra-high-molecular-weight-polyethylene). The world's most vital, longest-lasting, and lightest fiber, it's no wonder. Because of its slight weight and high strength-to-weight ratio, it can float on water.
The Spidi jean incorporates a small amount of elastic to create a pair of pants that are lightweight, abrasion-resistant, and easy to ride in. Slim is the best way to define the fit. The jean has CE-approved knee protectors that have been tested and found to fulfill what is known as the AA standard.
In men's clothing, the primary issue is that pants are ordered mainly through waist size. Consequently, for those of us with less athletic proportions, a 34″ waist is believed to be matched by a 32" leg length – not the 29", which is roughly 5'6″.
The rest of the fit is excellent, except that the leg is a little too long. Thanks to the adjustable knee armor, there are no unsightly bulges or drooping groins found in this product's waist and groin fitting areas. Though I found the back pockets to be relatively low on the bum, this is due to the style of the pants, not a problem with the fit.
Interior lining is absent from the J&Dyneema, unlike other jeans we've recently examined. Denim fabric is woven directly with aramid thread. Cotton in denim dilutes the impact of aramid, even though this gives nearly complete protection.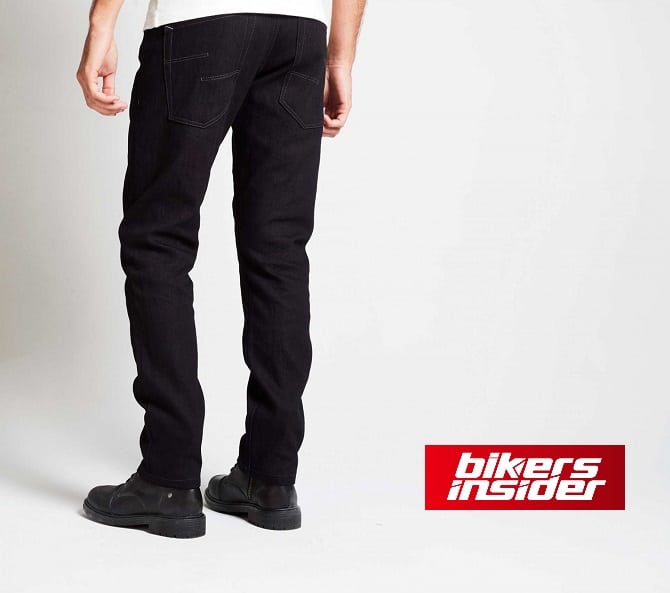 Dyneema is 60 percent, cotton is 38 percent, and elastane is 2 percent in this pair of jeans. Because they are authorized to prEN17092:2017 Level AA, there is no need to worry about the outer layer wearing down over time and reducing protection.
Keys, phones, and other small items can be safely stored in the pockets without fear of falling out or getting misplaced while riding. If you don't want to buy new jeans because yours have worn out, you can have a tailor or modification business replace them.
The zipper in the front has a large metal button. They also contain belt loops to be adjust even further if necessary. The cloth has considerable flexibility, ensuring a snug fit and a secure closing.
A full day at the office may not be possible with unlined jeans because they are warmer and heavier than typical trend jeans. While cycling, they do a great job of reducing the effects of wind and gusts. They'll never be warm enough for winter, but they're ideal for late spring and early autumn rides.
As a way to keep the CE-approved armor in place, reduce friction between denim and skin in the event of a road incident, and improve comfort and provide a cool-feel lining against the skin, the lining extends all the way down to the knees on both sides of the waistband. It is necessary to make an armor pocket from the lining of the knee armor.
5. Alpinestars Andes V3 Drystar
Obviously, motorcycle-specific pants trump wet overalls. Andes V III trousers are pricey compared to cheaper or even high-quality options from manufacturers like Richa.
Their design is both practical and elegant. No flashy logos or colors. The model name and vent locations are dark greys printed. It is patterned in dark grey just below the waist. ""Direct Ventilation"" is published in the same color next to the vents. No blinking.
The cargo pockets are also small and unnoticeable, but they are perfect for storing your wallet while riding. Alpinestars distinctive waterproof membrane, "Drystar," is embroidered on the left knee, with two curving reflective strips on the sides. The trousers have a modest flare around the foot to help put on bike boots.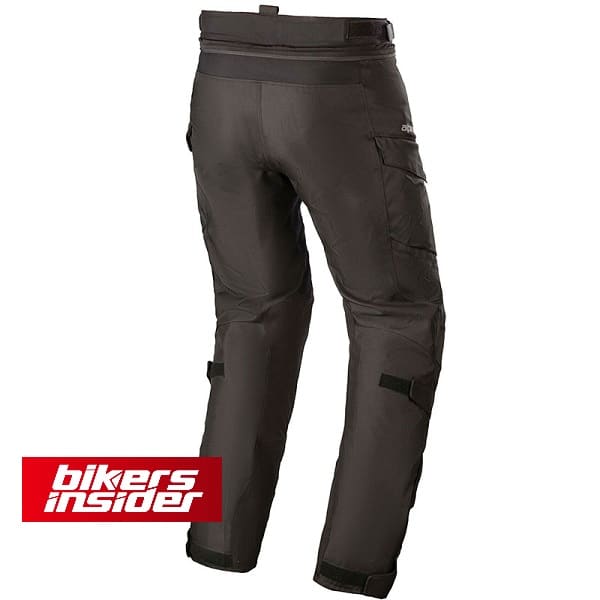 There is no zip, simply additional fabric and a velcro strap for a custom fit. Remember how much room you need to get your boots on and off behind your pants.
One of the most essential features of this motorcycle PPE is the carefully made thermal liner. They call thermal liner attachment tabs "Tech Liner Connection"" in red to help you discover them. The thermal liner keeps me warm on lengthy rides and has no visible stitching.
The pants include a premium zipper, hook, and button-back fastening (which has the Alpinestars logo pressed on it, excellent). If you've, you've gained a few pandemic pounds during the recent lockdown, buttons alone won't keep your pants closed.
The cargo-style knee pockets are also closer. This design uses velcro flaps instead of zippers. Take your toll card or wallet. Who wants to mess with a toll zip? If you need to keep something dry, tuck it in one of the hip pockets with sophisticated waterproof zips.
The Drystar membrane utilized here is identical to the Apex gloves".
The Andes IIIs thermal liner keeps you toasty, the Drystar membrane keeps you dry, and the overall comfort stays focused.
The CE A certification is standard for touring trousers. A textile thick enough to get a AAA rating would be impossible to move in. Alpinestars Bio-Armor Knee Armour is CE EN 16211 certified (Alpinestars does not specify level 1 or 2).
6. Reax 215 Jeans
Jeans are a popular choice for motorcycle riders, as they are for most of the population. So, it's a significant deal to design motorcycle clothing that looks and feels like jeans while you're not riding. Straight–leg, 5-pocket Reax 215 Denim Riding Jeans are what they appear to be. Even with the optional Rokker D3O Knee Armor ($30), Reax's 215s is one of the Kevlar jeans in this list of best Kevlar jeans for motorcycle riding.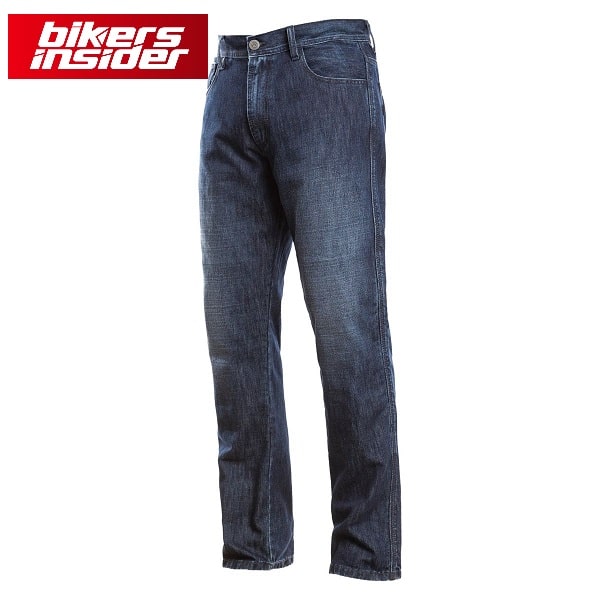 The Reax 215 Denim Riding Jeans are crafted from 11.5 oz 100 percent cotton denim in Portugal, so they feel like any other pair of jeans. While the denim will wear out, aramid twill will keep the pavement's rough surface away from your flesh long after the denim has. Additionally, the main seams have been triple-stitched.
Aramid layers don't breathe like denim when hot outside, so they're not as relaxed as plain denim.
Riders who need a longer inseam will have to look elsewhere for a pair of 215s. You can have the leg hemmed or roll it up, exposing reflective cloth on your inside leg cuff. Alternatively, if you're moving around, just leave the legs alone. Fit is similar to Levi's zipped regular jeans, and the waist sizes span from 28 to 42 inches.
7. Street and Steel Oakland Jeans
The Street & Steel motorcycle jeans have a more straightforward design than the other ones on this list of best Kevlar jeans for motorcycle riding.
The denim is famous for its 12-ounce stretch. Even though stretch denim is outside the motorcycle world, the added mobility is enormous. The fit and style of the Oakland jeans earned a few complimentary remarks that were completely out of the question, which was really encouraging. The lack of seams on the legs contributes to the clean aspect of the jeans.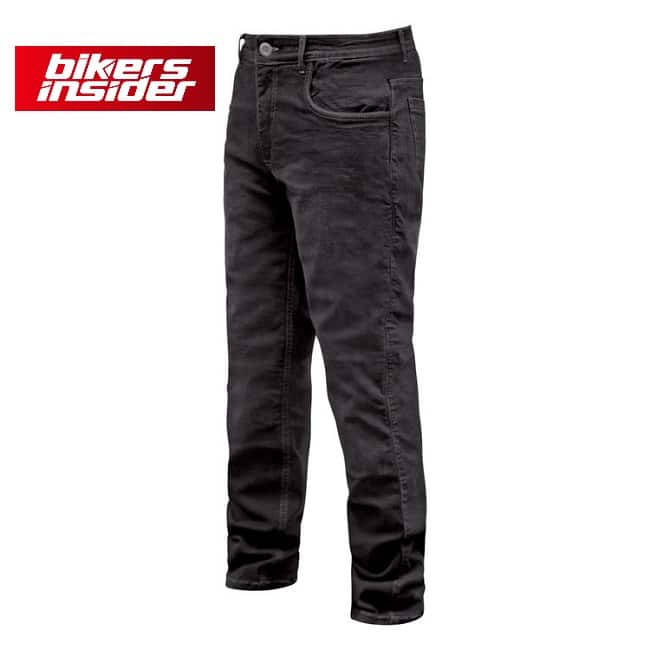 Street & Steel employs aramid for abrasion protection within the jeans, a somewhat ambiguous phrase. It can be used for ballistic–rated military body armor or substantially less protective. According to Street & Steel, Aramid is "heat and tear-resistant" on the Oakland jeans. I really don't want to learn how protective they are of each other.
Seat, hips, and knees are areas where the aramid is most likely to be needed. Adjustable or removable CE–rated knee guards provide impact protection while allowing freedom of movement (not recommended). They weren't there, and I have no reason to remove them.
Fit for the Street & Made of Steel and 501 CT Levi's are the same as Oakland jeans. The inseam on all Oakland jeans is 33.5. These pants are cuff-able, and they have enough room in the lower leg to wear over boots if you'd prefer. Again, these are stylish motorcycle jeans that provide adequate protection for my daily commute and occasional off-roading.
8. Rokker Rokkertech single layer jeans
Rokker, a Swiss manufacturer, is famous mainly as at the forefront of single-layer jean development. Both their Revolution jeans and their City chinos, both of which are waterproof, are excellent pieces of clothing. For their industry, they are both the standard.
However, they are tales for another time. We're going to tell you all about their incredible Rokkertech jeans in this review.
Rokkertechs can't withstand the rain. They have a look, feel, and wear of acceptable denim jeans. If you're looking for high-quality denim, think of the jeans you wore 20 or 30 years ago.
We're referring to long-lasting jeans that you can wear for years at a time. Most current pants on the high street are only as strong as leggings.
The opposite is true when using a set of Rokkertechs. You can fold them up effortlessly, and they are still very light. However, they appear to be tough and capable of taking a lot of abuse, which they are.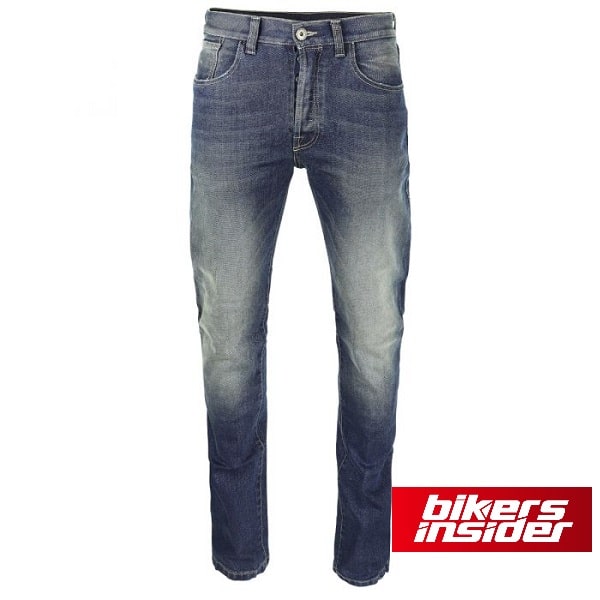 Armalith is the name given to the substance features in Rokker's Rokkertechs. Armalith is highly durable; a video of a Hummer being pulled up by a pair of Armalith trousers can be found on the internet. I'm not sure if it's necessary or how that would compare to other types of jeans. However, it was surprising.
These jeans don't need to be cleaning. Dark indigo is their color. In reality, they have a "raw" appearance. If you're a fan of denim, you'll understand what I mean. For the most part, you'll have to take care of them and wash them just when necessary.
But if you take care of these jeans, they will develop a distinct patina that will only be yours and yours alone if you take good care of them.
The knees and hips of the jeans protection is of D3O armor. In terms of protection, it's the best, and it's the most comfortable. After absorption of body heat, it becomes softer and more malleable until you no longer notice it's there. Because it complies with the CE standard, there is no compromise on the product's safety or protection.
Even though these jeans cost $360, we believe they're well worth the price. These are more affordable than a pair of high-quality leather pants, yet they're still far more helpful. Because no other riding jean is like them, it's impossible to draw any comparisons.
9. Fly Racing resistance jeans
The material of this 12–ounce denim that's lightweight and durable. It features an aramid fiber liner that protects the seat and the front of each leg from the waistband to just below the knee. Extra impact protection is provided by a set of detachable CE Level 1 knee armor.
With additional hook-and-loop patches and adjustable pockets on the knee armor, this is adjustable by an inch to fit the wearer's height if necessary. Removable hip armor compartments are compatible with optional Fly Barricade CE Level 1 armor ($23.95) in the right front pocket.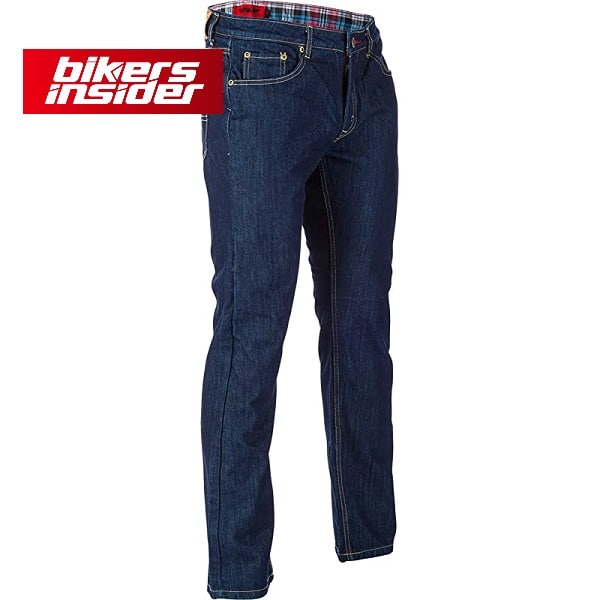 Denim contrast stitching and plaid patterning in the waistline and pockets add traditional styling touches. It has a long-lasting YKK zipper and riveted front pockets for further durability.
With a variety of standard and tall sizes, Fly Racing has attempted to accommodate riders with a variety of body types. As for me, I'm still wishing for an extra inch because of my long inseam (I'll leave it to you to add the punchline).
The straight-cut leg and loose fit make it easy to wear over most boots, even the biggest ones.
I've been living in a pair of Resistance Jeans throughout the summer. They're both breathable and protective in hot weather, keeping you cool and looking excellent. To top it all off, they wash far better than some of the more expensive clothing brands I own. The best part is that they were only $129.95. I suppose it's possible to get more for your money.
Conclusion
Bike riding necessitates a great deal of leg mobility; therefore, jeans that make this easier are definitely worth considering for your shopping list. Your performance and the performance of your bicycle will be negatively affected if your clothing is too loose. All the vulnerable areas, such as the hips and knees, need additional cushioning.
If your jeans contain stretch panels, you've found one of the best Kevlar jeans for motorcycle riding, and you shouldn't pass them up.
With the help of other rider gear, motorcycle jeans are a need. Riders who wear protective equipment around their hip and knees will be more likely to survive. When deciding, don't forget about the armor or the pads.
Detachable safety compartments are available on the majority of models. that dear reader is a terrific combination if you wish to wear the jeans as casual wear."
Cordura Kevlar and Aramid fibers are good for boosting the jeans' looks, durability, and protection. This is a great feature to look for in your jeans if it is on a significant portion of the structure. It has earned our endorsement as the most fabulous pair of biker jeans available.
The price of a pair of rider jeans is always a consideration for motorcycle clothing. On the other hand, if you're on a tight budget, this list does include some promising options. The safety measures may be weakened despite the meager budget.
We recommend spending a little more money on the fabric and other essential safety measures. As long as the jeans aren't too pricey, you'll get a good return on your investment.
If something isn't going to be of many benefits to you, don't spend money on it. Make a list of the characteristics you want in your rider gear before you buy so that you don't waste money on features you don't need.
An essential piece of clothing is biker jeans. Because of this, the best Kevlar jeans for motorcycle riding are durable enough to provide you with plenty of wear and tear before your money's worth is recouped from the purchase.
Equipping yourself with equipment that is both safe and convenient is a must. Aside from being extremely wearable, the jeans on our list of best Kevlar jeans for motorcycle riding also represent excellent value for money. We wish you luck in your search for the ideal pair of shoes!