Ducati has enjoyed dropping hints about the bike it will show in each episode title since it started to live streaming its World Premiere episodes. Dare to Be Bold was the subtitle for Episode 6, which was slated to air on October 28, 2022. The teaser image was a close-up, mostly shadowed view of what seemed to be an unusual LED taillight array.
Specifications
Of course, it's the much-awaited 2023 Ducati Diavel V4 global debut! One of Ducati's important figures for this motorcycle is a zero to 100 kilometre-per-hour (or 62 mph) speed of fewer than three seconds. This vehicle is powered by a 1,158cc V4 Granturismo engine that evolved from the Desmosedici Stradale V4 that Ducatisti already knows and loves from the Panigale V4. At 7,500 rpm, it also produces 93 pound-feet of torque and 168 horsepower. When necessary, this engine may additionally use an extended deactivation mechanism for the back two cylinders to reduce fuel use and pollutants when idling and at low speeds.
A 50mm completely adjustable front fork configuration and a fully adjustable rear mono shock make up the suspension. Two 330mm brake discs and Brembo Stylema brake callipers stop you upfront. This bike weighs 492 pounds dry, according to Ducati, which is a whole 29 pounds less than the Diavel 1290 S. Curb weight is not provided, but then again, this is Ducati, and for some reason, they don't go in for that type of stuff.
Dimensions
The new 2023 Diavel V4 also has a seat height that is manageable at 790mm, or a little more than 31 inches. It has folding passenger footpegs, which isn't very noteworthy, but it also has a concealed passenger grab grip, which is rather attractive. For times when you aren't riding a pillion, a standard accessory is a passenger seat cover. The width of the back tyres is 240mm, or 9.4 inches.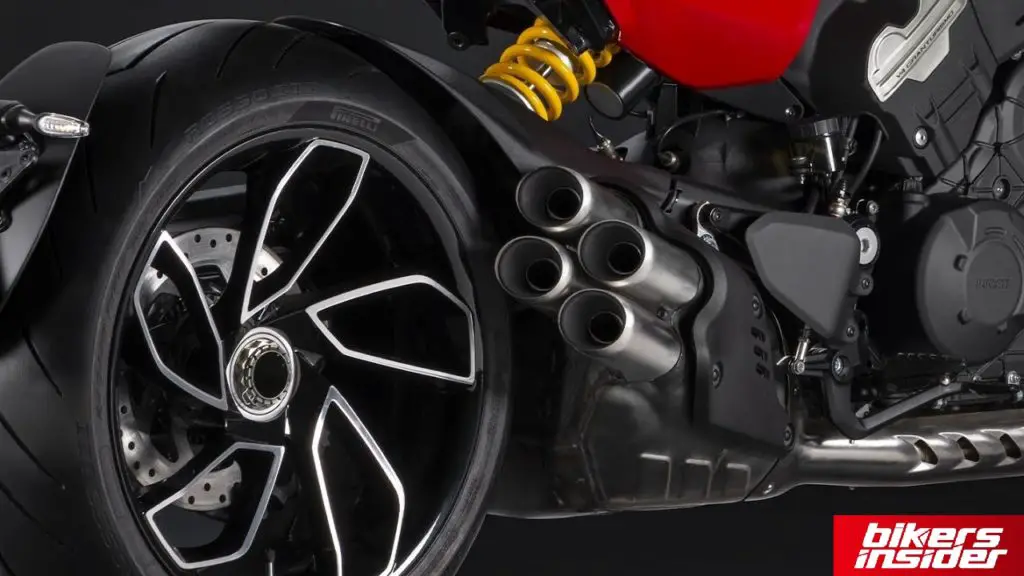 The seating position is neutral and comfortable, as you might imagine, with high handlebars and mid-mounted foot pegs for the rider's comfort while you aggressively navigate those curves on the road ahead.
The five-inch TFT display on the 2023 Diavel V4 features multimedia capabilities and Bluetooth connection. Sport, Touring, Urban, and Wet are the four available riding modes. These modes include a range of cornering ABS, traction control, and wheelie control settings. Cruise control, launch control, and the Ducati Quick Shifter up and down are additional features.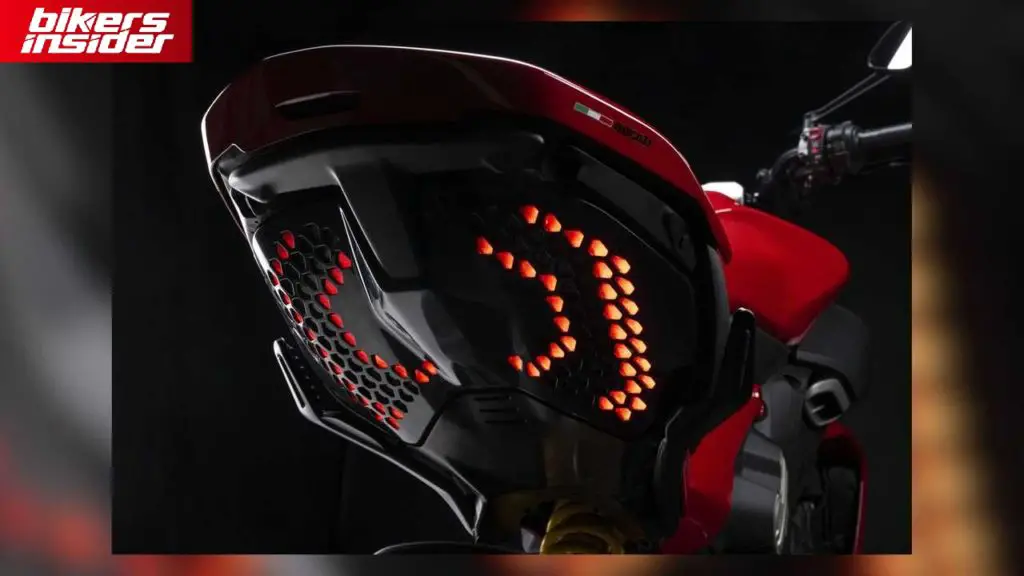 Additions include billet aluminium and carbon fibre parts, a dry clutch (not homologated for road usage), a passenger backrest, panniers, titanium cover and pipes, and more.
Pricing and availability
The Ducati Diavel V4 will come in two colour schemes for 2023: Ducati Red and Thrilling Black. Ducati sells its motorcycles all over the world, therefore regional variations in equipment and specifications are possible. Your local Ducati dealer is your best chance for the most up-to-date price and inventory details for your region's 2023 Ducati Diavel V4.
Pricing in the United States begins at $26,695, whereas it does in Canada at $30,795. Ducati Diavel V4s for 2023 will start arriving at dealerships in the spring of that year. For more news and updates keep visiting BikersInsider.