It's only been a year since the first radar-equipped motorcycles hit the market. Still, new firms have already supplied the technology.
Radar is expected to become the must-have technology on bikes over several years, with newcomers like Israel's Vayyar entering the market. The stage is set for a tech slugfest that will stimulate quick progress.
While Bosch provided the first front and rear-facing radars installed on production motorcycles, it came with Ducati, BMW, KTM, and Kawasaki adopting the German kit. We already see more companies join in on the fun.
Continental supplied rear radars for Triumph's new Tiger 1200 GT Explorer. As we wrote last year, Piaggio is due to unveil their first bikes employing Vayyar's radars.
How Vayyar Kit works?
Vayyar's kit differs from the Bosch system so far in that it employs far more antennae than a standard radar. It generates a high-resolution 3D 'point cloud' image of the world around it.
It also uses Doppler analysis. The measurement of distortion in the reflected radar waves caused by movement. It is to determine the relative velocity of objects it detects.
Due to the more antennas, the Vayyar radars have a 170-degree horizontal and vertical FOV, which is broader than the radar cone of more typical systems.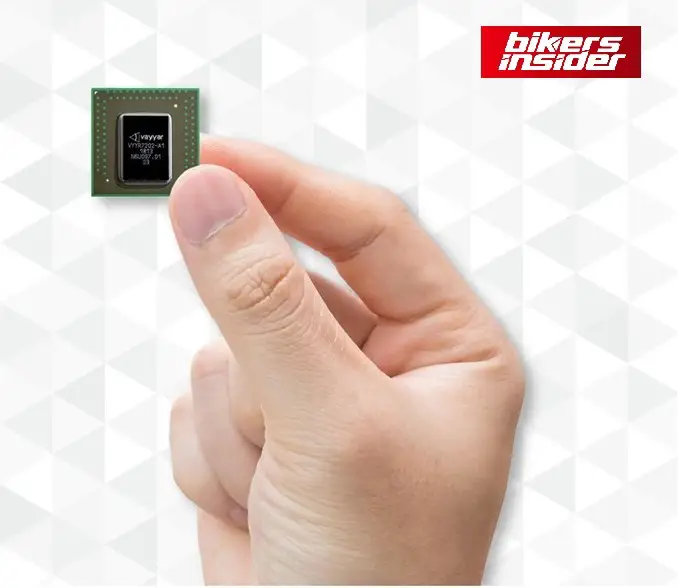 The sensor's vertical coverage and broad field of vision are convenient on motorcycles since they prevent the sensor from losing track of an item as you round the bend.
The system also claims to have a far more extensive range than the market-leading Bosch radar. Vayyar's system detects targets as far away as 300m, compared to 160m for the Bosch front radar. Bikes cannot use the kind of automated emergency braking system. As generally found in radar-assisted vehicles.
Motorcycle brake-assist must be forceful since it may throw the rider off.
The system, which includes front and rear radars, can support blind spot detection. It can also detect lane change assist, adaptive cruise control, collision warning. The rider brake assist, according to Vayyar, costs the same as existing radars.
Tech explored
Long-term vision Up to 300 meters is critical for brake-assist. The early warning systems are there to avoid riders panicking.
A broad view With approximately 170 degrees of coverage per radar. Both horizontally and vertically, two units provide 360 degrees of coverage.

Even more antennae Instead of the seven antennae found in conventional vehicle radars. Up to 48 WiFi-style MIMO technologies to detect many targets using Doppler analysis. It is to determine their velocity and direction of movement.
Unless installed on the most costly, out-of-reach motorcycles, small safety gear is useless. Vayyar claims its radars are low-cost and tiny enough to be installed.
Keeping on track Current radars, such as the Bosch MRR (Mid-Range Radar), can track up to 32 targets. Still, Vayyar claims its technology can track an infinite number of targets.
For more news and updates regarding motorbike tech, keep visiting BikersInsider.