There are a significant number of people who wear glasses and also ride on a motorbike. Now a question may arise in your mind whether they wear a helmet with their glasses or not, right?
Well, wearing a Motorbike Helmet with Glasses is not as difficult as you think. It is a simple task, but you have to consider a few things.
To Put on Glasses and a Helmet Simultaneously, You Need to Purchase a Glass-Friendly Helmet, Motorcycle-Friendly Glasses, and Check the Fitment of Both Glasses and Helmet.
However, We have covered a lot more things regarding the query throughout the Write-Up. So, stay tuned and keep reading. We hope you'll get an exact solution.
Can You Wear a Motorbike Helmet With Glasses?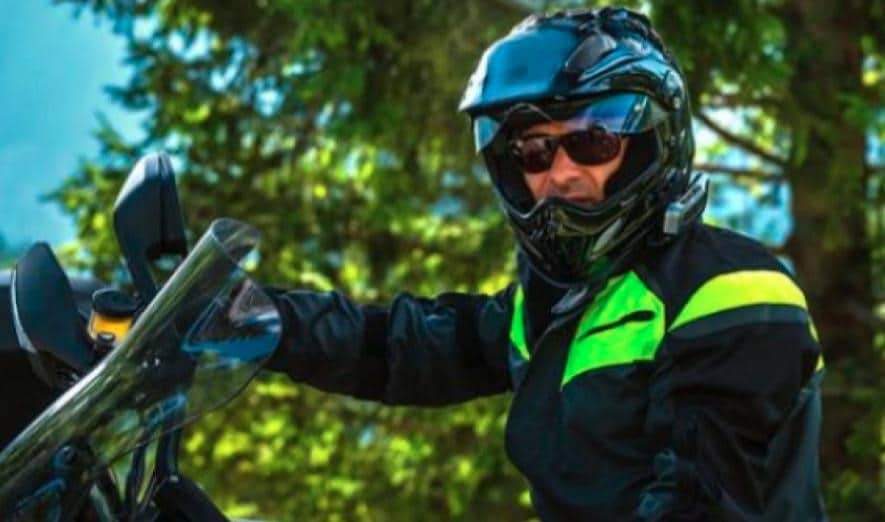 Obviously, it is possible to put on a helmet with Glasses, Goggles, and Sunglasses. In this segment, we'll demonstrate how you can wear a Motorbike Helmet with prescription Glasses. If you hold prescription glasses and also ride a bike, this part is especially for you. 
Choose a Glass-Friendly Helmet
Selecting a Glass-Friendly helmet is the initial thing you have to do if you intend to wear a Motorbike Helmet with Glasses. In that case, we recommend having a model that has cutouts and groves in the temples.
These types of helmets help pile up your glasses. Such a helmet also keeps the glasses' arms away from hitting the templates and touching the back of your ears which is irritating and painful. 
You can pick an open-faced helmet that gives a more comfortable experience when putting on glasses than the full-face models. However, these Motorcycle Helmets for Glasses Wearers can be checked as well.
Get The motorcycle-friendly Glasses
After having a helmet that is glass-friendly, then you should select glasses that are motorcycle-friendly. You can choose glasses that are straight and has thin arms to adjust under your motorcycle helmet.
During the purchase of glasses, make sure that the glasses don't bend and make you feel irritated and in pain while wearing a Bike Helmet.
We prefer using glasses that hold padded arms and rims that will provide you an easy and comfortable experience when wearing a motorcycle helmet with glasses.
Check The Fitment of Right Glasses & Helmet
After picking up the perfect helmet and glasses, you have to ensure that both have been fitted appropriately. Never create pressure on your glasses, especially on your nose bridge that can damage your glasses fiddle inside the helmet.
Before taking off, check the spectacles whether it has been snuggled into properly. Otherwise, it'll make you uncomfortable and interrupt your riding.
Some Precautions [That Should Be Followed While Riding With Glasses]
Riding a motorcycle with Glasses is not much difficult and entirely possible. But some precautions should be considered if you are going to do this. In this section, we have discussed those safety precautions. So, check them out to have safe riding with spectacles.
Try not to use glasses with thick temples and hinges because they restrict some peripheral vision during the ride.
Glasses can be dirt and fog up while riding a motorcycle that may explore you to a dangerous situation. For that reason, we prefer putting on a full-face helmet that has a visor. That will prevent your glass from getting dirt and fogging up.
There are a massive number of products out there that you can adjust on your lenses that work as an anti-fog and can keep your glasses fogged up free.
Before starting your ride, make sure that both the helmet and glasses have been adjusted perfectly. Otherwise, your glasses can be slipping off and be damaged.
How To Wear a Motorcycle Helmet With Goggles
In the above section, we have provided a solution on, How to Wear a motorcycle helmet with prescription glasses. Here, we'll show how Goggles can be worn with a helmet. Now a question may come to your mind that, what is the difference between these two products?
Prescription glasses are usually used to aid a person see clearly that are made of plastic and metal frames. They also have two lenses to facilitate vision. On the contrary, Goggles prevent the eyes from multiple particles such as dust, debris, wind, and insects.
To ideally wear a motorcycle helmet with Goggles, we suggest you put them on with the correct helmet model. In that case, you can use the open-face helmet model.
Such helmets only safeguard your head in the event of a crash but leave a significant portion of your face. The Goggles can protect the remaining part of your face adequately. However, to get a better Goggles-Helmet experience, try to use a pair that has adjustable straps made of fabric metal and leather.
Can I Wear Sunglasses With Motorcycle Helmet?
There are many people who love to wear tog-up sunglasses to safeguard their eyes from the Ultraviolet radiation of the sun when riding on a sunshiny day. But, wearing sunglasses with a Motorcycle helmet is a bit harder, just like the glasses.
A group of experienced motorcyclists thinks that the most effective and best way to put on sunglasses with a Bike Helmet is to wear the helmet first and then the sunglasses outside the straps.
You can wear your sunglasses inside the straps if they come with thin temples. If it is thick, you may feel discomfort and irritate you while riding.
Final Thought
So, this was all about how to wear a motorcycle helmet with glasses. Putting on glasses with a motorbike Helmet is tricky if you don't comprehend the right way. It can make you feel unpleasant and irritated and even can affect your focus when riding.
In the above, we have given a guide on how to wear glasses, sunglasses, and Goggles perfectly with a Motorcycle Helmet. You can execute the procedures that we have provided. We hope you'll be benefited and never want to avoid fogging-up glasses with a motorcycle helmet.