All you need to know guide
Introduction
Jeans for riding a motorcycle are becoming popular. Especially among riders moving away from sports bikes and toward adventure, street, custom, naked, and cruiser bikes. Motorcycle riding jeans have been available for decades. Still, the emergence of aramid linings like Kevlar and other Kevlar-based materials has made them a viable alternative to leathers. Though they may not be as safe as leathers.
What are Kevlar Jeans?
Kevlar is the brand name of DuPont's para-aramid polymer. We commonly refer to them as "Kevlar jeans." Strong and resistant to abrasion. This material can be found in a wide range of applications, from firefighting equipment to bulletproof vests. Also, there are various para-aramids, and their alternatives are available. (such as liquid-crystal polymers).
Although some brands have before claimed that their material is superior to Kevlar when wet. That is a little misleading because the 7.62 AK47 round might be less effective at stopping Kevlar when wet. When sliding down a rain-soaked road, the abrasion qualities are less of a concern to a rider.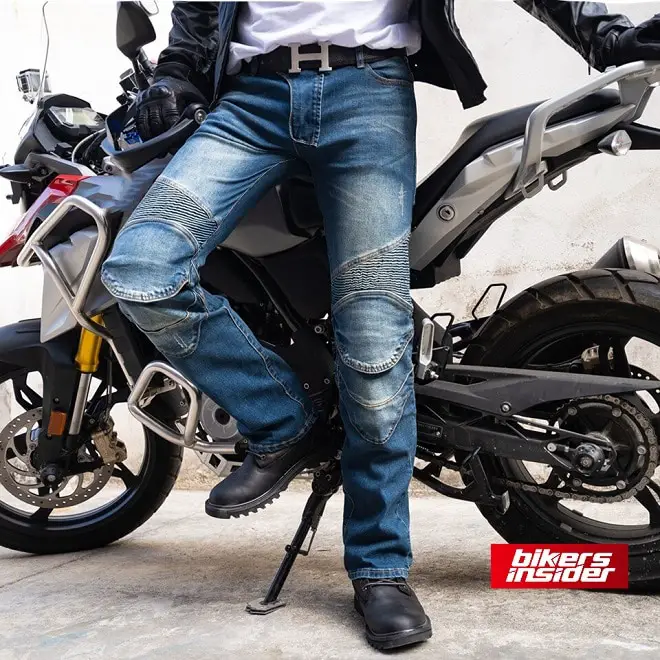 There are pros and cons to any abrasion-resistant material. Still, from May 2018, all new motorcycle gear should have been tested and certified as Personal Protective Equipment. You don't have to worry about it too much.
Cambridge Test is the name of the motorcycle industry's abrasion-resistance test. The time it takes for a piece of material to wear through on a sanding belt is slide time. By far, the bulk of jeans manufacturers does not conduct abrasion tests on their products. Jeans can slip for up to nine seconds, although it's not unusual for them to do so. What a remarkable feat, considering that it is twice the length of leather. Furthermore, leather is far too extravagant for the average road rider. Leather has a sliding time of 4-5 seconds.
As a result, you can compare the safety of different items based on their ratings and how they make you feel when they're on your body. Choosing a CE-certified pair of motorcycle riding pants is the first step in the process.
Are normal jeans safe for riding?
While nothing can ensure your safety because every crash is unique. Wearing tested gear can lower your risk of injury.
EN 13595 has been in force for many years. Although it has only appeared on labels on the most heavy-duty equipment. Yet, even though the new EN 17092 certification is easier to get. Riders can use the certification's letter grades of A, AA, and AAA.
A pair of A-rated jeans is most suited for urban riding when it comes to protection. AAA is more seen in leathers, whereas AA is more associated with traveling or related activities. Not quite, a pair of jeans might contain incredibly thick abrasion-resistant material in them, capable of AAA in itself. Still, the garment might be rated to AAA or A if it doesn't cover all the checked regions.
Are kevlar/aramid jeans an alternative to leather trousers?
Single-layer, part-lined, and fully-lined jeans are all options. Partial-lining only has protection in critical impact zones, i.e. the bum and knees. In contrast, a fully-lined pair will have it across the entire inside. Turn the jeans inside out to examine how far down the back and across the sides of the hips the protective covering extends. The stitching on the outside could fade quickly, allowing the material to slip away in an accident if the stitching is inside the garment. Part-lined leg protectors may have some wiggle room, but consider how far this could rise if the denim was torn open.
Because of the lining, aramid-lined jeans have an inherent flaw. No one likes riding in a pair of lined pants when it is hot or even just very warm. In general, jeans with a 100% lining will be more generous than those with a 60% lining, but both will keep you warm. They'll also add weight and make the jeans less breathable, which will lead to more perspiration.
As a result, these jeans made a lot of sense when the only other options were leather pants or full-on motorcycle trousers. The best-looking ones resembled a pair of denim jeans from Levi's. Nobody would notice you were wearing them if you just walked about in them. But now there are single-layer jeans, and it's called that. A strong fiber (such as aramid or UHMWPE) is woven into the fabric in single-layer denim. Cotton might be used for the warp, but a more robust material would be used for the weft, even if woven into a cotton sleeve.
Importance of ratings of kevlar/aramid jeans
Yet, even if they pass the A-grade or the AA, single-layer jeans with an aramid fiber weaved in are not as protective in vital areas. These areas like buttocks and knees as many part-lined jeans with the same rating. In one experiment, single-layer jeans wore out faster than jeans from Tesco for £5.
You'll only find AAA ratings on products with aramid-lining, so keep that in mind. When purchasing a pair of AA-rated jeans that don't have aramid lining covering 100% of the denim. A single-layer product protects the entire denim surface. So an A or AA rating indicates that the abrasion resistance, not the quantity of covering, is holding it back from a AAA rating.
Because they are more vulnerable to typical wear and tear. Single-layer clothing may not provide the same level of protection. Multi-layer items have a tendency to coupe with sheer pressure in better ways.
When AAA-rated single-layer jeans become available. They will have met the CE testing standard's established abrasion time criteria for that rating. After that, you'll be able to find out how far they can go in an accident.
How to pick right pair of kevlar/aramid jeans?
How to choose the best pair of ride-ready denim for your next ride…
Lining
The information will come in handy now that you understand the lining materials in motorcycle jeans. Not all denim is created equal must be brought to your attention. Denim might be lined all the way through or just in specific high-risk locations in the thighs, hips, and buttocks.
When shopping for biker jeans, keep that in mind. It's safe to say that your first instinct is to dive for the fully lined pair. Full linings do add weight, however.
Just because a fully lined garment doesn't mean it's the safest option. Some of the best-known companies, such as Draggin Jeans, conduct numerous safety studies. For the most part, they choose part linings in their denim.
Fit
It's all about the fit, like most motorcycle clothes. A correct fit is more than simply a matter of comfort when you're hunched over your bike. Slides can make or break a presentation.
The first time you wear motorcycle jeans, they'll feel a little snug. Regardless of how tight the jeans feel, we always recommend that you stick with your regular jeans size. To keep them on your waist and prevent them from slipping down and showing your flesh, the Aramid or Kevlar® inner lining and stronger denim used in their construction make them a little tighter.
In addition, remember that you must be able to bend your knees and hips comfortably while riding. Because of this, you should experiment with different cuts to get the right fit for your physique.
Fit is highly subjective, so don't let it influence your decision before you've tried it on for size. Think about how high your waist is for comfort (and draughts) while on and off the bike, as well as how long your legs are while selecting a motorcycle helmet.
This may not be ideal for riders with shorter legs, but some firms will modify the length of your pants for free if you prefer a different length.
Shop around, and you'll be able to locate a pair of protective jeans that are both stylish and functional while you're not riding your bike.
Armour
There are certain motorcycle jeans out there that don't feature armour, and most motorcycle jeans come complete with CE-certified knee armour inserts. However, hip armour is normally available separately from the rest of the gear.
A lot of jeans have knee and hip armour built-in. Whether you wear it or not, D3O is a fantastic example of protective armour that is lightweight.
For off-bike comfort, some pants have removable armour on the outside. If you're wearing jeans, be sure you can do this comfortably.
To protect your knees while riding, use armour covering the front and top of them. Walkabout in them to make sure they aren't unpleasant.
Pants with movable armour are a better choice than To secure the leg armour, some use Velcro.
The armour may move around in loose-fitting denim. So I need a big, comfy armour with enough legroom.
Consider using knee armour instead of jeans for maximum impact protection. But it won't move if you fall. To travel, you'll need to store your pants and armour.
Safety
Products that just claim to contain materials tested to CE requirements should not be considered because testing also involves construction. Also, be wary of labels boasting "CE protectors" (the armour). This testing to EN 1621 and only pertains to the armour, not the quality of the jeans' manufacture.
During CE testing, double or triple stitching is a must in crucial locations. It includes the bottom, knees, and sides of the pants. It's better if the seams come apart in the shop than on your legs, so don't hesitate to tug on them.
You should buy jeans made of thick denim rather than lightweight material to be safe. It is better to purchase such as pre–washed denim. The most significant quality denim will last longer and be more durable. Even though washed and worn (like the knees on your favourite pair of stylish jeans).
Looks
As a rider, you'll want to locate a pair of jeans that you can wear both on and off the bicycle. For city commuting and sitting all day, a pair of A-rated jeans is probably optimal, while an AA-rated pair should strike a compromise between security, style and comfort. They may be the most protective, but an AAA-rated pair is likely to be hot and unflattering when worn. If you're going to buy motorcycle riding pants, you're going to have to think about how you'll appear while you're not riding.
Pricing
For motorcycle jeans, how much should you expect to pay? Unfortunately, there are no easy answers to this topic.
Nothing less than $80-90 should be under consideration for an acceptable price range. An excellent pair of cotton slacks will run you about the same amount. Don't imagine that cutting back on zips and pockets will allow you to save money.
It costs up to $269.99 for a pair of Draggin Jeans, which is a high-end brand. In contrast, ARMR Moto is a well-known and well-respected brand that sells a wide variety of products for a low price of $99.99.
Minor details to look into a Kevlar/aramid jeans
Keep an eye out for rivets, especially at the wing's apex. To avoid scratching your paintwork, most high-quality jeans do not employ rivets in this location. However, rivets are used in other places to strengthen the fabric.
Even though carrying your gear in your pockets increases your crash risk, most of us do it. So make sure your pockets are deep enough to hold your essentials (some are too shallow to safely store my phone). As far as linings go, fashion jeans typically use linen in the front pocket. In contrast, motorcycle jeans utilize denim throughout, which will last a lot longer when you're stuffing your keys in there.
Make sure that the belt loops are big enough for your belt, but also that there are plenty of them; some brands add two loops side-by-side at the back of the jeans to keep your belt from riding above the waistline while you ride.
Last but not least, make sure that your skin and the aramid are protected from shear stresses that can rip your skin. When you're in a slide, find a mesh lining between the two materials. It's likely to be in most pairs of CE-approved jeans.
Conclusion
Hopefully, the information in the guide above has dispelled some of the myths surrounding motorcycle jeans. That way, when it's time to buy new riding gear, you'll know exactly what you're getting into. Make sure you remember that Kevlar® and Aramid jeans aren't bulletproof!
You should wear a leather jacket and jeans if it's not raining or you're not on track (full leathers). Even if you're riding in a foreign country, you'll always wear CE-approved pants and, for the past several years, a pair of Hoods.
Kevlar Jeans are available in a wide variety of styles and prices. They can be found alongside many helmets, clothes, and accessories.
FAQs
1. Are regular jeans sufficient for motorcycle riding?
Not all jeans are created equal when riding a motorcycle, so don't settle for just any pair. To keep your Levi's in good condition, you'll need either motorcycle underwear or outerwear. Otherwise, invest in an excellent pair of motorcycle jeans that will protect you in the event of a collision.
2. What is the material used in motorcycle jeans?
A denim outer shell is usually complemented or blended with a few proven abrasion-resistant fabrics, such as Kevlar or reinforced nylon.
3. What kind of Kevlar they use in motorcycle jeans?
DuPont's Kevlar fabric is rated for motorcycle use and is known as Kevlar 129. Road rash can't be avoided with anything less. Ensure that manufacturers, particularly startups, aren't ripping you off with substandard products.
4. What is CORDURA jeans? and is it better than Kevlar?
Denim made of CORDURA® fabric is more durable than denim made of 100% cotton. CORDURA® Denim fabric has cotton denim's good look. It feels with increased abrasion resistance and toughness thanks to an ideal blend of cotton and INVISTA's T420 nylon 6.6 fiber.
Many people assume that Kevlar is the only option when it comes to motorcycle jeans. However, testing has shown that Cordura has better abrasion resistance than Kevlar. The elasticity of the nylon-based Cordura fabric makes it significantly more "useful" in the event of a fall from a motorcycle.