Introduction
Not all riders have the luxury of owning their own garage to store their beloved motorcycle and you're probably aware of leaving your bike wide open will certainly result in weather damage, so motorcycle cover is a must-have item in your inventory. We have done the research and studied users' feedback to determine the best Motorcycle cover for UK US and motorcyclists across the globe. What to look for when purchasing a cover has been outlined in my guide. Below that, you'll find a rundown of the top motorcycle covers currently available. Before going further check out the summary table for a suitable cover for your bike.
| Image |  Cover | Picked for | Product Link |
| --- | --- | --- | --- |
| | Dowco guardian weatherAll | ClimaShield Plus  | Check Price |
| | XYZCTEM Motorcycle Cover | Breathable nylon  | Check Price |
| | Velmia outdoor waterproof cover |  High endurance against temperature | Check Price |
| | Nelson-Rigg Defender All-Weather Half Cover | Protection against UV radiation   | Check Price |
| | Discount Ramps Black Widow Trike Cover |  Design for trikes | Check Price |
| | Nuzari outdoor motorcycle cover | Plastic reinforcements in the grommets | Check Price |
| | Budge MC-9 sportsman motorcycle cover |  Most affordable option | Check Price |
Most of the products in this list are by well-known names in this market. Other, less famous brands are on the list. The most critical factors were weather resistance, UV protection, materials used, ventilation, safety, cost, durability, and sizing options.
What to consider?
A motorbike cover may appear nearly identical to another, but there could be a price difference of $100 between the two. Using this guide, you will determine which features are important to you and how much you can anticipate paying for a given product.
Waterprofing
Using a water-resistant cover will keep your motorcycle dry while allowing condensation to escape and rust to form. For those who live in an area that sees a lot of rain, a waterproof motorbike cover provides more excellent protection than a water-resistant cover. This feature could be in the form of an additional waterproof lining. Ensure that the waterproof bike cover you purchase has vents to allow any built-up moisture to escape. However, unless it is constructed of Gore-Tex or similar material, nobody is 100% waterproof. You must look for a cover that has unique treatments to make it as water-resistant as possible if you want to protect your bike from heavy rain.
UV Protection
As much as rain, the sun may also destroy a motorcycle. Paint and finishes can get harm by exposure to direct sunlight. A motorcycle sun cover is UV-resistant, but that doesn't stop the heat from building up behind the surface, which might damage your bike. Look for a blanket with a reflective exterior to keep your bike from overheating in the sun. Ensure your bike cover has heat-resistant protection on the inside if you ever need to cover it after a ride.
Anti-heat protection
The sun's ultraviolet rays can also damage your bike, so it's essential to shield it from the elements. A UV-resistant cover may not be able to prevent heat from building up under the surface, which might cause damage to your bike. Look for a cover with a reflective exterior to keep your bike from overheating in the sun. Ensure your bike cover has heat-resistant protection on the inside if you ever need to cover it after a ride.
Ventilation
To promote airflow and prevent moisture buildup, ventilation is an essential part of nearly every motorbike component. Some of the vents in your home can be opened and closed to customize the amount of ventilation you receive. It's also essential to ensure that the vents are facing down if you're going for a model that has them continuously open.
Pricing
A motorbike cover that costs $20-40 will provide some weather protection. Still, it is likely to be thin and not exceptionally long-lasting. Depending on how much you can afford, you can obtain a cover of a much heavier material, some of which will be treated to make them waterproof and guard against hot pipes. Anyone prepared to spend more than $80 on a year-round, or climate-specific bike cover will be able to secure their investment with a fleece inner. To be safe, all of the covers in this price range should have a 5-year limited warranty at the very least.
Best motorcycle covers
1. Dowco guardian weatherAll Plus Indoor/Outdoor motorcycle cover
An honourable mention goes to the Dowco cover, which is an excellent choice for anyone who keeps their bike outside in rainy and cold weather. ClimaShield Plus, a solution-dyed polyester fabric that provides UV and water protection, is used in this model. This cover's seams are further protected from the rain with heavy-duty, woven polyester seam tape. Moisture-guard vents and a polyurethane undercoating keep moisture from accumulating beneath the cover.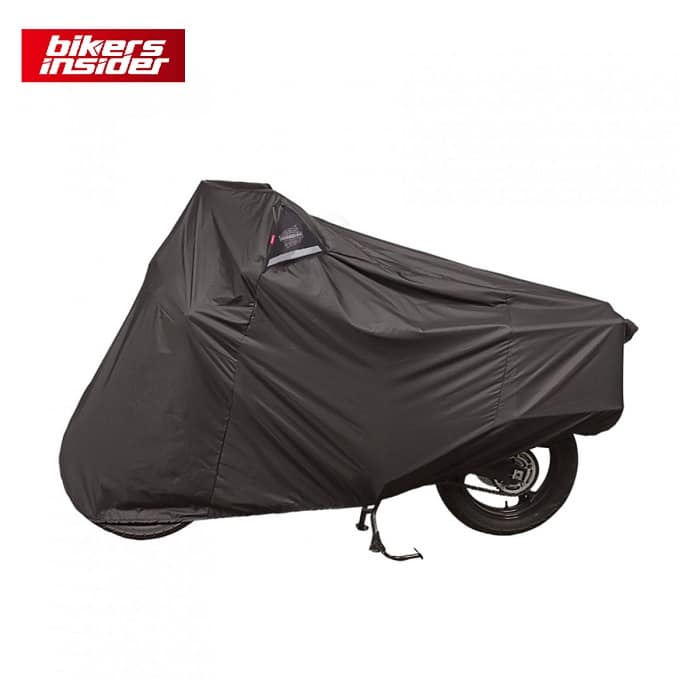 Because of the heat shield, you won't have to worry about hot pipes hurting your bike if you need to cover it up soon after a ride. An elastic shock cord is sewed into the bottom. A polyester webbing belly strap keeps items in place in windy circumstances. A wheel lock and an alarm pocket are in the design of the garment. All come with a compression bag for storage, a limited lifetime guarantee, and various sizes. Even though the cover is manufactured from 300-denier nylon, there is always the risk that it will scratch your bike.
2. XYZCTEM Motorcycle Cover
One of the lightest and most breathable motorcycles on the market, this XYZCTEM cover material is breathable nylon. Heat and moisture resistant. Nylon is a non-abrasive and mildew-resistant material. The one-year guarantee covers most standard-sized on- and off-road motorcycles.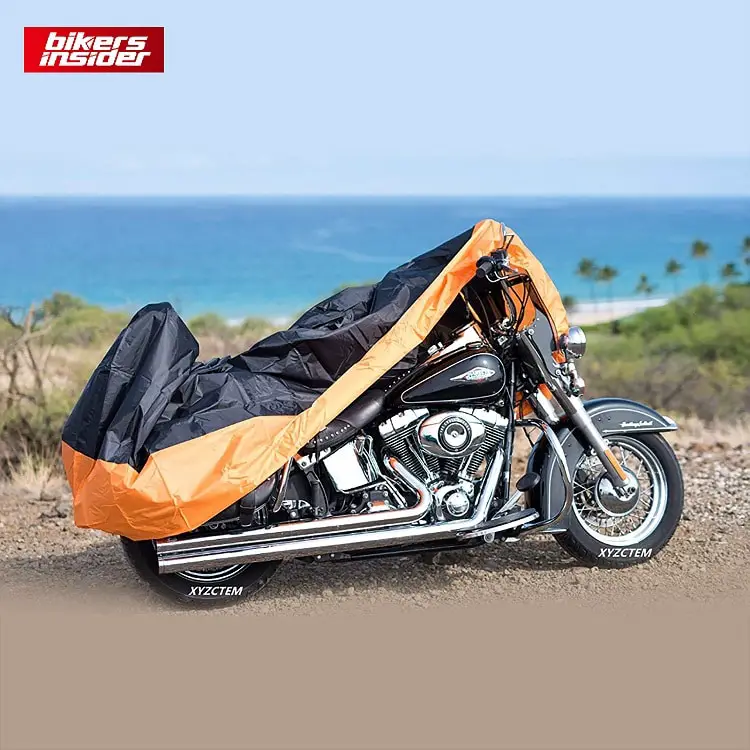 Grommets around the wheels of this cover keep it from coming undone, making it large enough to fit a motorbike with a windscreen and saddlebags. Even though this type is waterproof, I wouldn't suggest it as a year-round cover, but it's ideal for indoor use. It's tiny and light, making it a fantastic choice for anybody planning an extensive trip and needing a cover. This cover lacks a heat barrier, so make sure your pipes are free of heat before you attach them.
3. Veilma outdoor waterproof cover
The Velmia Outdoor Waterproof Cover protects your motorbike from rain, wind, dust, UV rays, heat, and trapped moisture. It is compatible with many motorcycles. Your exhaust pipes won't melt the cover. All thanks to the ability to endure temperatures up to 575 degrees Fahrenheit. Two built-in vents help keep mildew and mold at bay.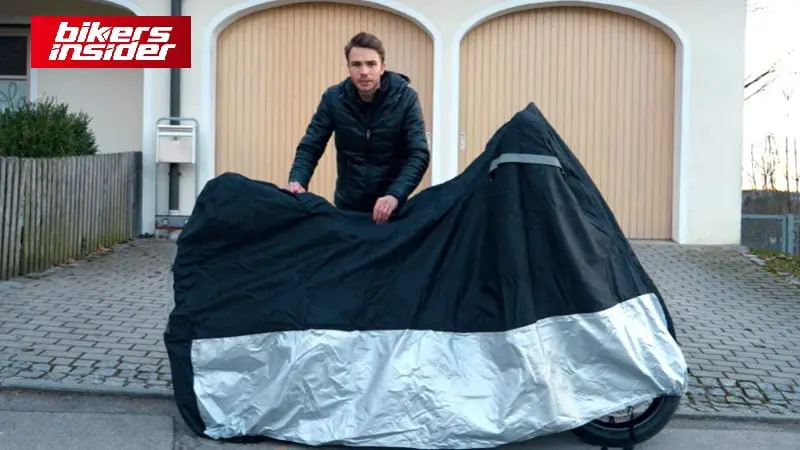 Reflective strips and transparent license-plate glass are two of the cover's distinctive features. Despite this, several customers have complained about size concerns. Mainly when using the bag on bigger bikes. A lack of warranty might be problematic if there are any issues with the cover's materials.

The Velmia Outdoor Waterproof Cover has a 4.7 out of 5.0-star rating on Amazon. 82% of consumers have given it a perfect 5.0 score. Cost-effectiveness, water resistance, and durability were among the best selling points.

Customers love the cover because of the low price and high-quality materials. Customer complaints state that the cover does not fit well on some motorcycles. Particularly those without windshields. According to several reviewers, this cover is not completely water-resistant.
4. Nelson-Rigg Defender All-Weather Half Cover
Nelson-Defender Rigg's model is the best option for a half-cover rather than a whole bike cover. Protects against UV radiation and is easy to put on and take off when you're in a hurry. Waterproof and weatherproof. The cover is made of nylon and has seams that are heat-sealed to prevent water leaks in the case of rain.

The elastic hem and elastic bungees on the Nelson-Rigg Defender Half Cover make it simple to put on. These characteristics provide a universal fit, which allows the cover to adapt to a wide range of motorcycles.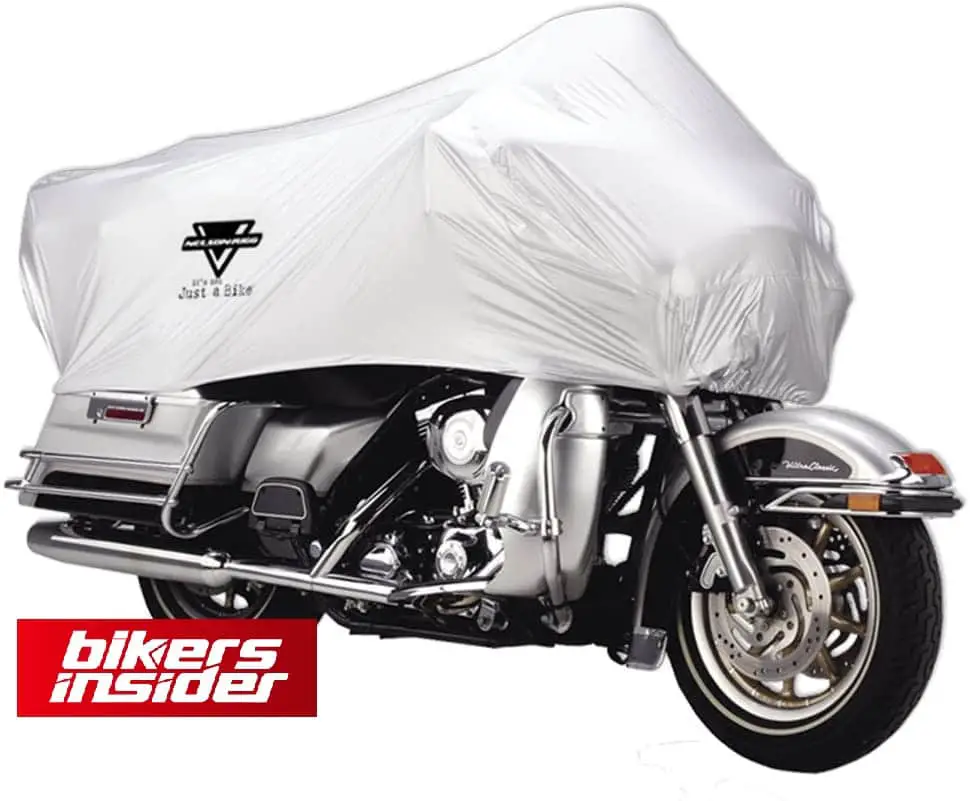 In the racing business, Nelson-Rigg is a highly renowned manufacturer. The Defender All-Weather Half Cover has a 4.6 out of 5.0-star rating based on more than 1,000 customer reviews on Amazon. The lightweight material earns this cover 4.8 out of 5 stars. The value score is 4.7, the durability score is 4.3, and the water-resistance score is 4.5.

Customers love how well it fits and how simple it is to put on. Customers have noted that the model's material is relatively thin, which might lead to deterioration over time.
5. Discount Ramps Black Widow Trike Cover
With the Discount Ramps Black Widow Trike Cover, you may be able to protect your trike from the weather. Trikes have wider rear tires. Therefore this cover design will suit them. It is suitable for a wide range of trikes and measures 106,60,60-inches. Water-repellent polyurethane protects the polyester 210 denier fabric.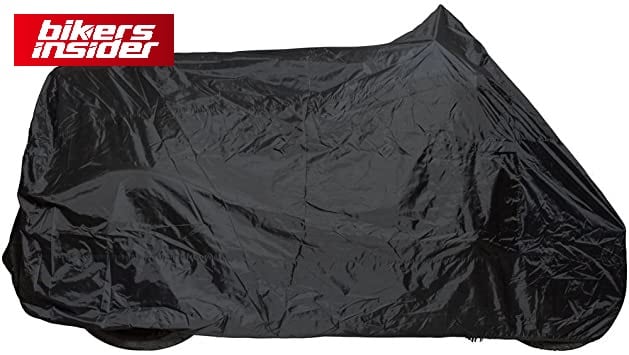 As a result, although it's relatively lightweight, it's highly robust and will keep your tricycle dry in the rain. While this isn't a seasonal cover, you shouldn't rely on it if you live in an area with regular, intense rainfall to keep your tricycle dry. The cover's elasticated hem and strengthened plastic grommets keep it in place even on windy days.
6. Nuzari outdoor motorcycle cover
For those who don't want to spend a lot of money but need a cover that can be used outside, even in rainy weather, this Nuzari cover is ideal. Even though it's constructed of water-resistant polyester, you shouldn't count on this cover to keep your bike safe from the elements in the winter.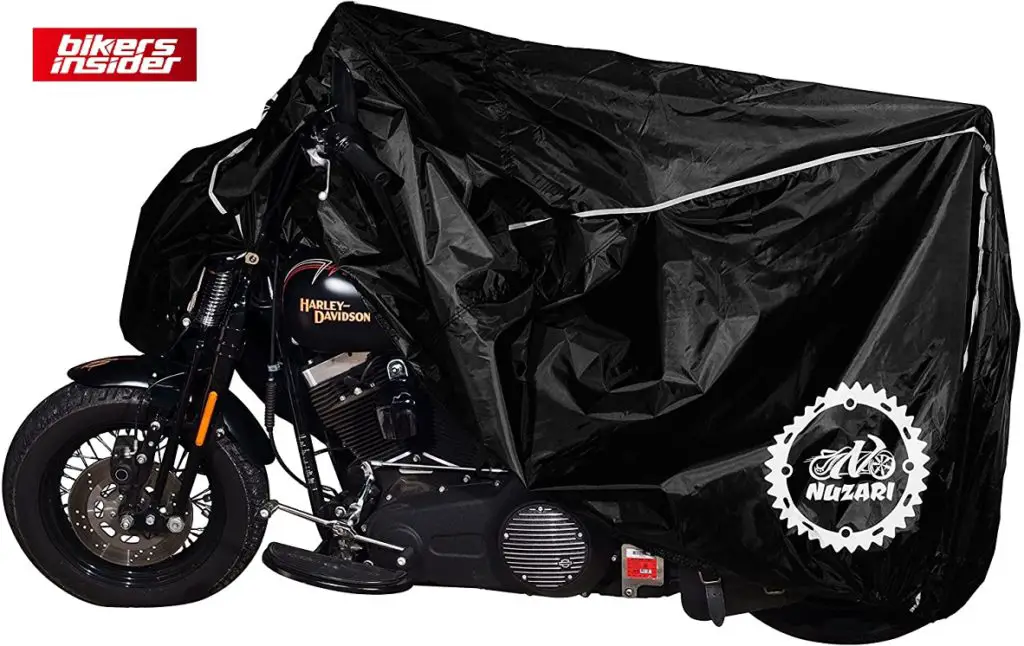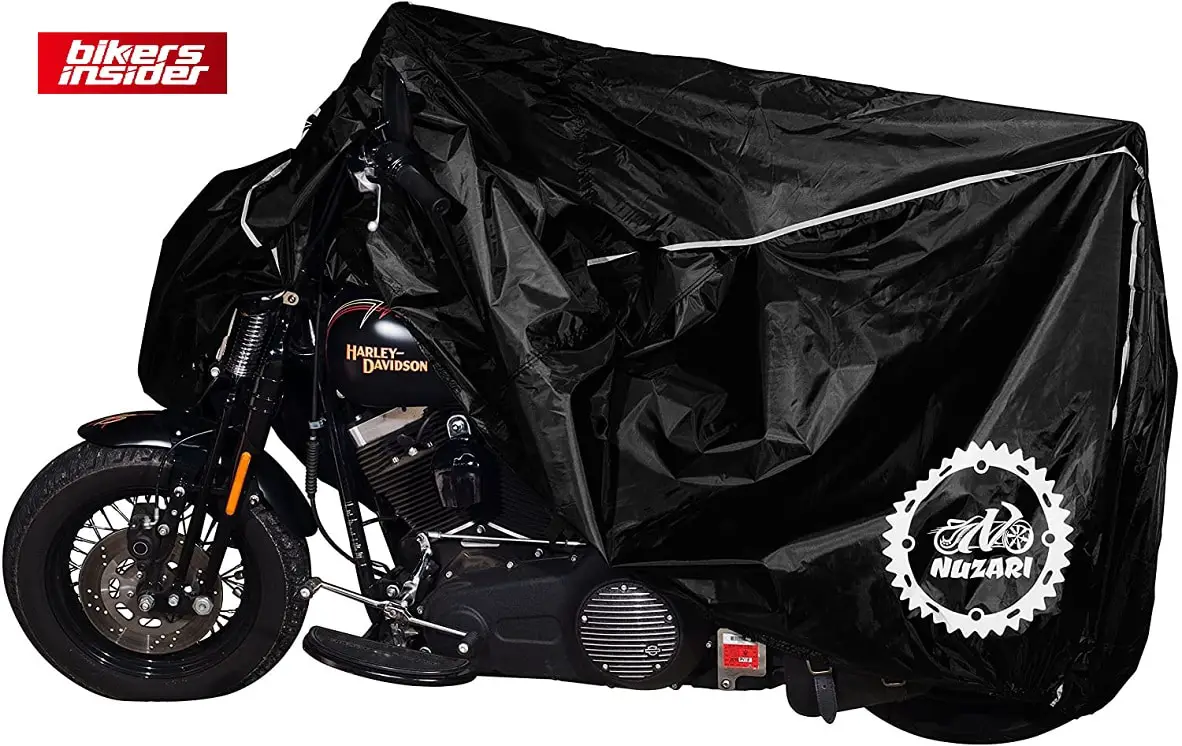 Cut-out vents in the polyester fabric let sweat escape. Due to its inside heat-resistant layer, this is a cloth that can withstand the heat from your hot pipes. An integrated baggage strap, bottom elastic hems, cable lock openings, and grommet cuts help hold it in place.

Some other versions on the market include strong plastic reinforcements in the grommets. However, this one lacks this. Check the manufacturer's sizing chart to determine which size suits your vehicle. In the sunshine, the cloth will lose its color and become stiff.
7. Budge MC-9 sportsman motorcycle cover
Even though the Budge MC-9 Sportsman Motorcycle Cover isn't the most affordable option, you can't go wrong with it. Medium, large, and extra-large sizes are available. Determine whether or not the product is compatible with your bike by measuring the wheelbase length and breadth and its height, and then comparing these measurements with the manufacturer size table. To protect your bike from the weather, this polyester cover is excellent.
Grommets with clips and an elastic hem are included to keep it in place in windy circumstances. The cover is exceedingly thin, yet the seams are strong with multiple stitching lines. There are additional models on this list that should, while they may not degrade throughout a season. When not in use, the cover may be kept in the included storage bag.
Conclusion
Suppose you must leave your bike out in the open. In that case, a good cover is a no-brainer — in addition to protecting it from rain and road spray, it will also deter thieves and their spotters from spotting it. Obviously, they could just stop and look beneath, but most people don't bother.

A bike cover is still a good investment when you have to leave your bike in a city (where most thieves operate), overnight, or merely in lousy weather. To keep the bike free of debris, such as grass clippings and paint splatters, you'll need a cover in your garage if you plan on doing any DIY work there. When a bicycle, rake, or child falls on it, a cover can protect it from damage.
If you liked our guide on the Best Motorcycle covers, please let us know in the comments. For more guides and reviews keep visiting BikersInsider.