Today, dirt bikes aren't exclusively made for the dirt tracks alone. People use them for commuting, daily rides, or exploring the off-road trails. Undoubtedly, they have exploded in popularity. With higher popularity, comes higher demand – and with that come the different budgets. Some people have higher budgets, while some don't have a comfort of that. In this post, we will show you some of the best affordable dirt bikes money can buy in 2020!
1) Taotao DB17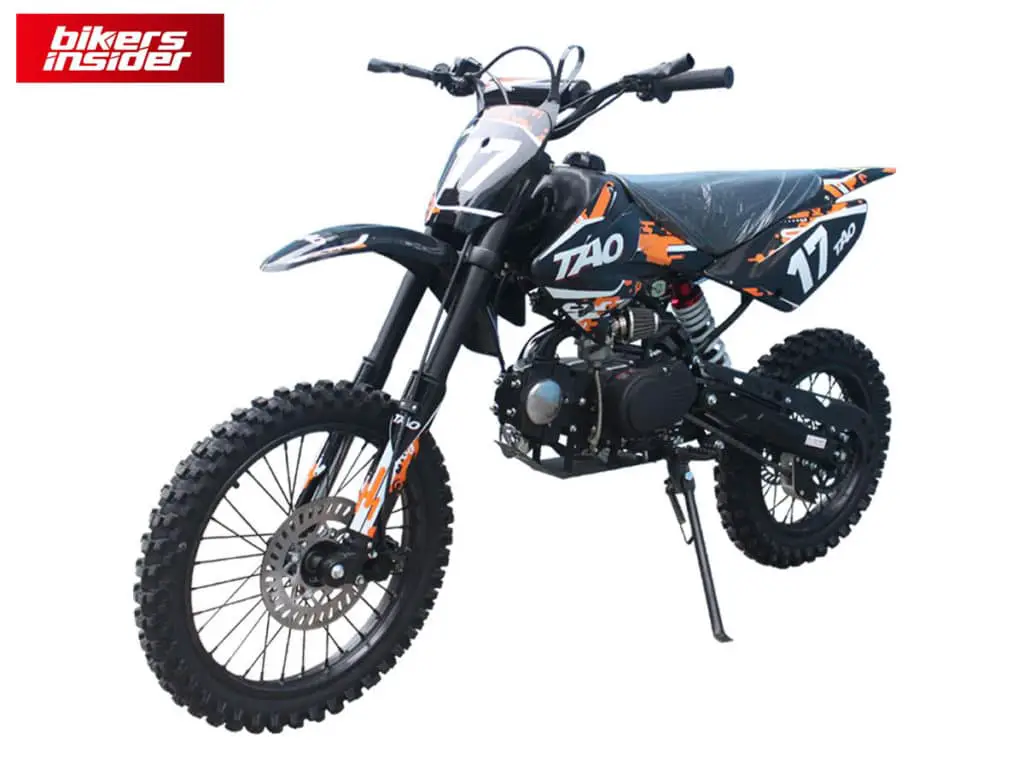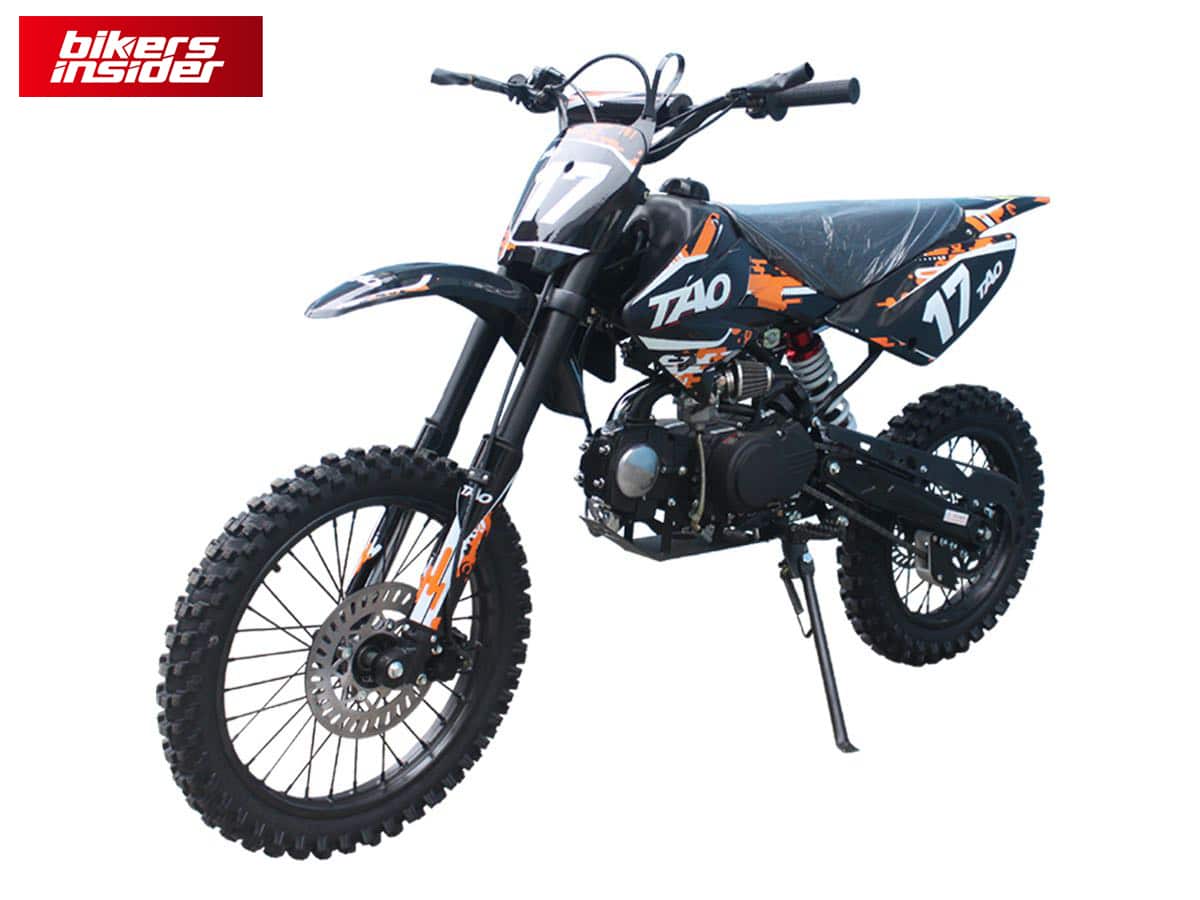 Let's kick off our list of good and cheap dirt bikes fit for beginners with this impressive outing from Taotao! We have to say that this is definitely the best value 125cc dirt bike that money can buy right now. 
It features a 4-stroke, single-cylinder 125cc engine. Also, it has a 4-speed manual transmission with air cooling. It doesn't feature an electric starter, opting for a kick starter instead.
When it comes to brakes, the Taotao DB17 features front and rear disc brakes. You can apply the front disc brake with your hand, while the rear disc brake is used by your foot. 
You can store one and a half-gallon (5,67 litres) of fuel inside its fuel tank. When the gas tank is not full, the weight of this dirt bike is 200 lbs (91 kg).
When it comes to dimensions of this dirt bike, they are the following:
70" length and 30" width, standing at 43" (180 cm x 76 cm x 109 cm)
49,2" wheelbase (125 cm)
13" ground clearance (33 cm)
Because of such low ground clearance, it is best to ride this bike on the dirt tracks only.
Just to mention, this is a Chinese-made bike, so it certainly doesn't come with its faults. Sometimes, the sprocket may break, which is a part of the dirt bike that you simply cannot repair. If that occurs, you will need to replace the rear wheel itself. Thankfully, this issue occurs in just rare cases. Still, we wanted to warn you beforehand, so that you know what to expect.
The Taotao DB17 is undoubtedly the best budget dirt bike that money can buy right now. Its 125cc engine makes it ideal for those who are looking for best and cheap beginner dirt bikes. Not to mention that Taotao is most likely one of the best cheap dirt bike brands currently on the market.
2) Apollo AGB-36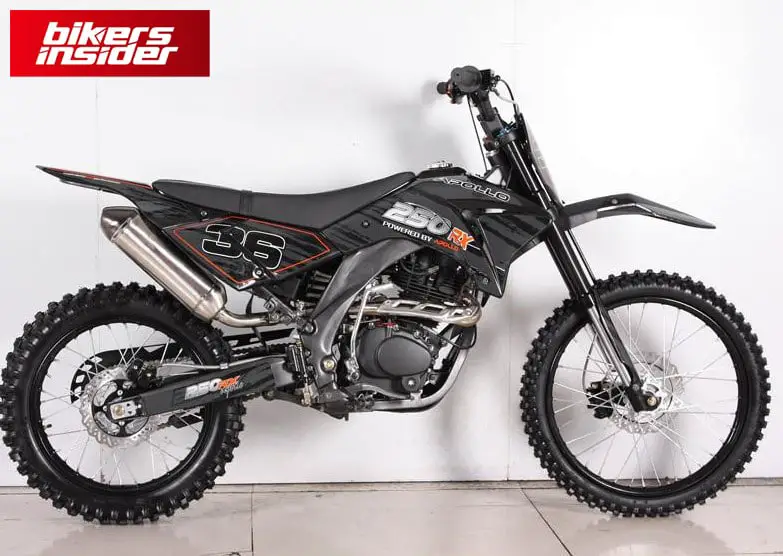 The second entry in our list is reserved for the Apollo AGB-36, which is definitely the best cheap dirt bike for adults. It can withstand even some challenging trails that are fit for a $10,000 dirt bike, which is saying much about this dirt bike. Let's dive in some specifics of the AGB-36!
This dirt bike was made in China, but don't let that detract you from the buy. It features a four-stroke, single-cylinder, 250cc engine that produces 15 horsepower. The max speed of the Apollo AGB-36 is 115 km/h, which is awesome for a budget dirt bike. It is a manual transmission bike that gets its ignition through CDI with a kick-starter.
When it comes to braking, the AFB-36 features front disc brakes and rear disc brakes. Like the dirt bike listed before it, you operate the front brakes with your hand, while the rear brakes are operable with your foot. 
You can ride quite a while with this dirt bike, as its fuel capacity is 2 gallons (8 litres).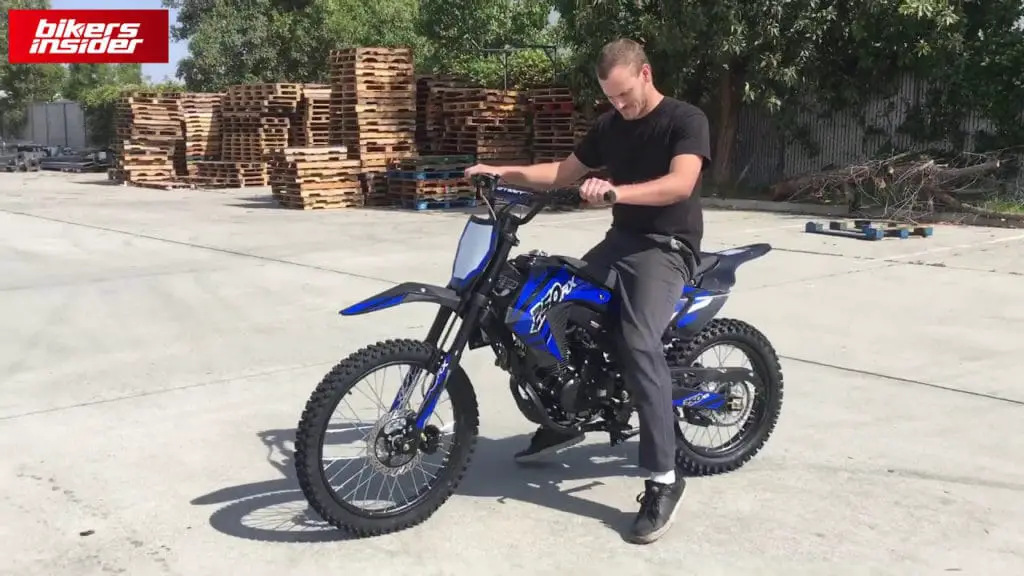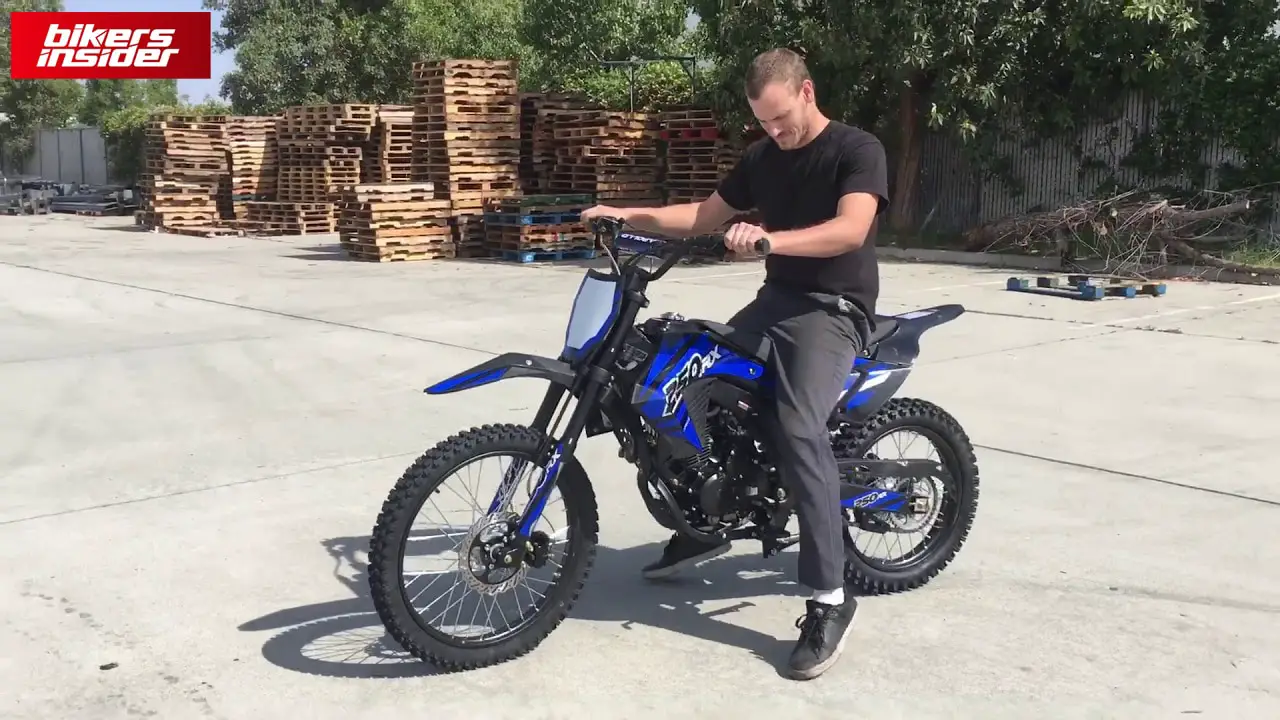 What makes the Apollo AGB-36 the best cheap dirt bike for adults is its size and weight. The minimum ground clearance is 11" (28 cm), while the height to seat measurement is 36,6" (93 cm). Also, the bike weighs 273 lbs (123 kg) and can withstand a maximum load of 440 lbs (200 kg).
We expected that the stock tires would need to be replaced very soon. But, after more than 600 kilometres, they will still perform nicely, even if you went through sandy, muddy, and dirt trails. 
When you set up the engine correctly (maybe it will be best if you get help from a mechanic for that), this dirt bike will scream with power. Almost like a dirt bike that is more expensive than $10,000!
Now, this dirt bike doesn't come without its faults. You could probably suspect that as the bike is made in China. First of all, you need to be prepared for regular maintenance at your mechanic's place if you decide to invest in this bike. 
The main reason is that the bolts and the plastic material are pretty weak and may fall off after some challenging rides. You will definitely need to replace bolts here in a while and adjust the chain tension regularly if you want the best possible dirt riding experience. Again, if you don't want to invest your time in maintenance, avoid this bike. But, if you are looking for good and affordable dirt bikes, what can you expect?
Note: if you want to avoid the regular change of bolts and other movable parts of this dirt bike, make sure that you put Loctite on these parts. It seems that quality assurance of this bike isn't the best around, but at least you can remedy that for a low price!
Also, when it comes to suspension, it feels tough. You can leave this to your mechanic to soften the suspension up a bit. Still, it will feel a bit harder than a more expensive and more optimized dirt bike.
Make sure to change the oil before your first ride, as the stock oil is of low quality. You can do this easily at your mechanic's place too!
The last gripe that we will mention is the seat quality. It is suitable for shorter rides, but if you are on a longer ride, you will feel discomfort. Maybe one of the main reasons is that this bike is designed for dirt trails, and not for the full motocross package.
Regardless of all the gripes we mentioned, this is still one of the best affordable dirt bikes that you can buy right now. It offers plenty of power for such a low price but will require additional, regular care from you.
Closing Words
While our list of best affordable dirt bikes may feature only two bikes, these are really the cheapest, yet quality dirt bikes money can buy. We didn't want to include children's bikes as they tend to be very low in quality when it comes to low budget. 
It goes without saying that the two mentioned bikes are nowhere close in quality like a decent Yamaha dirt bike. Well, you definitely shouldn't expect that in the low budget range!