Shark introduced its Raw helmet way back in 2013. It was a simple open-face helmet, which became an absolute hit among the open-face helmets due to its fusion of old-school and streetfighter styling. Fast forward to 2019, and Shark has changed the name of the Raw to Drak. How does the Drak motorcycle helmet compare against the old legend? Read on our Shark Street Drak Review to find out!
Just to note, Shark has released three Drak helmets:
Shark Street Drak
Shark X-Drak
Shark S-Drak
This review will focus on the Shark Street Drak helmet, as it is styled most similarly to the old Shark Raw helmet. How does it hold up in 2021? Let's find out in our Shark Street Drak display!
Shark Street Drak Review – Features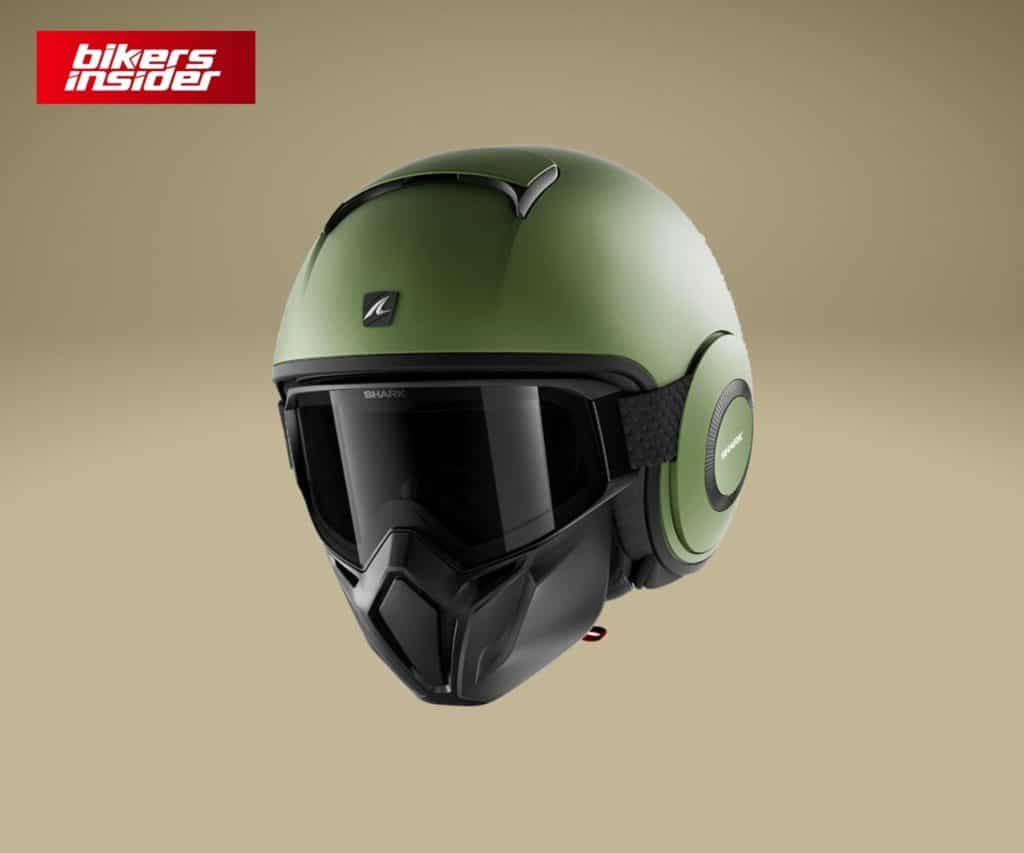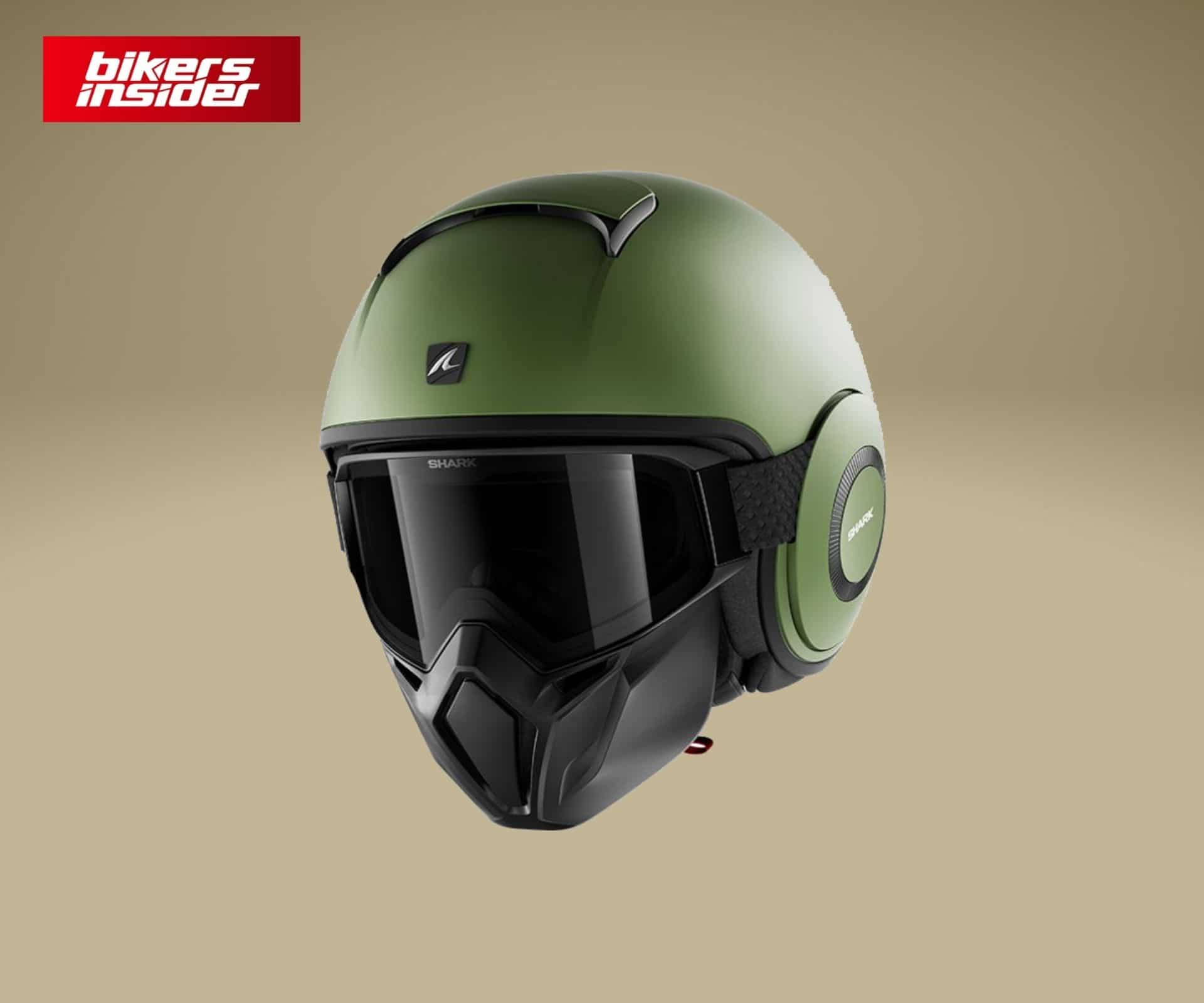 Before commencing with our in-depth look into the open-faced Shark Street Drak helmet, let's quickly run through its main features:
Thermoplastic shell
Weighs 1,050 grams (2,31 pounds)
Open-face helmet with a removable, thermoplastic face mask
Round, oval shell shape
Double-panned frameless goggles with anti-scratch coating
Micrometric strap system
Eyeglasses-friendly multi-density EPS liner with speaker cutouts
Actuated top vent
DOT and ECE safety certifications
Without further ado, let's begin our Shark Street Drak review!
Construction & Design
This Shark Drak helmet is a 3/4 (or jet) motorcycle helmet with a shell made of thermoplastic. It is quite a lightweight helmet, weighing 1,050 grams in a medium-size (2,31 pounds) with both the mask and goggles attached. 
The Shark Street Drak open-face helmet comes in a round, oval shell shape. That means that it is a bit shorter from front to back and has a bit more room inside. 
The thing that gives this Shark Drak helmet its streetfighter styling is the face mask/chin bar. Now, this face mask is here only to protect against the elements, as it is made of thermoplastic. It's certainly not here to protect you during a crash. So, it will stay here to fend off the bugs and dust from getting inside the helmet.
Also, the face mask is removable. Keep in mind that you can wear this helmet with the goggles on and the face mask off, but not the other way around, which is a bummer. That's because the face mask mounts directly into the goggles themselves.
So, the Shark Street Drak helmet is best suited for city commutes, and that's how it's designed.
Vision
As the original Shark Raw, the Street Drak forgoes a traditional visor in favor of a goggle system. The goggles feature a frameless design with the elastic integrated into the side of the helmet. This increases the range of view. Of course, the goggles come with an anti-scratch coating, and they are double-panned, so they should do an excellent job of venting any fog buildup.
Keep in mind that the Street Drak goggles are tinted, so they won't be suitable for night rides. And without the goggles, you will need to remove the mask too. So, if you plan on riding during the night, you will need to purchase new, clear tint goggles from Shark. That's right; these goggles are not interchangeable with any goggles other than those from Shark, which is a bummer.
One other downside to these goggles is the fact that rain can get inside through the top of them. You see, these goggles don't create a very tight seal at the top of the helmet.
These goggles have a new clasp system compared to the Shark Raw helmet. You simply slide them off from the clasps on both sides. Once removed, we can see foam on the goggles that provide additional comfort. Still, its durability is questionable, and if you are the kind of rider that stretches out the goggles, the foam will deteriorate rather quickly. 
Comfort
As we look at the inside of the helmet, we can see the micrometric strap system for securing the helmet on your head. 
The cheek pads are a bit thin, meaning they will let in more wind noise. They are very simple to remove, and we can see speaker cutouts for the Sharktooth communication underneath both cheek pads. These are disconnected with easily removable Velcro pads.
The multi-density EPS inner liner is removable, washable, and anti-bacterial. Still, it has not a lot of cushioning on it, making it feel a bit thinner than expected. A good thing to note is that the interior of the helmet is eyeglasses-friendly.
Interestingly enough, the interior of the shell features surprisingly deep vent channels, which will provide you with awesome airflow for those hot summer rides. On the back, we can see a cutout for the Sharktooth Bluetooth communication system. 
If you are looking for a great Bluetooth comm device, check out our picks for the best Bluetooth headsets of 2021!
Airflow
As we come to the close of our Shark Street Drak review, let's talk a bit about the ventilation scheme of this jet helmet!
Obviously, it is a jet helmet, so you will get tons of ventilation from the front, even with the face mask on. On the top, we can find an actuated vent that can provide additional airflow that will keep you cool during summer rides. This is a summer helmet, after all.
The face mask has a non-actuated vent present. If you by any means want to remove the face mask, you just simply apply some pressure and remove it from the goggles.
One other gripe we have with this face mask is that it can let in the rain through the vents, especially if it is very windy. Still, the ventilation scheme is pretty awesome when it comes to summer rides.
Safety Ratings
This jet helmet comes with both DOT and ECE certifications, so it is legal to ride around with this streetfighter helmet. Still, it is not the best for protection, especially if you crash with the thermoplastic face mask on. It would be better to crash without it.
Available Models
When it comes to the sizing of the Shark Street Drak open-face helmet, it comes in the following sizes:
XS – 53 to 54 cm (20,9″ to 21,3″)
S – 55 to 56 cm (21,7″ to 22,05″)
M – 57 to 58 cm (22,4″ to 22,8″)
L – 59 to 60 cm (23,2″ to 23,6″)
XL – 61 to 62 cm (24″ to 24,4″)
XXL – 63 to 64 cm (24,8″ to 25,2″)
The solid variant of the Shark Street Drak helmet comes in the following color schemes:
Matte Black
Grey
Matte Green
Check out the gallery below to see how do these different variants look!
Price
The Shark Street Drak helmet sits at the $240/€200/£172 price tag. Take into consideration that you also get a 5-year warranty from Shark, which is a great addition.
Check out the stores where you can get the best deals on the Shark Street Drak helmet down below!
Summing Up
Now that we are concluding our Shark Street Drak review, what is our final verdict?
First of all, it is an incredibly stylish streetfighter-style open-face helmet. On the other hand, its thermoplastic shell and the removable face mask of the same material won't win any awards for safety. 
If you value safety above style, avoid this helmet.
As far as the visibility goes, the goggles offer a nice, wide area of view. They feature anti-fog coating, but the main gripe is that they can let in the rain through the gaps on the top of them.
The helmet itself is pretty comfortable, even though the liner and the cheek pads are kinda thinned out. It is Bluetooth-ready and has speaker cutouts behind the cheek pads.
When it comes to the vent scheme, it does a tremendously good job when it comes to keeping you cool during summer. Just don't ride this one on the highways; the wind noise will slap you in the face!
Shark Street Drak will be a decent buy if you value style above else and are looking for a cool streetfighter helmet for a city ride. Just don't go expecting over the board safety. There are better jet helmets for that, even in the same Drak lineup.
Looking for more helmet reviews? Check out our motorcycle helmet reviews section!