Sena released their 50 series last year, and they quickly broke new ground with the Mesh 2.0 update. This technology provides an ultimate intercom experience for riders. While this update came to older Sena models (like 30K) in the form of firmware update, the 50 series still offer additional goodies at a reasonable price point. In our Sena 50R review, we will break down all the essential features of the low-profile sibling of the 50S headset!
Sena 50R Review – Main Features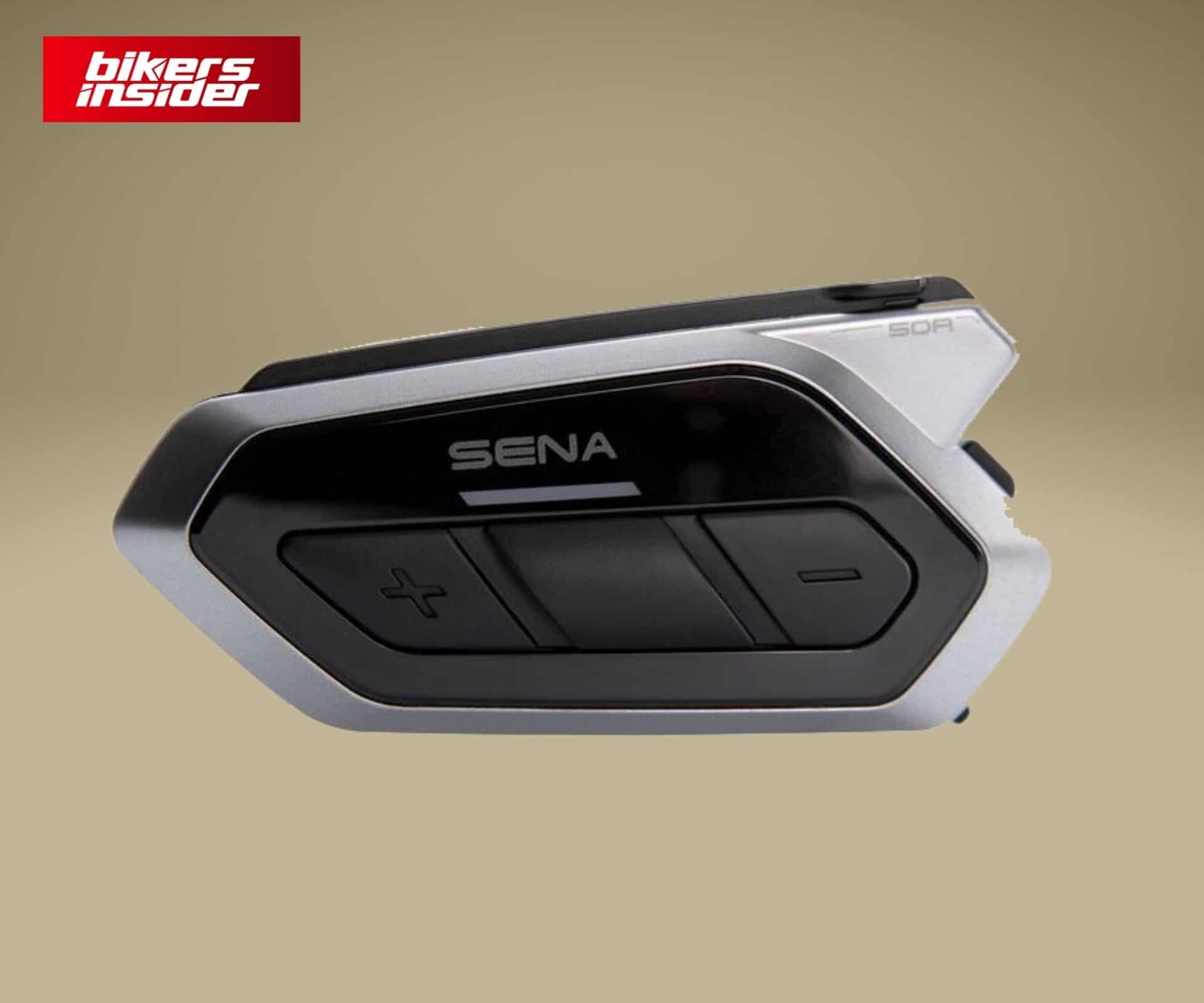 If you're in a hurry, here are the essential features of the Sena 50R headset:
Weighs 65 grams
Shark fin antenna provides a better intercom signal
Utilizes Bluetooth 5.0 and Mesh 2.0 technology
Maximum range of 5 miles (8 kilometers)
Voice control in eight languages
Ambient Mode for background noise reduction
HD audio speakers
13 hours of talk time in Bluetooth mode
8 hours of talk time in Mesh mode
Water-resistant
Without further ado, let's dive into our Sena 50R review!
Design & Installation
Sena 50R is a sleeker, low-profile iteration of the 50 series, weighing only 65 grams. Its main difference with the 50S headset comes in a three-button design (plus the Mesh button on the side) compared to the jog dial of the 50S. It's good to mention that these buttons are also glove-friendly.
The three buttons on the Sena 50R are:
+ Button
Center Button
– Button
Mesh Button
Various button press combinations can produce different effects. To find out all the functionalities behind these, you're best off consulting with the Sena 50R manual.
Also, you can see the antenna, which serves as a signal for the Mesh 2.0 technology. We're going to talk about this technology later in our Sena 50R review.
Now, installing the 50R on any helmet is a pretty simple ordeal. You can either mount it in several ways:
Hook-and-loop
Double-sided adhesives
Helmet clamp
Also, you get a boom mic for modular and a wired mic for full-face helmets. Keep in mind that the speaker wires are hardwired with the 50R unit, which brings some problems. First, you won't be able to quickly take off the unit and charge it in your bag. Secondly, you won't be able to hide it if you leave your helmet on your bike either. A minor gripe, but still worth a mention.
Bluetooth Pairing
Sena 50R headset is powered by Bluetooth 5.0 technology, which provides a clearer connection with smartphones, GPS devices, and other Bluetooth-enabled devices.
Smartphone Pairing
Pairing with a smartphone is quite simple with the Sena 50R headset. The procedure goes like this:
Press and hold the Center Button for 10 seconds until you reach the Configuration Menu
Tap the + Button Once
You can then find the Sena 50R headset on your phone's Bluetooth settings and connect it to it
Sena Intercom Pairing
For pairing with other Sena intercoms, follow this procedure:
Press and hold the Center Button of two Sena headsets for 5 seconds until you hear the "Intercom Pairing" voice prompt
Then, the red flashing light will indicate that your headset is discoverable
Afterward, the 50RR will automatically pair with a Sena headset, which is indicated by the blue flashing light
You can repeat this step to connect with more than one Sena headset (up to four).
Universal Intercom Pairing
For pairing with non-Sena headsets, follow this procedure:
Press and hold the Center Button for 10 seconds to trigger the Configuration Menu
Then, tap the – Button three times to trigger the Universal intercom pairing menu
Tap the Center Button to enter pairing mode
Afterward, put the non-Sena device in pairing mode, and it should connect to your 50R automatically
Keep in mind that there will be connectivity issues when connecting with non-Sena headsets and some audio glitches.
Connection Range
With Bluetooth 5.0 technology, Sena 50R currently provides some of the best-performing Bluetooth intercom functionalities on the market.
The maximum range of the Bluetooth intercom is 1,2 miles (2 kilometers) between riders. Keep in mind that only four riders can talk simultaneously in this intercom mode.
When you press the Mesh button and pull up the antenna on the 50R headset, you are tapping into its best feature – the Mesh 2.0. It comes in two modes – the Open Mesh intercom and the Group Mesh intercom.
The default Mesh 2.0 mode is the Open mode, supporting an unlimited number of riders. On the other hand, you can connect with up to 24 riders in the group Mesh mode. Keep in mind that you can talk with six users simultaneously in the Mesh mode, but the ability to quickly switch to different channels and quickly connect other riders is too good to miss.
Mesh 2.0 provides a big increase in maximum range, increasing to 5 miles (8 kilometers). Another thing that sets Mesh 2.0 apart from Bluetooth 5.0 is the intercom connectivity. For instance, if an intercom participant in the Mesh 2.0 network gets out of range, this won't break the intercom function. When that particular rider gets into range, he will be automatically reconnected to the intercom session.
So, if you prefer to ride in larger groups, Sena 50R, like the 50S, is a go-to headset thanks to its seamless Mesh 2.0 intercom technology.
Sound Quality
As we continue our Sena 50R review, let's discuss its sound quality! Sena 50 series are the first headsets from this brand to come with new HD audio speakers in the box. This is a worthwhile update over the regular Sena device speakers, with a noticeable difference in audio quality.
These speakers provide an increase in overall volume, clarity, and bass. One great thing is that you'll be able to hear your music or intercom partners even on a highway. You can also fine-tune the audio experience to your liking with the Audio Equalizer feature of the Sena 50 Utility App.
Another great thing Sena included with the HD speakers is the additional padding. You can use this to push the speakers closer to your ears if you want to enjoy an even crisper sound.
While HD speakers are obviously Sena's answer to Cardo's JBL speakers, the JBL speakers are still a better offering. They provide a deeper bass experience than the HD speakers, but the difference isn't too noticeable to make Sena's sound quality less worthy. Basically, if you're an audiophile, the difference will matter for you.
Check out our Cardo Packtalk Slim review and see if it's the right headset for you!
Another feature that comes back in this Sena iteration is the Ambient mode. When you trigger it, you can let in external noise to your speakers, making the talks on the traffic lights or gas stations much more manageable.
Voice Control
Sena 50R features some enhancements on the voice control front, mainly due to the increase in the number of commands. Also, the integrated voice command feature is now available in eight different languages:
English
French
German
Italian
Spanish
Chinese
Japanese 
Russian
While you get a full suite of voice commands to control almost all the important functionalities, including intercom, phone control, music, and FM radio commands, there is a major flaw here. This flaw has to do with how glitchy this system can be. Sometimes, only a few commands will work and then stop working until you reboot the headset.
Also, it seems that the microphone is more susceptible to background noise when using voice commands, which means you will need to yell the voice commands a few times until they are registered.
A great addition to this package is the ability to connect to your phone's digital assistant. Just yell "Hey Google" or "Hey Siri", and you'll all set.
Additional Features
Here are some additional features that the Sena 50R motorcycle Bluetooth headset brings to the mix!
FM Radio
As with other Sena headsets, the 50R features a full-fledged FM radio. It can automatically connect to the nearby radio signals. You can also save your favorite radio station in one of the ten preset slots.
WiFi Adapter
Sena 50R comes with a WiFi adapter harness mainly here for automatic firmware updates and charge maintenance.
Sena 50 Utility App
Like other Sena headsets, the 50R uses a smartphone app in one finely organized suite called Sena 50 Utility App. With this application, you can:
Manage Bluetooth and Mesh 2.0 intercom functionalities
Fine-tune the sound experience with the Audio Equalizer
Navigate through various other system functionalities
This app is a true gem compared to apps for older Sena models. You can download it either on App Store or Google Play.
Water Resistant or Waterproof?
While the Sena 50R headset has no IP waterproof rating (no Sena model has it as of today, actually), it is a fairly water-resistant device. It will withstand torrential rainstorms, but don't expect that the longevity will stay intact if you ride with it in such weather. Still, an occasional rainstorm won't ruin this motorcycle Bluetooth headset, so that's a huge bonus.
Battery Life
Thanks to the Bluetooth 5.0 technology, the battery life of the Sena 50R Bluetooth headset is greatly improved over its predecessors. Sena claims that the battery life of this Bluetooth headset offers 13 hours of Bluetooth talk time and 8 hours of Mesh 2.0 talk time. 
One great feature to talk about is the 30% faster rapid-charging abilities than the previous Sena headsets. For instance, you can leave the 50R headsets to charge for 20 minutes, and you'll end up with 6 hours of Bluetooth talk time or 3,5 hours of Mesh 2.0 talk time. Very impressive feature to have, especially when your breaks are short.
Price
For such a robust feature package, you might think that the Sena 50R comes at a premium price point. Well, as it is a flagship Sena model, it is a bit expensive at $288/€235/£203 for the single pack and $441/€360/£312 for the dual pack. Still, it's not much more expensive than the 30K model, and it offers more quality for your cash!
Summing Up
As we finish with our Sena 50R review, what is our final verdict on the new flagship Sena headset?
Like its sibling, it is an ideal Bluetooth headset if looking for the best intercom functionality for large groups. It features Mesh 2.0 technology, which is the leading intercom technology nowadays, with a vast range, more supported participants, and a handy reconnect feature.
Also, the 50R has a pretty decent design, with three glove-friendly buttons instead of the jog dial. The sound quality has also been greatly improved thanks to the implementation of the HD audio speakers.
Still, there are a few gripes with the 50R headset. 
First of all, the safety. As this unit is hard-wired to the speaker wires, you will need to leave it clamped if you don't want to dismantle the whole unit each time you leave your helmet on the bike.
Then, there are some connectivity issues and sound glitches when connected to non-Sena headsets. When we talk about the glitches, the voice commands also tend to glitch out, which may be frustrating at some times. Also, when will Sena get the IP waterproof rating for their headsets?
All in all, the Sena 50R is a worthwhile addition to the Sena headset family and a nice improvement over the previous iterations.
Looking for more Bluetooth headsets? Head over to our Bluetooth headsets review section!