As of June 30, 2022, Ducati unveiled the V21L MotoE bike in Modena at a small and private event. Even though the event was only open to a select group of European journalists. They now get to tell the rest about their time at chef Massimo Bottura's bed and breakfast.
Looks like the V21L prototype that Ducati has been testing based on the photographs shown earlier this morning at the show. Of course, the paint job is a little more sophisticated. While some carbon fibre is covered, others are left exposed to show off their particular grain. It creates a visual texture that our eyes may feast on.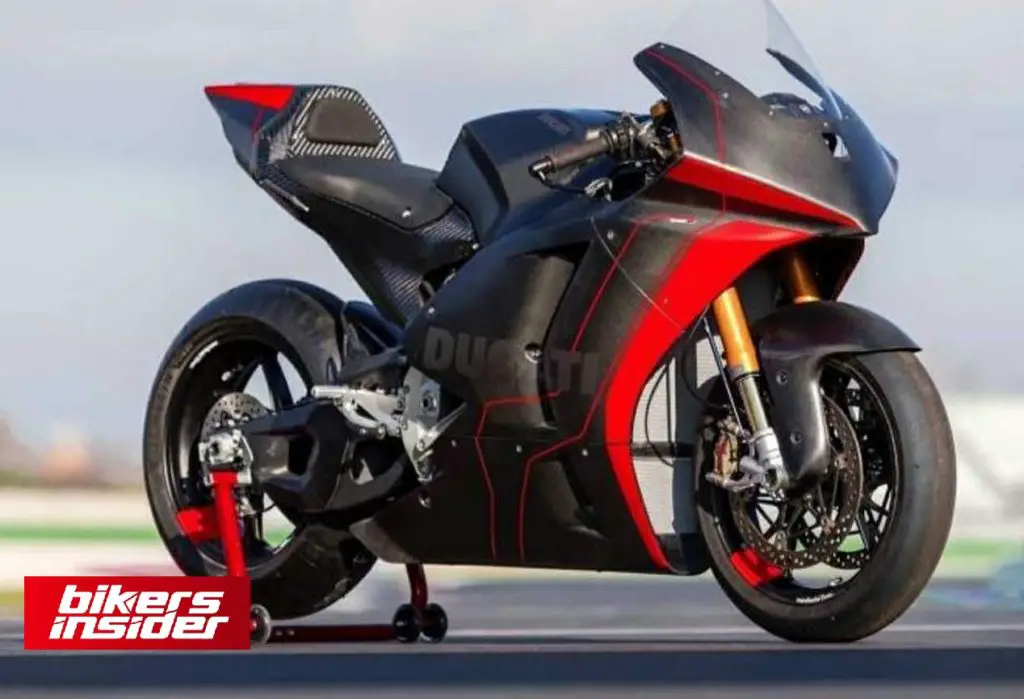 You feel the energy while looking at the red line graphics against the matte black/dark grey background. As a result, the V21L from Ducati doesn't immediately scream "electric motorcycle," as we've come to expect from other entries in the category. The V21L's visuals, even if you had no idea what they were before viewing them, may lead you to believe it's a weapon.
Build and Specifications
What more information do you have about the MotoE bike from Ducati? over 496 pounds, this first-generation model seems to weigh 225 kilograms. The 110 kg(242.5 pounds) battery is an 18 kWh device. The design is to suit this bike and attach to the swingarm. The battery is accountable for a large part of the weight.
Is there anything else you'd want to add? The greatest output is 110 kW or 150 horsepower, and 103 pound-feet of torque as per specifications sheets. A high speed of 171 mph has been claimed in Mugello. It has completed seven laps of a GP course that Dorna wants for its MotoE races.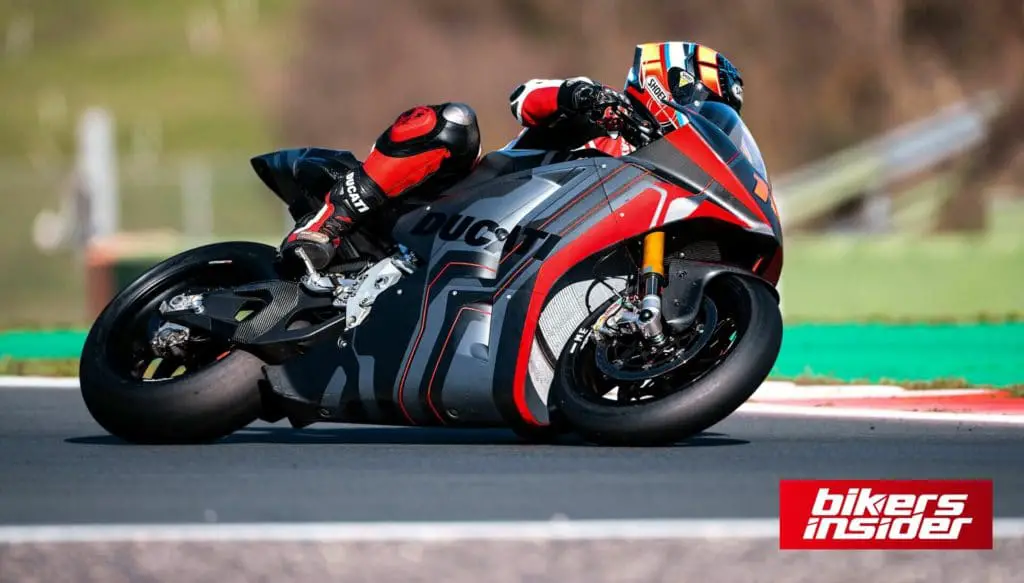 Also crucial are hlins NPX 25/30 pressurized forks with 43mm upside-down tubes adapted from Superleggera V4. Besides, an adjustable hlins steering damper and an adjustable TTX36 rear shock are included. Brembo brakes with cooling-optimized designs are also a component of this concept.
Among Ducati's claims about its cooling system is that it has a double liquid cooling circuit to handle the cooling requirements of both the battery pack and the motor and inverter. As a result, once the bike is hot off the track, Ducati maintains there's no need to wait to charge it. A full charge will be in approximately 45 minutes if it is put straight into the wall socket. ' Also, the lessons Ducati is learning for the MotoE project will be applied to future production bikes.
Expected production
To be clear, Ducati's R&D director Vincenzo De Silvio said the following when speaking about this undertaking: "Ducati's participation in the FIM MotoETM World Cup is not only a technologically exciting try, but also the best way for the company to interpret the challenges of the new millennium. Motorcycle racing is an ideal environment for testing and refining new innovations before the features come into mass-produced motorcycles "he stated.
"Current issues in this subject revolve around battery capacity, weight, autonomy, and the availability of charging infrastructure. The knowledge gained by Ducati in the FIM MotoETM World Cup will be invaluable in the company's product development efforts, as will the physiological changes in technology and chemistry. It's already critical for the company's internal knowledge to expand now so that it can be ready when the first street electric Ducati is put into production."
For more news and updates keep visiting BikersInsider.