Personalizing helmets and other gear have been around from the inception of motorcycling. Whether you want to stick out of the bunch or revive a stale design, custom painted helmets are relevant more than ever. 
There are hundreds of creative custom painted motorcycle helmet designs out there. It is tough to pick the best custom painted helmets from that bunch. In this post, we have gathered some of the coolest-looking custom painted motorcycle helmets that fit various styles.
Whether you are a hardcore or playful rider, or something in between, there are tons of cool custom motorcycle helmet designs for you to choose!
If you are in a hurry, here is a table showing our picks for the catchiest custom painted helmets you can get in 2021:
#1: Custom Painted Venom Helmet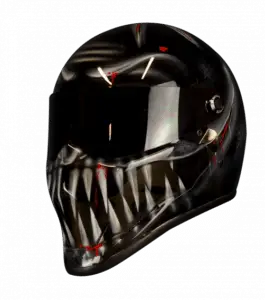 Venom is one of the most well-known villains from the Spider-Man comics and movies. He came to Earth from outer space, looking for a host to survive, as he is a symbiote. His design resembles a humanoid lizard, with special attention put to his sharp teeth. It evokes the feeling of terror, the essence of Venom.
Venom is an amazing choice for custom motorcycle crash helmets design. It is downright cool and terrifying at the same time. There are also countless inspiring airbrushed motorcycle helmets featuring Venom, with different colors and patterns.
#2: Custom Painted Smiley Face Helmets
A smile is a curve that sets everything straight. Indeed, the smile is regarded as the international language of sorts. So, what is the better way to show your playful attitude than getting one of the custom painted Smiley Face motorcycle helmets? After all, a happy biker is sure to attract a cheerful bunch!
There are hundreds of Smiley Face designs for you to choose for your first custom painted motorcycle helmet. Your choice will significantly depend on your design and color preferences in the end. You can create a design with a confident smirk, with a cigar, with a golden tooth… The possibilities are quite numerous!
#3: Custom Painted Skull Helmets
The skull tribe in the motorcycle world is probably the biggest one out there. It is an iconic symbol of a motorcycle rider and the hobby itself. Even better, as the skull motive is connected to motorcycle riders and gear for a long time, there are some fantastic custom skull helmet designs out there! 
Check out some striking skull motorcycle helmets over here!
Whether you want a cheerful or a grim representation of the skull, the hundreds of designs out there got you covered. The custom painted skull motorcycle helmet may be just the perfect addition to your motorcycle gear and image.
We must mention that a custom painted jet helmet with a skull motive is a worthy addition to the library!
#4: Custom Painted Clown Helmets
From evil to cheerful, clowns are perfect for conveying an extreme of a particular mood. There are iconic clown designs such as Joker and Pennywise, but the list could go on for dozens of entries.
Well, a good ol' clown graphic design might inspire your next custom painted motorcycle helmet!
Here are the best custom clown helmet designs to get you started!
#5: Custom Painted Spider-Man Helmet
The web-slinging Spider-Man is probably one of the most popular superheroes ever. He has captured the hearts of comic book readers, starting from the early 1960s. Peter Parker has captured the teenage character, and the costume design of his superhero persona has taken on a more playful tone.
Well, as the Spider-Man costume is sought after during each Halloween season, the custom painted Spider-Man helmet design may not be a bad idea after all. There are dozens of different takes on the Spider-Man helmet design, and it is always a treat to see each one.
#6: Custom Painted Monster Energy Motocross Helmets
When you think of energy drinks, Red Bull and Monster Energy probably pop in mind. Other than being the second most successful energy drink brand, Monster Energy has got its eye-catching logo. Of course, Monster is sponsoring many motorcycle riders, mostly motocross riders.
There is something very catchy when you see the greens dominating the Monster logo. Most helmets airbrushed with that iconic logo feature additional painted motives to complement the logo further. 
#7: Custom Painted German Army Half Helmets
The German military helmets from the WW2 era feature simple aesthetics from the first look. Well, that certainly makes them ideal for an amazing spotlight of airbrushing skills. You will find most of these half helmets with DOT safety certification. The creative freedom that is enabled on the canvas of German-style military half helmets is astounding.
You can show your creative sides and colors easily with this kind of helmet. As the vanilla variant is only in one color, it serves as a background to a striking design.
---
There are more custom painted motorcycle helmets popping up each passing day. There is a vast number of possibilities when you consider that art has no boundaries. Defining your style may be a bit tough, but we hope that we have given you some inspiration with these six cool custom painted designs.
If you want to ramp up the cool to the next level, don't forget to check our picks for the coolest motorcycle helmets of 2021!