So here we are with the review of the AGV Pista GP RR, a performance carbon helmet that belongs to the expensive tiers.
It is the new version of its predecessor, the AGB Pista GP R. It comes with some key changes, that might make this carbon helmet the perfect fit for you.
Are you ready to discover why this is a performance masterpiece? Let's get to it!
AGV Pista GP RR review: expensive, but well worth it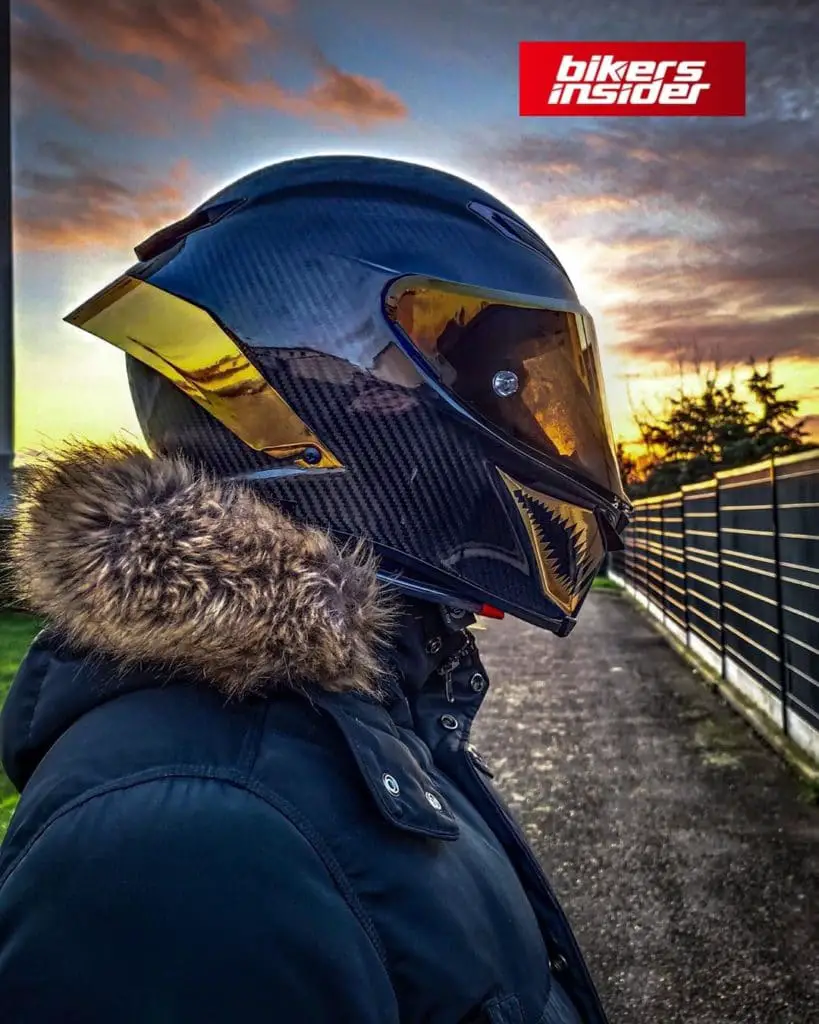 Coming in at a price of 1.400$, 1.299€ or 1.089 pounds, this is definitely a pricy carbon helmet. You must take into account that this is the flagship model from AGV, so it really doesn't get any better that the current design.
If you are looking for the things that haven't changed, know that:
It is still a 3k carbon helmet.
Still has a four shell options with different sizes.
The weight remains the same, at 1,6 kg.
Still DOT, ECE and FIM rated.
From a fit standpoint, the AGV Pista GP RR has an intermediate oval to long oval design. This, it is longer front to back, but narrower on the sides.
Consider that it allows you to change the internals a little bit, so you can find what is the perfect fit for your head. Quite convenient.
This carbon helmet is all about certifications
If you are looking for a high-end performance and certified carbon helmet, look no more.
From a rating and testing standpoint, this truly is a flagship product. It comes with plenty of certifications and security features that will make this a round product.
FIM, a world class certification
FIM is the governing certification from an international perspective. It does meet the requirements of Moto GP, World Superbike Road Racing, etc.
If you want to compete in those, the AGV Pista GP RR will be a terrific choice. If you happen to be a regular rider, rest assured that this carbon helmet meets such incredible standards of safety.
AGV has really put some effort in obtaining those certifications. As it is true that most riders do not need those features, they are the icing on the cake. Consider that, in case of an accident, as far as protection is concerned it doesn't really get any better than this.
There is no other FIM available carbon helmet available for purchase for the regular rider. So, if you want to feel like a champion, keep that in mind!
The brilliant design of the AGV Pista GP RR
We want to highlight in our AGV Pista GP RR review the amazing work of the company. This carbon helmet revisits the previous version, and delivers a much better design than its predecessor.
As soon as you get some speed, you will notice how balanced and even this helmet is. The spoiler on the back helps by deflecting the airflow, so you feel as if you were wearing nothing at all. Absolutely great on street riding.
If you are used to a helmet that feels like pulling back on you as soon as you increase the speed, forget about that with this one. Simply fly on the road, and enjoy the feeling of freedom that it provides.
Smart pinlock ready facial
As far as the front, it features the same pinlock ready system than the previous version of the helmet. One of the perks of this one is the fact that they have improved the mechanism, so it is one of the smallest in the motorcycling market.
From a face shield mounting standpoint, the level of security and simplicity is unbelievable. Pull it out and the visor pops off, line it back up and enjoy the ride. Really easy to use.
Mind you that there is no middle position for the visor. Take into account that this is a racing carbon helmet, so it is not supposed to feature that.
In line with that, there are plenty of vents on top, but there is no way to interact with those.
They have a rubber cover, so you may choose whether you'd like to use them or not. There is also a chin vent that can be actuated from the inside of the helmet, and two more passive vents on the back.
All things considered, it is a very nice design. However, keep in mind that this is a racing helmet; you may use it for street riding, but it will not shine as much on the daily use.
On the inside of the AGV Pista GP RR
One of the main advantages of the AGV Pista GP RR is that you may use a hydration pack while riding. Yet again, a very simple system that you'll certainly enjoy.
Pull off the chin curtain and you'll find the cheek pads. Those are incorporated into the neck roll, so it all comes out together. One piece for the whole assembly, so it is fairly useful when it comes to maintenance.
It features quick release emergency cheek pads… but no pockets for speaker cutouts. This could be a deal-breaker for some of you out there, as it will be virtually impossible to use a communication system on this one.
The result of the inside being put together in once piece is a very aggressive and tight fit. This is very welcome if you are planning on using the carbon helmet for a short period of time. However, it is not the best if you are going to use it to cover long distances.
Enjoy the adaptive fit system from AGV
On the inside of the helmet you will find three measurements that will be easily adjusted. By doing so, you may pull the helmet quickly and feel it really close to your head.
This is a very nice feature when it comes to security, as it provides a comfortable but firm grip to your head.
In addition to that, you may add extra millimeter pads, that will make the fit just perfect for you. The result is a racing helmet that feels awesome when riding.
Who is the AGV Pista GP RR for?
As far as security, comfort and design, it really does not get better than this AGV Pista GP RR. The new model of this 3k carbon helmet is just outstanding. It really does not get much better than this.
Therefore, is you are going for a quick ride or you want to feel like a pro, this is the best option available. Period.
However, some riders out there will definitely miss the speaker pocket, as you won't be able to communicate while using this helmet. Feel like going to a long ride? After a few hours, this helmet might be not the best. It might be just too tight for too long.
All things consider, the AGV Pista GP RR is definitely a racing champion. It feels good because it is a really smart, safe and professional design. Maybe not ideal for every rider, but certainly amazing as a carbon helmet. A great job from AGV, that is definitely worth the price!