Introduction
As the year 2022 approaches, it brings a lot of optimism. In the current year, you should get ready for a new ride. As a necessary riding accessory, many options for motorcycle gloves are available on the market. We have compiled a review of 9 best motorcycle gloves in 2022 for you to choose from.
The best motorcycle gloves are an absolute must if you're a frequent motorbike rider. A novice rider may not appreciate motorcycle gloves until he or she has taken a lengthy journey on the road. Motorcycle gloves are a must-have accessory.
Besides covering your hands in the event of an accident, gloves provide many other uses. The vibration of the motorcycle can be reduced with the use of motorcycle gloves. The buzzing and coldness that many bikers experience can be reduced by this method. The cause of numbness is due to holding on to the 's handlebars for an extended period.
See the summary table if you are in a rush.
| Image | Gloves | Picked for | Product Link |
| --- | --- | --- | --- |
| | Dainese Steel Pro |  Premium winter gloves | Check Price |
| | Alpinestars GP Pro R3 |  All around racing gloves | Check Price |
| | Alpinestar Supertech Gloves | Premium racing gloves | Check Price |
| | Klim Induction Gloves | Best short sleeve gloves  | Check Price |
| | Scorpion EXO Tempest | Affordable waterproof gloves  | Check Price |
| | Reax Tasker Leather Gloves | Budget winter gloves  | Check Price |
| | Blok-IT full leather gloves |  cheapest winter gloves | Check Price |
| | Harley Davidson wing skull gloves |  Afforable from a premium brand | Check Price |
| | ILM Alloy steel knuckle gloves | Extra knuckle protection  | Check Price |
1. Dainese Steel Pro
It's easy to feel safe wearing this glove. It is rated CE CAT 2, Standard 1 safety rating, indicating that it is completely risk-free. This goatskin leather is both robust yet soft and supple. Reinforcements made of stainless steel protect the glove from wear and tear. Throughout the glove, you'll see raised TPU reinforcement. That's why this glove is so well-padded.
Double goatskin leather layers cover the TPU protection on the fingertips. The location of these is in the most vulnerable finger joints. Your finger's DCP mechanism bending correctly, which is a good thing. Besides, the pinky's outside cover in raised TPU, which sees a lot of action.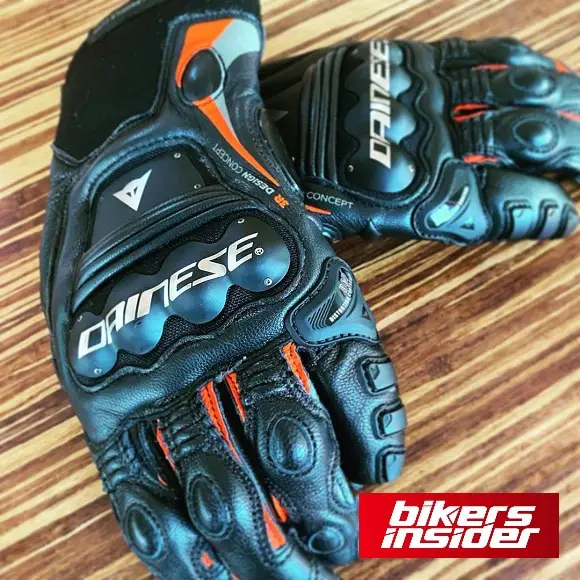 The knuckles and the back of the hand have enough protection. The knuckles protection design is of a steel plate like a knuckle.
On the palm, the goatskin is thicker and has two layers in certain areas, making it more durable. Your glove will last longer and be more durable because of this. Most of the time in the area between your thumb and pointer. The micro-injected reinforcement will help better grip with palm, which is a cool feature.
With a thicker cuff, over a soft and flexible material, the Pro gloves are different from the Pro In gloves. The Pro In gloves includes an elasticized wrist band and the build is of a comfortable, breathable material.
Because the glove is pre-fabricated, it will fall into a slack grip, making it more comfortable to ride with. The fingers of these gloves have small perforations for ventilation, making them a good choice for winter weather.
These touring and sports gloves are durable and provide excellent protection. The protection does not cost reasonable comfort.
2. Alpinestars GP Pro R3
After Marc Márquez's Supertech glove, the GP Pro R3 is Alpinestar's second-most-best glove. The GP Pro R3 stands out for a few reasons. It has a CE Level II rating. Achieving this level of protection is quite durable, and the GP Pro R3 employs a variety of methods to achieve there.
Besides the traditional cow and goat leather, the glove uses kangaroo leather from the palm up to the little finger. Because it is a far more durable material, thinner pieces should have been used, improving both comfort and aesthetics. Ring and pinky fingers are safe in leather, while the scaphoid area is protected by a large palm slider from Alpinestars. The normal set of hard plastic knuckle and finger guards is present, but the massive curved armor that wraps around the cuff is striking.
With its lengthy sleeve, the R3's sensation of security boost is there. Because of the wrist strap and the single-sided velcro secure. Perforations in the fingers are not present; nonetheless, there is some air venting in the rear of the hand, the thumb part, and the knuckle protector. Because perforations weaken the leather, ventilation can be a problem with CE II gloves. Nonetheless, the track is fine and does not discomfort while running on it.
The comfort is good given the level of protection, although the fingers are a little long compared to Alpinestars GP Plus R2 gloves. Because glove sizing is so subjective, it's best to try a pair on before you buy.
The GP Pro R3s design is for the racetrack or high-speed touring. As you might imagine from a high-end Italian brand, they're not cheap. In any case, the GP Pro R3 is an excellent choice for high-performance motorcycle riders in need of high-quality safety gear.
3. Alpinestars Supertech Plus Gloves
These gloves are CE Level 2 gloves, which are rare today. These are identical to those used by Marc Marquez. Alpinestars Dynamic Friction Shield for durability, Keprotech padding in the palm area, and Kevlar lining are some of the features of these gloves. There haven't been many experiences with them outside of the racetrack.
Supertech gloves are colossal in stature. As a result, they aren't very comfortable. The mouth of the glove is far too small. As a result, you will need help in putting them on, particularly at the track.
Once you got into them, the fit will be superior to both off-road and touring. It's easy to fist. There is no danger pinky finger. Knuckles don't get bruised even if the fit is snug. A strong fit is ensured by the TPU cuffs, which can be wrapped around the wrist with ease.
The Supertech Gloves are expensive, but the materials are visible. The gloves have a lot to give to them. So your hands don't get calloused after two days of touring days. Finger movement, flexibility, and feeling are all possible with this design feature. So it's easy to use the clutch and brake, open and close the helmet shield, and navigate the settings menu on a motorcycle.
Additionally, the breathability in these gloves is exceptional. Yes, they have holes in them. Cool air vents in the hand, preventing overheating. These are best for a summer day and don't leave palms hot or sweaty.
If you're a regular at the track and appreciate the need for protection, the Supertech is an excellent investment. But can these gloves be your sole investment in riding gloves? Will these be suitable for travel, such as a daily commute or perhaps a tour? Well, it all comes down to a personal preference. Based on reviews, consumer feedbacks, and our research, we can confidently state that these are the best motorcycle gloves in 2022.
Based on reviews, consumer feedback, and our research, we can confidently state that these are the best motorcycle gloves in 2022. It is safe for us to state that Alpinestars Supertech Gloves are most premium gloves on this list of a review of 9 best motorcycle gloves in 2022.
4. Klim Induction Gloves
In hot temperatures, these gloves are ideal. Perforated goat leather, mesh cloth, and carbon fiber in their construction. Because the seams are on the outside, the gloves are quite comfortable. They used exotic materials to make the gloves. A variety of materials to make it, from carbon fiber to YKK to 3M Scotchlite to perforated goatskin.
To put it, they breathe like a dream. The air circulates about a lot by the perforated goatskin and the mesh between the fingers. Compared to other "summer" gloves, these gloves keep hands dry in 35°C temperatures.
A carbon fiber plate protects the impact zones on the knuckles. The plate is thin and noticeable, but it provides adequate protection.
It's a wiper blade on the left index finger to clean your windshield and getting rid of splattered bugs is pretty handy with this tool. These are the enemies who are always distracting you in the middle of your field of vision. The silky goat leather and outside box stitching provide a secure fit.
The forefingers and palms of the design of the glove focus on comfort and convenience. I don't know how they do it or what the typical finger curvature angle is, but it works and contributes to the glove's comfort and fit. It's easy to get free of the gloves. Zipper and velcro strap that is easy to use and change.
The cuff has a huge and sturdy pull-on loop, which Klim included in the design as well. If you want to match your kit or your style, the Klim Induction gloves come in a variety of colors.
5. Scorpion EXO Tempest
Tempest gloves by Scorpion EXO It's waterproof and made to operate with heated grips
The gloves have a simple style. A simple black glove with strong knuckle protection, reflective piping, and a leather palm. When riding in winter or rainy weather, the rubber squeegees on their index fingers come in handy for wiping the rain from their visors. Finally, they have a circular top cuff and an elastic bottom cuff.
To keep out the elements, it is inside cuff design and the outside gauntlet on top. It features a few openings on the outside to let moisture escape.
Breathable fabric panels are sewn into the fingers and palm. Thick, plush fleece lines the inside. When it comes to abrasive stitching or trims, there is none. The 100g Thinsulate insulation keeps the wearer warm and dry, while goat and Nash leather palms ensure grip and durability.
A 24-hour road journey through the rain wouldn't be a problem because they're waterproof. With a modest amount of water, Trials show how well they function by running them under pouring weather.
Despite this, the Hypora lining keep hands dry as the upper layer of fabric drew the water away from fingers.
When traveling at highway speeds, the cold didn't hit you for a long period. Indeed. If you had to pick between breathability and 100% cold protection, You should prefer to layer than wear something that turns into a mini hand sauna. A pair of thin gloves or a heated liner would help.
The only inconvenience you will find is the tight cuffs. The elastic can be a bit tricky to set up if you don't layer it up with your sleeves.
6. Reax Tasker Leather Gloves
As a two or three-season glove, these Taskers build is of leather and have short cuffs.
Agility enhances the ribbed regions on the thumb, index, and middle fingers. The fingers are pre-curved, which helps with comfort and avoids seams, making it easier to manipulate the clutch/brake, switches, etc.
Much of the glove, including the reinforced areas on the palm, wrist pad, and important seams, has double-stitching. There are a few places where the edge isn't quite straight, but this is cosmetic and won't be noticed unless you're looking for it.
For the Tasker's outer shell, a combination of cow, goat, and synthetic leather is there. The Tasker's construction is of high quality, which is encouraging given the near-premium price. For the most part, everything of the REAX gear is of a high standard.
Leather's 0.8-0.9mm thickness provides adequate protection without sacrificing comfort. The gloves aren't bulky or uncomfortable to wear. Goatskin leather material is on the palm and side of the pinky finger. Because it is thicker and (supposedly) more durable than the leather on the glove's top and fingers.
Hook and loop – or Velcro – straps keep the gloves in place. Despite its lightweight appearance, it would hold up in the case of a collision. It feels like it could take a lot of punishment before it gives out, along with the rest of the gloves underneath.
The top of the glove has no openings for airflow whatsoever. At the same time, it's both a boon and a bust: it's excellent for temps like winter. When you are riding in 12C/54F and where airflow over digits wouldn't be the best thing in the world. Count on the Tasker's to take care of that for you.
Wearing the Tasker gloves is a pleasure. Despite the Tasker's lack of ventilation and smooth polyester interior lining.
7. Blok-IT Full Leather Gloves
They're among the most reasonably priced leather motorcycle gloves on the market, thanks to Blok-IT. They extend past your wrists to provide more hand and wrist support and protection when riding.
The adjustable strap on this gauntlet glove allows you to get the perfect fit for those long rides.
For enhanced protection, comfort, and warmth, 3M's Thinsulate thermal material usage is in the construction of these gloves. The major composition is nylon. There is nothing special about these gloves other than the fact that they feel like heated motorcycle gloves. When you're out on the open road and the weather gets chilly, this material helps keep your hands toasty.
These motorcycle gloves are suitable for use in a variety of climates. Because they are windproof and waterproof, you can wear them all year round. Even though they work well in most climates, in the dead of winter, these are the best companion as winter gloves.
Because the material is fine leather and has double stitching on all seams, these gloves will last you a long time. Because of the excellent craftsmanship that went into these gloves, all riders will be satisfied. You may give these gloves as a gift to any avid rider you know because they look excellent on both men and women!
The ergonomic design of these gloves contributes to a more comfortable ride. When riding, they enable the greatest dexterity and flexibility. This design ensures that you have the most possible grip on your bike, while yet allowing you to move your hands around.
8. Harley Davidson Men's Wing Skull gloves
Harley Davidson is one of the most recognizable motorbike brands in the world. Everybody understands what you're referring to when you use this expression. Harley-Davidson is famous for its massive motorcycles, but the company also produces high-quality motorcycle gear, such as these leather gloves.
This pair of leather gloves feature goatskin leather construction for improved grip on the road. As a result, your travel will be as pleasant as possible. Your hands will stay dry and cool thanks to the improved ventilation. You'll be able to maintain a firmer grasp on the bike and ride with more assurance as a result of this.
The ergonomic style of these gloves is another plus. They designed to tilt for fingers and knuckles to 30 degrees. This bend improves your bike handling while also extending the life of your gloves.
Padded palms make these gloves cozier. Gloves have an adjustable closure made of Neoprene, which helps keep you safe as you find the right fit. Velcro wrists make it easy to put on and take off.
Customers who purchase gloves from Harley Davidson get a ninety-day warranty to assure their satisfaction.
Hardcore biker gloves are the inspiration for the design of this glove set. Folks will recognize you as a Harley Davidson fan thanks to the skull imprint on the back of these gloves. To help you blend in with your bike, these gloves are completely black.
9. ILM Alloy Steel hard knuckle gloves
Everyone who sees these gloves will have a lasting impression of their beauty. It is a hybrid design of steel knuckles and leather. To keep you safe from any dangers, these steel protections have been incorporated into the gloves. Hands and knuckles are quite safe due to the safe positioning of these alloy pads on the grips and handles.
The thumbs and palms of these gloves have extra cushioning to reduce vibrations and make them more pleasant to wear. In addition to the high-quality leather, the padding on these gloves makes them among the most comfortable you'll ever wear. To ensure safety and comfort, they have an elastic strap around the palm of the glove.
In addition to being comfortable, these gloves offer an anti-slip function that helps keep your hands from slipping while riding. An anti-skid substance coats the palms, which aids in shock absorption while riding.
Having the ability to use a touchscreen with these gloves is a bonus. You don't have to take off your gloves to use your phone when you stop or take a break. Instead, you may simply use your phone as normal because these gloves are capable of handling it. These motorcycle gloves are also a good solution for individuals on a tight budget.
Conclusion
Motorcycle gloves are essential if you're a seasoned rider who needs protection and comfort. A pair of motorcycle gloves is a great piece of protective gear for the road.
Motorcycle gloves come in a variety of styles, materials, and features. It's important to properly examine each brand and style before making a final decision.
When looking for the right gloves, it's critical to keep your riding style in mind. In contrast to the traditional style of a cruiser glove, a sports glove is more likely to feature bright colors and even metal imprinting.
When shopping for new gloves, keep the current weather in mind as well. For safety reasons, many motorcyclists avoid riding in inclement weather. Others may be powerless to opt out.
To bike with ease and self-assurance, you'll need properly fitting gloves. Buying gloves can be tricky, so make sure they fit in all the right areas.
Touchscreen gloves are a good idea if you're going to be using your phone while driving. This allows you to answer phone calls while you're on the go.
Finally, every rider must take into account their finances when choosing gloves. Even though each glove is one-of-a-kind, there are fantastic options for every budget. Invest in your safety and comfort while riding by finding a glove that fits within your budget from this list of "A review of 9 best motorcycle gloves in 2022".
FAQs
Do motorcycle gloves have to be leather?
The usage of textile materials for motorcycle gloves has increased significantly in recent decades, while leather remains the most common material. To develop a glove that is either warmer or cooler, modern textiles can be more easily used.
Is it necessary to wear motorcycle gloves?
Yes. A pair of motorcycle gloves provides additional protection, safety, comfort, and fashion. They help protect your hands from injury, improve your control of the handlebars, and reduce road vibrations.
What are gauntlet gloves?
Gloves that cover more of the body, such as gantlet gloves, offer more protection than short gloves. Gauntlet gloves often have two straps, one around the wrist and another at the bottom of the glove.