Welcome to our breakdown of the Bell Race Star Flex DLX. This is the new top of the line helmet by Bell that you don't want to miss out.
Sitting around the $700 (£599/€650) price, there are some relevant improvements worth mentioning. Considering that they have kept their previous pricing, this may very well be a really good value for 2021.
Bell Race Star Flex DLX review. Discover its most important features!
So… what are you getting out of the Bell Race Star Flex DLX? That is the big question.
This is a much more exciting version than its predecessor, which was already good. The new version comes with 3k carbon. By changing the design of the carbon shell, it is now a lightweight champion.
Bell achieved this by improving the design of the shell, reinforcing the thickness where they needed and removing some material from the top of the helmet. This means removing five ounces of material and coming up with a smarter design.
By doing so, the Bell Race Star Flex DLX only weighs 3 pounds and 5 ounces on the scale. Mind you, this applies to the medium size! As a result, it is an extremely lightweight race helmet.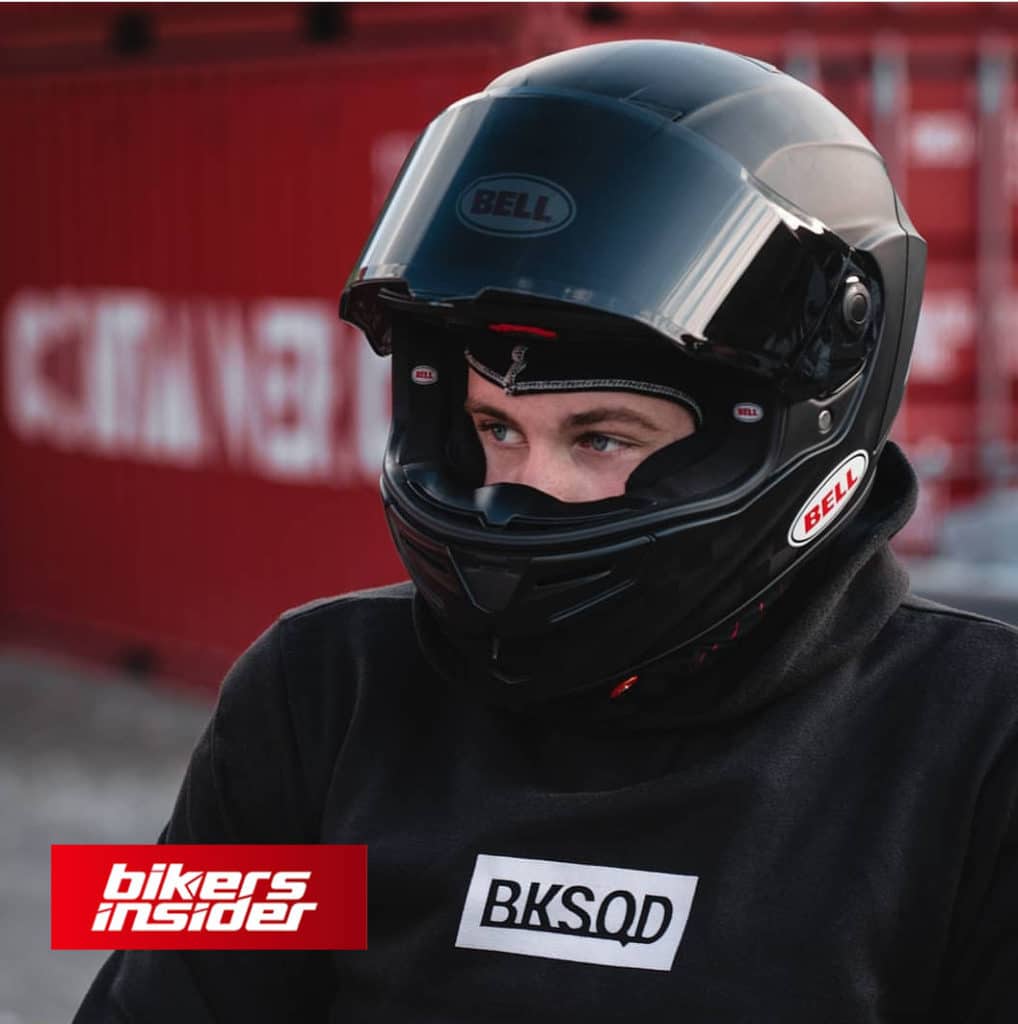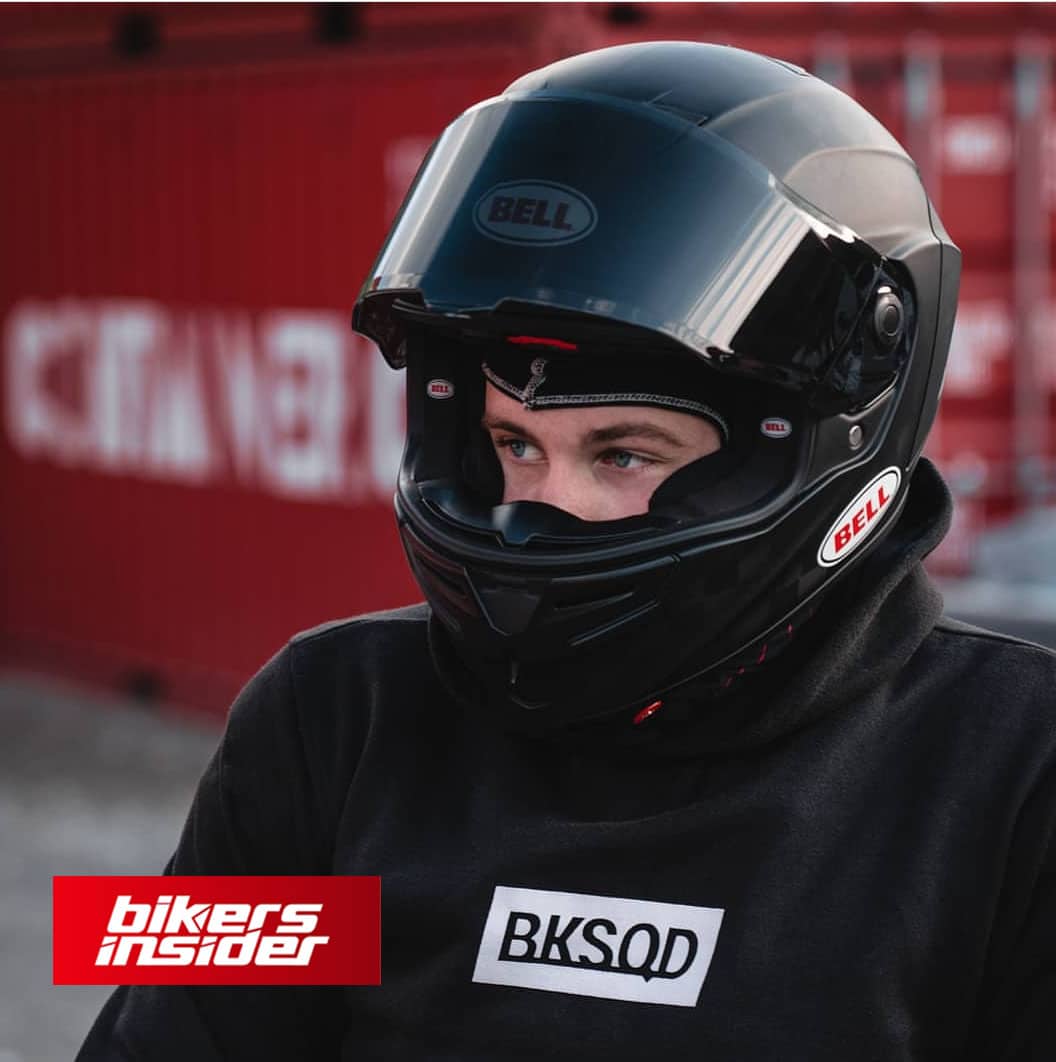 Plenty of options when it comes to size
There are five shell sizes and six EPS liners available, so you may choose the one that suits you better.
Each of those sizes will come with a different shell, except for the small and the extra small size (they both share the same design). That means five individual shell sizes DOT/ ECE and Snell rated.
As far as the shape is concerned, this helmet has an intermediate oval head shape. They have revised the internal shape of the Bell Race Star Flex DLX, so it provides you with some extra room upfront. As a result, the helmet fits 100 % better than its previous version. Brilliant!
All in all, you are getting a design that is a little bit longer front to back. It also narrows down the side of the head, resulting in a helmet that will fit the vast majority of riders.
We haven't used all that many Bell helmets in the past, as the fitment standpoint was a little bit problematic. They were either too sturdy, too tight or too heavy. However, this one is truly a game-changer for the brand. Very lightweight, fits perfectly… they've done so many little tweaks that really showcase a willingness to improve and perform on the road. Good job, Bell!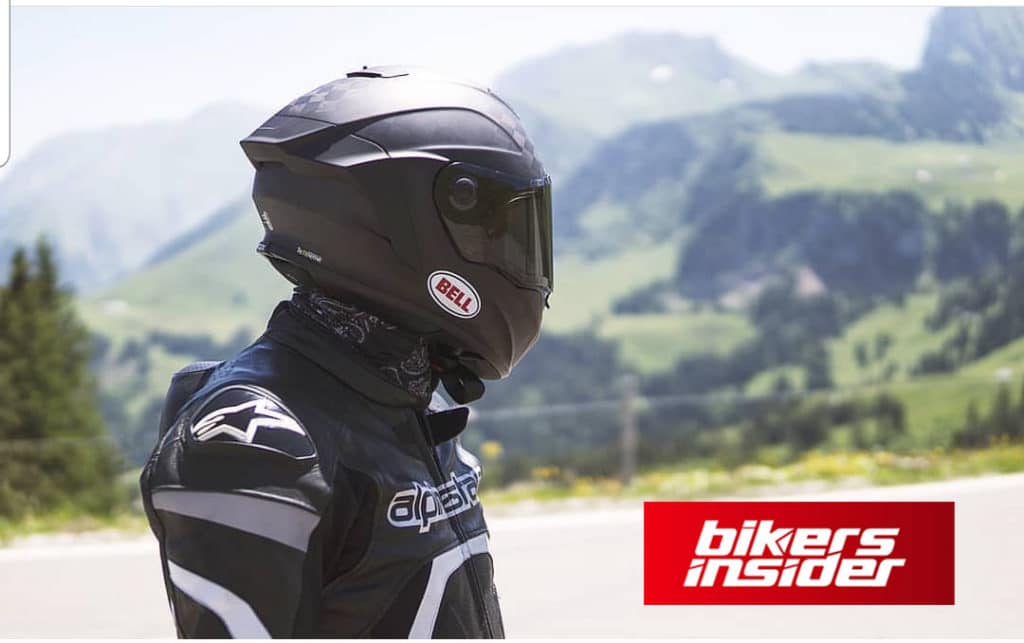 An innovative approach to race helmets
With the Bell Race Star Flex DLX the company has taken things to a whole new level. We really haven't seen a lot of other manufacturers following suit with such clever designs.
Here are some key points on why this helmet means innovation.
They have included Flex in the name
That means that it's going to be part of the Flex Technology from Bell. This is something that we saw them introduce about three or four years ago, instead of using a regular EPS liner.
You will certainly notice this when we break down the inside: there are three different layers to it.
The pro tint shield is included
The shield of the helmet adapts to light. It would turn darker or transparent depending on whether it is light or dark outside. Moreover, it will do so fast and well.
One thing that you may want to consider is that the helmet does not have a pin lock face shield included. That might be a problem for you, but consider that you are getting instead the pro tint, which is already $150 on its own if you were to buy it separately.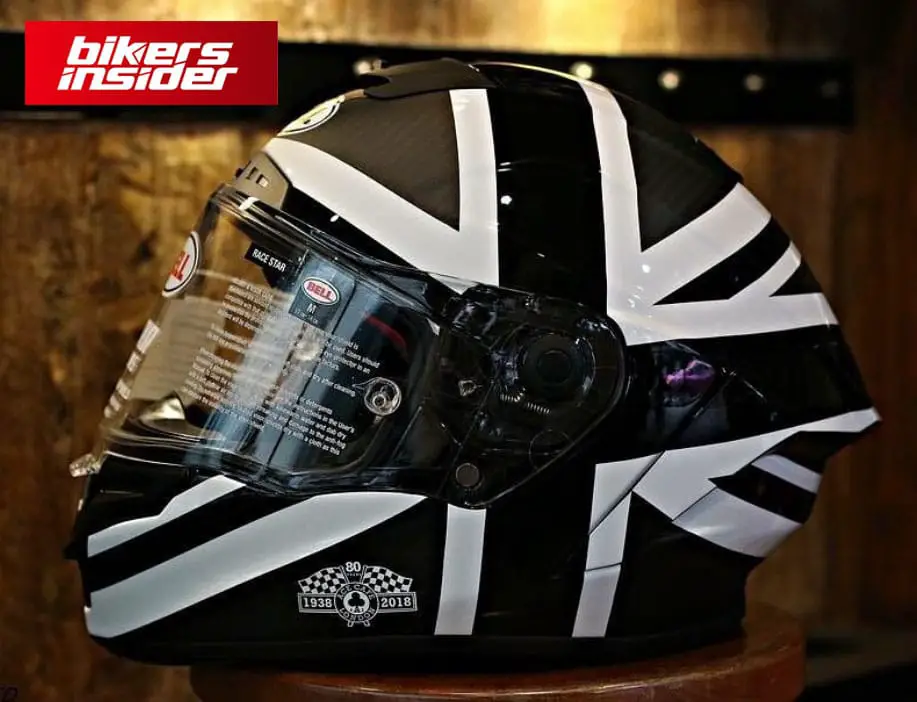 Mechanisms made simple
In order to get the shell or the visor off, you simply have to push the visor's side button. It will then slide right off with further hassle. Line it back up, push it in and it will click right back into place. It is really easy to use system, and we love it.
Regarding the ventilation system, it works just as well as the aforementioned. Feel the air flowing with its chin and brow vent, that come with a switch. If that was not enough, it also has a vent up top at the chimney and an active vent on the back. That means you do not only have a passive airflow: you can open or close that last one to allow the air to flow through.
Significant changes on the shell
At a glance, you will notice that the design has actually changed on the Bell Race Star Flex DLX.
As mentioned, they have increased that thickness and decreased it where it was not needed. The result is a race helmet with a sporty look.
Check our selection of pictures and see the really cool ridge profiles across the top. On top of that, the carbon fiber looks absolutely fantastic.
Some other helmets made with this material display little imperfections here and there. Bell did a great job getting rid of those. The fit and finish of the helmet is just great.
Inside the Bell Race Star DLX: breaking down the lightweight champion
The first thing that is going to get your attention on the inside if the magnetic latch, so you don't have to worry about that little red snap that most race helmets have. This one just locks you into place and secures your extra strap length.
You may also pull out the magnetic cheek pads, which are quite convenient. They work fantastically.
If you've never used these before, you will enjoy them as soon as you try to remove them or throw in a communications system. Or simply to take them out and clean them! Easy in, easy out.
Speaking of the communications system, there is a little rubber pad in the Bell Race Star DLX that serves as a speaker cutout.
This is also an addition to the previous version, which improves the sound quite a bit. Do you use communications systems? Pull it out. You don't? Keep those in. Be careful with this process, or they will sit really uncomfortably against your ears. Don't worry, it's pretty intuitive to use.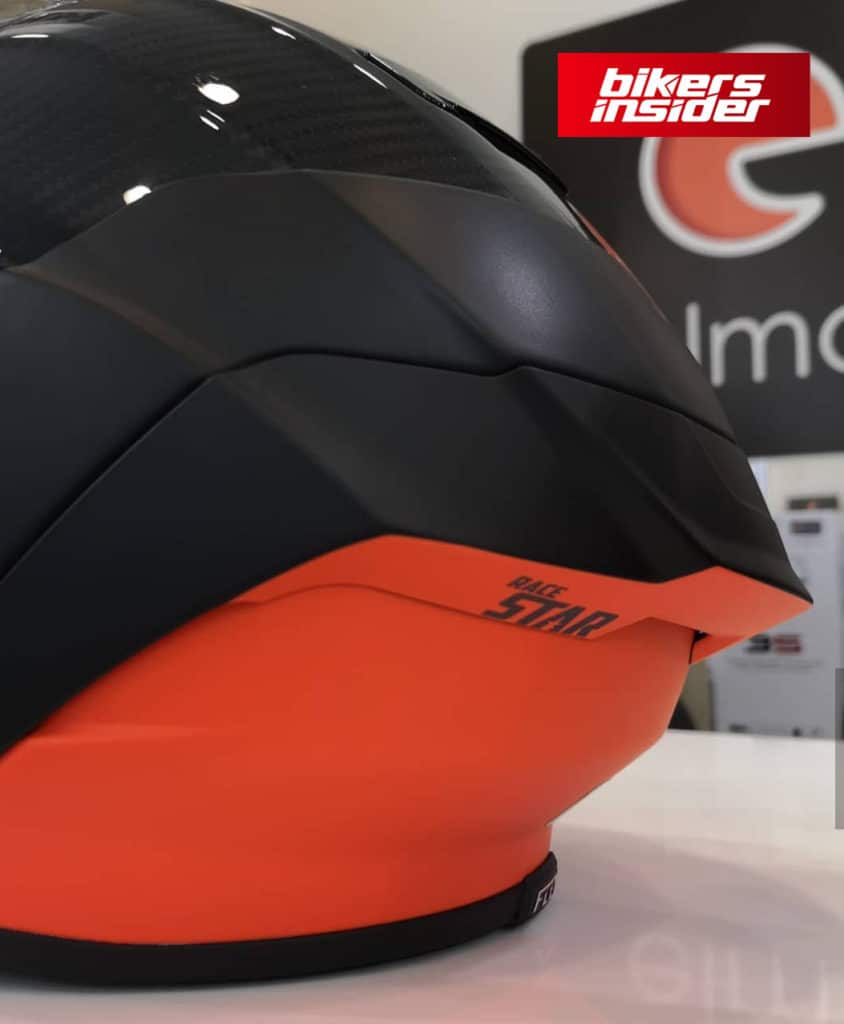 The devil is in the detail of this racing helmet
The design of the cheek pads has changed quite a lot. In the previous version of this Bell's helmet there were complaints about those being way too firm and uncomfortable.
As a result, Bell is now using a dual density foam. That translates into softer foam at the top, which will be sitting against your face. Thicker and firmer foam sits at the base. So dual density does change the comfort profile.
They kept the acclaimed Jade design on the inside, so it really feels good to the touch. It will not only wick the sweat away, but it is also from an antimicrobial material.
A closer look to the three-layered Flex system
If you pull out the liner, you will see that it is a regular snap-in liner.
Yet again, it is done in that cool Jade design that feels like butter. Do you want to make it even better? Cut off the tab that it has attached to it and try it on.
They keep the innovative design by not running the snaps all the way across the top. They just sit in their perfect place, and the same applies to the back end. That means that nothing is pushing against your forehead.
Take a closer look at the inside of the Bell Race Star DLX and you will see the red poking through. That is the start of the layers, which are distributed in the following way:
EPS or outside layer: designed for high-speed impacts.
EPP or mid layer: design for mid-speed crashes, and colored in red.
EPO or inside layer: sitting right against your head, designed for low-speed impacts.
This will result in an amazing protection for different kinds of impacts.
Manufacturers and researchers have found that having different layers is key for safety, as every impact is different. This Flex system that Bell has designed will keep your head safe, as it also includes rotational protection. They have been perfecting it through the years to achieve this results.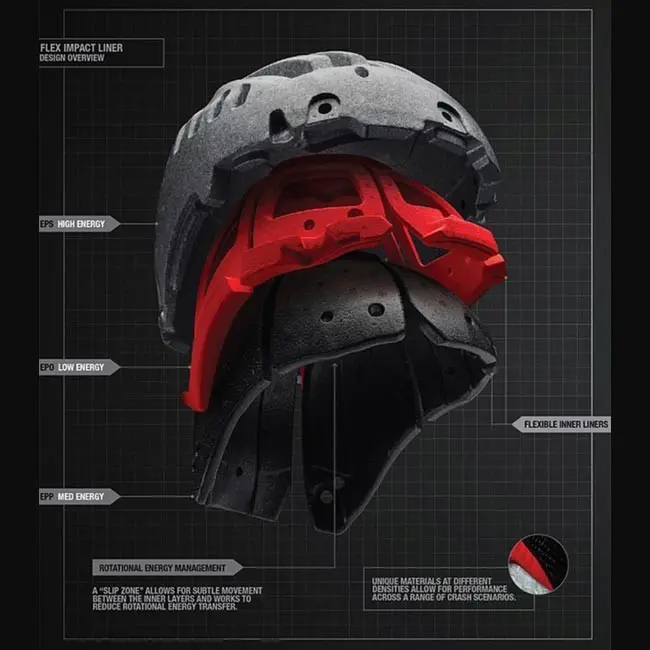 Conclusion: the Bell Race Star DLX brings many improvements without increasing the price
In our opinion, the Bell Race Star DLX is a fantastic iteration of this helmet from Bell. It is lightweight. It has a smart and beautiful design. It is comfortable. And, on top of that, it is safe.
This race helmet represents Bell's effort to innovate without increasing the price. All things considered, we believe that the Bell Race Star DLX will be an amazing choice for most people. It certainly is a lightweight and value champion.